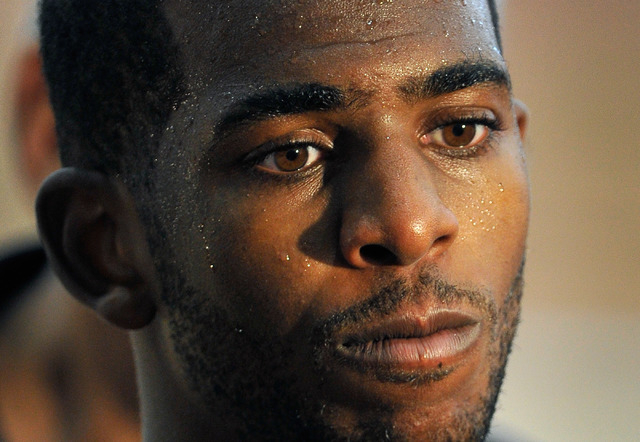 Los Angeles Clippers point guard Chris Paul has been fined $25,000 for his public criticism of rookie referee Lauren Holtkamp.
Rod Thorn, the NBA's president of basketball operations, made the announcement Saturday.
Paul, who drew his 79th career technical foul during the Clippers' 105-94 loss to the Cleveland Cavaliers on Thursday night, criticized Holtkamp for the "ridiculous" call — one of the team's five technicals in the game.
Paul dismissed any insinuation that he was being sexist toward Holtkamp.
"Last night was about a bad call. That's all," Paul said Friday before the Clippers played the Toronto Raptors.
With 10:17 left in the third quarter, Paul tried to get the inbounds pass quickly, but Holtkamp wouldn't allow it. When Paul asked why, she gave him a technical. Paul said he didn't curse at her.
"I think we have to show better composure, but at the same time some of (the technical fouls) were ridiculous," Paul, who is president of the NBA Players Association, said after the game. "The tech that I get right there was ridiculous. I don't care what nobody says, I don't care what she says; that's terrible. There's no way that can be a tech. We try to get the ball out fast every time down the court, and when we did that, she said, 'Uh-uh.' I said, 'Why, uh-uh?' And she gave me a tech. That's ridiculous. If that's the case, this might not be for her."
Holtkamp, 34, is in her first full season as an NBA referee. Before working for the NBA, Holtkamp had six seasons of NBA Development League experience. She also has refereed in the WNBA, college and FIBA ranks. She is one of two current full-time female officials in the NBA, along with Violet Palmer.
The National Basketball Referees Association said Friday that it reviewed the calls made by Holtkamp and "deems them fully justified." General counsel Lee Seham said in a statement the union "deplores the personal and unprofessional comments made by Chris Paul. She belongs."
NBA players union executive director Michele Roberts said any suggestion Paul would be disrespectful toward women is "utterly ridiculous, outrageous and patently false."
"Without hesitation, the Players Association stands firmly behind Chris, whose competitiveness may only be exceeded by the strength of his values and his conviction," Roberts said Friday in a statement.