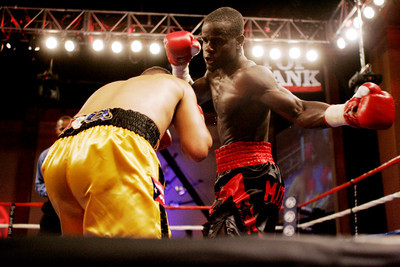 In his thick African accent, Joshua Clottey threw a verbal jab at Zab Judah. The message hit its target, and everyone in the room understood it.
"I am going to beat Zab, and I promise that," Clottey said. "I will make him cry."
Clottey's comment triggered an uproar during Thursday's news conference at the Palms, where Clottey and Judah will fight Saturday for the vacant IBF welterweight championship.
A veteran of 15 world title fights, Judah (36-5, 25 knockouts) grinned and laughed off Clottey's bravado.
"When you're nervous and you're jittery and you're scared, you come up with funny things to say. That makes him feel a little bit at ease," Judah said. "I don't got to do that. I spoke very highly of him. He's a great fighter.
"But get out of here. We all know I've fought way better opposition than him. Cry? Never."
Clottey (34-2, 20 KOs) is seeking his first title and is ranked No. 1 by the IBF. He's also a minus-250 favorite over Judah, ranked No. 3 by the IBF.
Clottey and Judah will square off in The Pearl theater, which is set up for about 1,900 seats, at 7:30 p.m. Saturday.
The main event on Top Rank's seven-bout card will be carried by HBO on a tape-delayed broadcast at 9:30 p.m. A replay of last week's WBA welterweight battle between Antonio Margarito and Miguel Cotto will precede Clottey-Judah, with the winner possibly getting a shot at Margarito.
But Clottey's immediate concerns do not involve Margarito, because he has been waiting years to be in the ring with Judah.
In 2004, the two had a confrontation at Gleason's Gym in Brooklyn, N.Y. Clottey, a native of Ghana, told Judah he wanted to fight for Judah's welterweight title.
"I saw him at the gym, and I said I want to fight him," Clottey said. "He wanted to go outside and fight in the streets. He pushed my trainer. He started acting crazy. He chased me out of the gym.
"There is a score to settle. I wanted to fight him for a long time, and he don't want to give me that chance."
Judah said he could not recall details of the incident.
"I don't know. Whatever happened, if I did anything wrong, I apologize for it," Judah said.
Since losing to Cotto by 11th-round technical knockout in June 2007, Judah has won his past two fights. This fight is widely viewed as a must-win for Judah if he is to remain prominent in the 147-pound class.
"Based on where the welterweight division is, everybody's got to win, because this division is too hot," Top Rank president Todd duBoef said. "Whoever comes out of this knows they're in the sweepstakes for major fights."
Judah's purse for Saturday's bout is $325,000; Clottey's is $125,000.
Clottey has won four fights in a row since dropping a 12-round unanimous decision to Margarito in December 2006.
"We already know Zab is coming down. This is my time," Clottey said.
"I always make exciting fights. I am not going in there to lose that title."
The weigh-in is scheduled for 4 p.m. today at the Palms.
Contact reporter Matt Youmans at myoumans@reviewjournal.com or 702-387-2907.