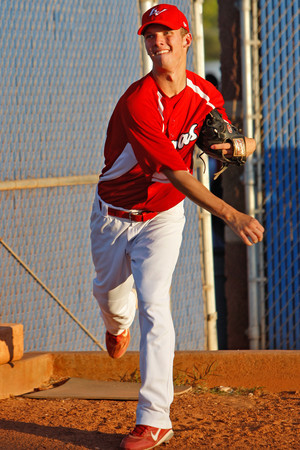 Centennial High School pitcher Michael Wagner came into the summer on the recruiting radar of some college coaches, but he still was waiting for a scholarship offer he couldn't refuse.
The right-hander entering his senior season got just that after only four appearances with the upstart Las Vegas Summer Baseball Club.
Wagner gave an oral commitment July 3 to the University of San Diego, accepting close to a full scholarship. He isn't sure if it would have been possible without Buck Thomas, the owner and manager of the first-year club.
"Once this thing started, Buck had me being seen by pretty much every school on the West Coast," said Wagner, who also drew interest from Gonzaga, Loyola Marymount and UNLV.
Wagner's story is an example of why Thomas views his club as a rising alternative to playing American Legion baseball during the summer.
Thomas, a part-time regional scout for the Los Angeles Angels who runs a recruiting service called The Best College Placement in the Four Corners, first thought of the club in January.
"It was to give some of the elite players an opportunity to get out of Las Vegas and go play against higher competition and prepare them for the next level, whether it be pro or college baseball," said Thomas, a former Bishop Gorman assistant.
Thomas said it costs $1,500 for players to join the club and that uniforms, travel and lodging are paid for. The majority of its players are from Las Vegas, with a handful from California, Colorado, Oregon, South Dakota and Utah.
The team was 19-9-1 through Friday despite facing an independent schedule that includes several games against summer collegiate teams.
Thomas hopes the team can play next summer in the California Collegiate League, which includes the Santa Barbara (Calif.) Foresters, the defending National Baseball Congress World Series champion.
"We've put a really good stamp on who we are and that we can compete at that level," said Thomas, whose team lost 5-0 to the Foresters on July 8.
Among Las Vegas' players are several Division I signees: Gorman's Stephen Manthei (Arizona), Joey Rickard (Arizona), R.J. Santigate (Long Beach State) and Tyler Wagner (Utah), Centennial's Sam Friend (UNLV) and Cimarron-Memorial's Kris Kaplan (UNLV).
"This is way better than Legion," said Kris Bryant, an infielder entering his senior season at Bonanza who has committed to San Diego. "We're playing much better competition. This pitching is a lot better."
Michael Wagner agreed.
"We were looking for something a little more challenging this summer," said Wagner, who is 6-0 with a 0.92 ERA. "It's turned out to be a lot of fun."
Thomas acknowledged the club's creation faced criticism from those loyal to American Legion play.
"I think there are a lot of naysayers out there because sometimes people aren't willing to change," he said. "By no means do I try to ruffle feathers, but I definitely think it's time for some change and to show the rest of the country that Las Vegas has some players.
"I just feel that the level of baseball could be raised a bit, and I think I've raised that level by putting this club together and going out and competing against some of the top teams in the country rather than staying at home all summer and playing the same guys you've seen for four or five years."
Contact reporter Tristan Aird at taird@ reviewjournal.com or 702-387-5203.
In-depth high school sports coverage