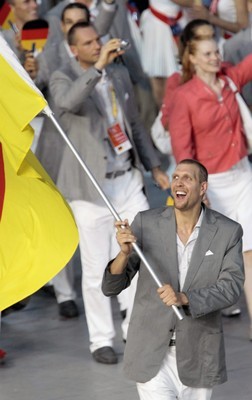 A college basketball blog called Storming the Floor unveiled its version of a Dream Team on Wednesday, comprising only college basketball players.
Before the original Dream Team in 1992, led by Michael Jordan, Magic Johnson, Larry Bird, Karl Malone and, uh, Christian Laettner, only college players were eligible for the Olympics.
What would it look like if NBA players still were prohibited?
North Carolina's Ty Lawson, UCLA's Darren Collison and Florida's Nick Calathes would be running the point, alongside Davidson's Stephen Curry, Arizona State's James Harden and Miami's Jack McClinton at shooting guard. In the frontcourt, Michigan State's Raymar Morgan, Texas' Damion James and Mississippi State's Jarvis Varnado join power forwards Tyler Hansbrough of North Carolina, Jordan Hill of Arizona and Blake Griffin of Oklahoma, with Saint Mary's Omar Samhan at center.
The one knock on the team, STF wrote, was its relatively small lineup.
"Size is where it got difficult in picking the frontcourt," STF wrote. "Seven-footers with skills are pretty much already in the NBA. Those who remained were not U.S. citizens. Griffin and Hansbrough are the reliable scorers of the bunch, and the rest are rebounders and shot blockers such as we could find."
• POPULAR GAMES — Deadspin broke down the popularity of the Olympics on the global scale based on Google searches, and the results are surprising.
Based on the Google Trends feature, the Summer Olympics generate a tangible spike in interest every four years, reaching in the mid-20s of the Search Volume Index gauge. The Winter Olympics, meanwhile, registered just over 10.0.
The Super Bowl, however, consistently outperformed the Olympics on a yearly basis, peaking in 2004 with a 30.0.
That was the year, you might remember, of the infamous "Wardrobe Malfunction," in which Janet Jackson was left exposed.
• CLOSE SHAVE — Dirk Nowitzki is either very, very wild about the Olympics, or he has a peculiar case of ringworm.
The Dallas Mavericks standout power forward carried the flag for Germany during the opening ceremony, and he brought out a razor in celebration.
Etched into the side of Nowitzi's head are five interlocking rings, the standard Olympic logo.
Dirk, stick to that buzz cut, would you?
• CULINARY DELIGHT — There's brave, there's heroic, and then there's Bill Plaschke.
The Los Angeles Times columnist is partaking in all Beijing has to offer, including eating, uh, animal penises.
Plaschke joined the Chicago Tribune's Kevin Pang for the culinary crash course.
"Both of us realize these Olympics are about being fearless, about crossing borders, about breaking down barriers," Plaschke said on the Tribune Web site video. "What greater barrier between Beijing and the West? They eat penis, and we don't."
COMPILED BY JON GOLD REVIEW-JOURNAL