Colorado engineer takes down WSOP 'Millionaire Maker' event — PHOTOS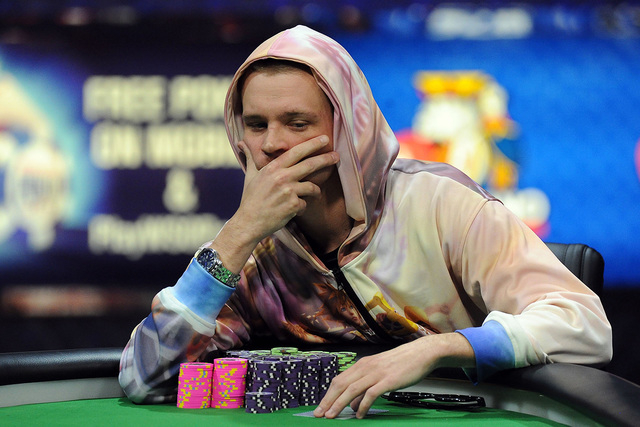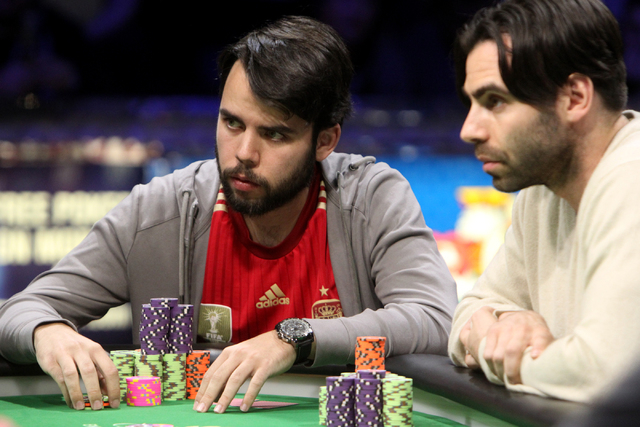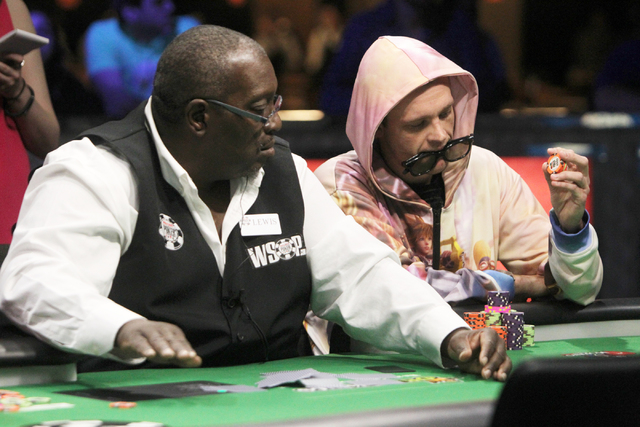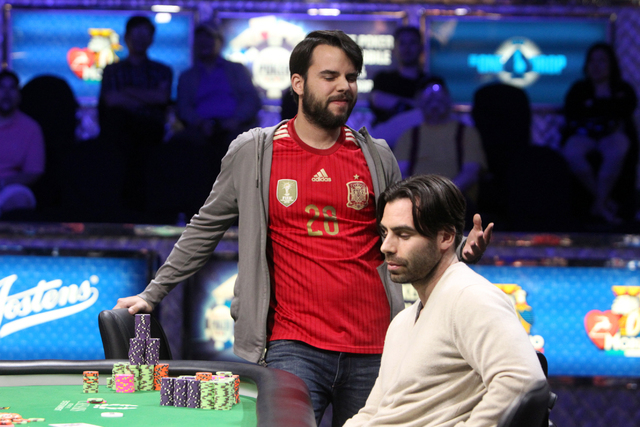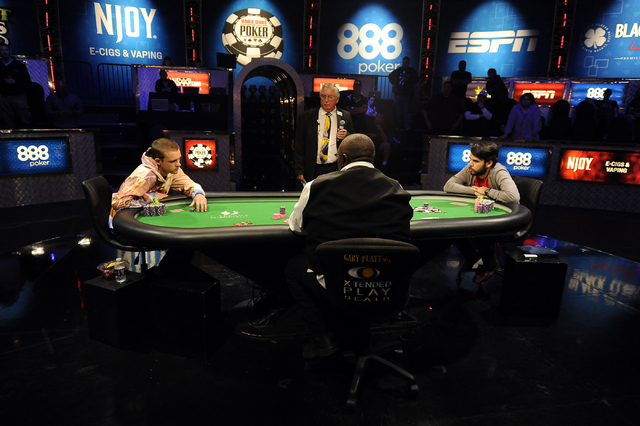 The piledriver was banned by many professional wrestling organizations due to the damage it caused to opponents.
Luckily for Adrian Buckley, the finishing move is allowed at the poker table.
Buckley, a 27-year-old recreational poker player from Westminster, Colo., entertained observers at the Rio Convention Center with his unique all-in call and won the World Series of Poker's $1,500 buy-in "Millionaire Maker" No-limit Hold 'em tournament late Tuesday.
Buckley defeated Javier Zarco of Madrid after approximately 3½ hours of heads-up play that saw the chip lead change hands on multiple occasions and took home $1,277,193 for his first career WSOP cash.
"I've done really well in cash games and stuff, and I've been a cash-game grinder for a long time, never had the money to play in big events, and this year I decided I'm just going to play 10 events and see how I do," Buckley said. "I didn't expect to final table. I didn't expect to make it super deep in any of the tournaments, but I knew that I had the skill to at least do my best to make it as far as I could."
The "Millionaire Maker," with a guaranteed $1 million first prize, drew 7,275 entrants, making it the sixth-largest field in WSOP history. Four bracelet winners (Erick Lindgren, Mike Sexton, Justin Pechie and David Miscikowski) reached the final table, along with well-known professional Olivier Busquet, who eventually went out in third place.
Buckley was in last place with a little more than six big blinds — coincidentally, he had 1.27 million chips — when play resumed Tuesday morning with 17 players. This after he began Day 3 in 139th place with 142 players remaining.
But Buckley steadily built his stack, announcing 'Piledriver' before every one of his all-in bets.
"In my local home game, (my friend) never says 'all-in' when he goes in. He always comes up with some crazy name to ship it. The one time I heard him say it, he said 'Piledriver,' " Buckley explained. "I went in Day 3 super short on chips and I decided I was going to make a name for it, and I was just going to make it known that this is my stack, nobody mess with it.
"So every single time that I went all-in, it was 'Piledriver.' And it just caught on, and 'Piledriver' couldn't be beat. It just kept going. It was crazy. It'll catch on. One day it'll be verbally binding."
Buckley opened heads-up action against Zarco with approximately 60 percent of the 54.5 million chips in play but was behind for his tournament life on two occasions, making a hand each time. The latter proved pivotal as Buckley regained the chip lead for good.
Holding ace-king, Buckley spiked a king on the turn after the 3-2-2 flop had given Zarco (ace-three) the lead.
Zarco was eliminated about 25 hands later as he pushed all-in for 17 million chips with pocket sixes. Buckley didn't get to use the "Piledriver," but he called with pocket 10s to end the festivities just before 11 p.m. Tuesday.
"I had to get it in bad a couple of times," Buckley said. "I just told myself at the end, I just need to keep making the best move I know at the exact moment in time. And if it works it works, and if it doesn't I did my best."
Zarco earned $791,690 and finished as runner-up in a WSOP-sponsored event for the third time. The 24-year-old was second in the $355 buy-in No-Limit Hold'em Re-entry WSOP Circuit Event at Harrah's St. Louis in 2012 and again in February at the $1,675 buy-in WSOP Circuit Main Event at Lumiere Place in St. Louis.
"He is a fantastic heads-up player," Buckley said. "He's extremely aggressive; it's really hard to put him on any hand at all."
Buckley returned to his job as an engineer at Lockheed Martin in Boulder, Colo., on Wednesday, but said he plans to play more events this summer, including the Main Event. He also added that he expects to become a bigger part of the poker community moving forward.
"I was freaking out. I thought I had a heart attack like 12 times," Buckley said. "I didn't let emotions get to me, but inside I was freaking out, like, I don't know what's going on here. But at the same time, it's just a regular poker game. And as long as you win the poker game, you do really well. That's all it was to me is just a poker game."
FINAL RESULTS
1 Adrian Buckley (Westminster, Colo.) $1,277,193
2 Javier Zarco (Madrid) $791,690
3 Olivier Busquet (Katonah, N.Y.) $589,569
4 Randy Pfeifer (Lancaster, N.Y.) $441,465
5 Mohammad Siddiqui (Pembroke Pines, Fla.) $333,038
6 David Miscikowski (San Diego) $253,093
7 Erick Lindgren (Las Vegas) $193,675
8 Justin Pechie (Thompson, Conn.) $149,238
9 Mike Sexton (Las Vegas) $115,890
Contact reporter David Schoen at dschoen@reviewjournal.com or 702-387-5203. Follow him on Twitter: @DavidSchoenLVRJ