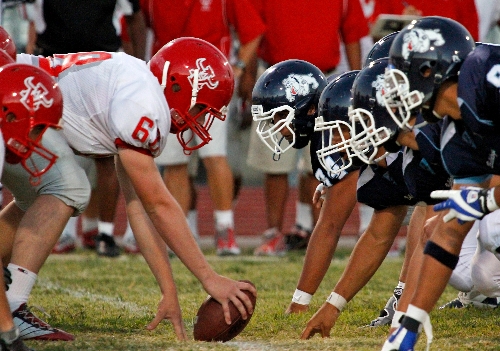 For a little more than two years, the Nevada Interscholastic Activities Association and the Clark County School District have tried to find a way to balance high school sports schedules, create a more level playing field for teams and save on transportation costs.
They might have done all three Monday.
The NIAA's southern realignment committee on Monday approved a new look for the state's highest enrollment class, breaking Class 4A into two divisions in the hopes of saving money and giving more teams and more athletes the chance to compete for state titles.
"We successfully accomplished all of our goals," said CCSD assistant superintendent Andre Denson, chair of the committee. "We've had a lot of feedback on this, and 95 percent of it has been positive. Ninety-five percent understand that it's about students and making sure they're having fun while they're participating in extracurricular activities."
The current 34-team Class 4A in the South will change beginning with the 2012-13 school year. In its stead will be a 24-team Class 4A Division I and a 13-team Class 4A Division II, which will incorporate current Class 3A members Boulder City, Moapa Valley and Virgin Valley.
The divisions are separate and will play for separate region and state titles.
The teams were placed into divisions using a point-based rubric that took into account each school's finish in all sports for the past two seasons. Points were awarded for qualifying for the postseason in most sports, with higher point totals awarded for postseason victories and teams that won region or state titles.
Teams with the top 12 point totals in each region were placed in Division I, with the remaining teams joining the Class 3A schools in Division II.
The realignment must still be approved by the NIAA's Board of Control. The board will hold discussion on the process later this month and is expected to approve the realignment at its October meeting in Las Vegas.
"Just from a competitive-balance standpoint, it's good for the kids," Arbor View assistant principal Greg Wolfram said. "It allows schools that haven't been as competitive to get in the playoffs and have that experience of doing well in the postseason."
Realignment will take place every two years, with teams possibly shifting leagues or even divisions. Schools with large point totals in Division II would move to Division I, trading spots with the lower-scoring teams.
What it should mean for teams that have consistently struggled to compete in Class 4A is an opportunity to be more successful.
"Our coaches love it," said Tech assistant principal Nick Brockovich, whose school will be in Division II. "It's tough now. You persevere and try to endure. Our goal is to be more competitive, and this new system will allow us to be competitive."
Division I should also be more competitive. Taking out the teams that have struggled to compete will leave each division with a tougher league schedule and fewer lopsided games.
"This gives the opportunity to make schools more competitive and make students feel good about participating," Denson said. "When you get beat by large margins every game, pretty soon people will stop coming out."
While there are some oddities within the divisions — Legacy and Desert Oasis in the same league despite being on opposite ends of the valley — the new alignment should help cut down on some travel, especially for the current Class 3A schools, which often have to go out of state to fill out a schedule.
Those schools will now have more league games. The one drawback is that some rivalries could be split up.
Las Vegas and Rancho, which play the annual Bone Game in football, remain in the same league, but rivalry games between Green Valley and Basic in the Henderson Bowl, Eldorado and Chaparral in the Cleat Game, and Arbor View and Legacy in the Battle of the Bulls, will no longer be league games.
With fewer teams in each league, though, teams will have more freedom to play nonleague games and can schedule their rivals.
"The way it's set up, we'll continue the Battle of the Bulls with Legacy in nonleague games," Wolfram said. "We'll make sure we're scheduling each other because we'll have a lot more options. Centennial is another one we want to keep.
"The whole thing is very positive. It's going to be great."
Contact reporter Bartt Davis at bdavis@reviewjournal.com or 702-387-5230.
In-depth high school sports coverage