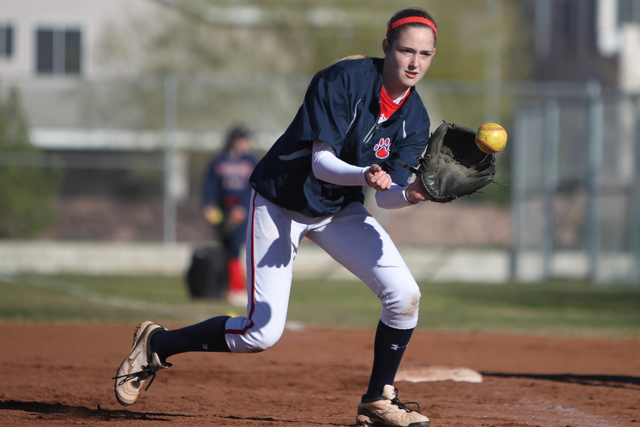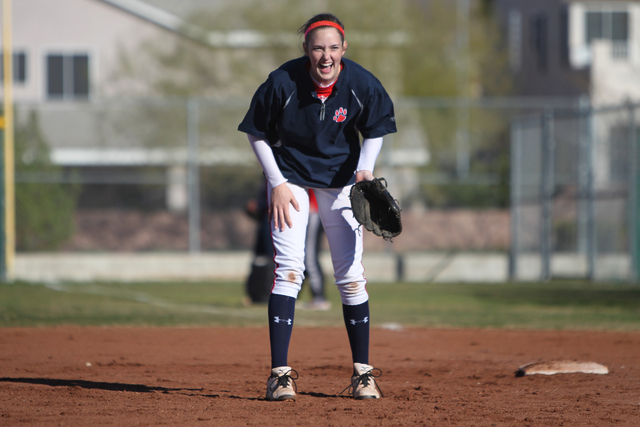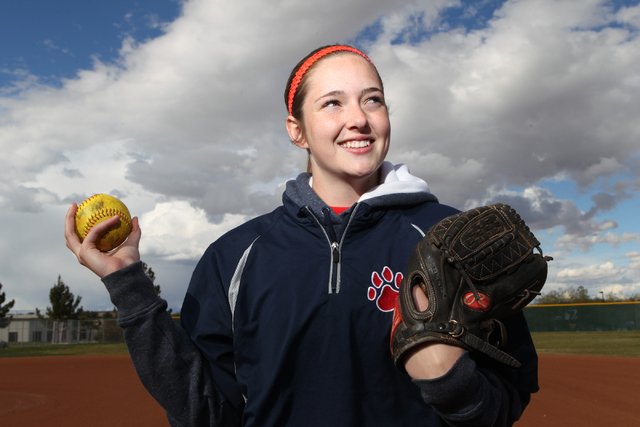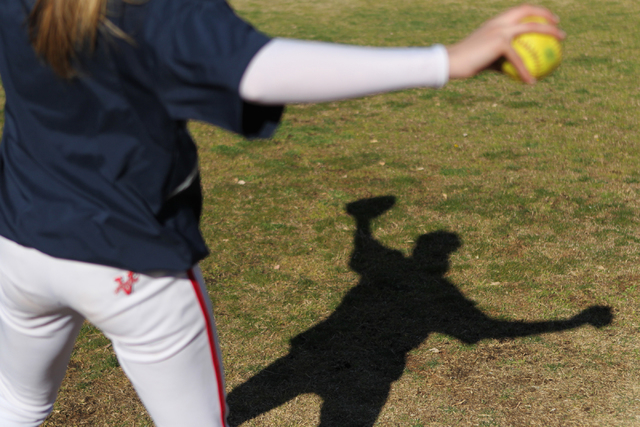 Sarah Pinkston knew something was wrong her freshman year when pain shot from her back down her leg each time she pitched.
But the love of softball and her success in the circle and at the plate wouldn't let her stop.
"It's my passion. I love it," said Pinkston, a junior at Coronado. "It's always been something that makes me happy. Even if life was hard, I always wanted to go play."
Until she had trouble just trying to walk. Then came the really bad news — back surgery, and possibly having to give up the game that meant everything to her.
Pinkston, a second-team All-Nevada selection as a freshman at Shadow Ridge, missed her sophomore season after surgery to repair a herniated disc, disintegrating discs and correct nerve damage in her back. Amazingly, just less than 13 months after surgery, she's back in the circle and hoping to lead Coronado to a Southeast League title.
"She can be one of the best pitchers in Las Vegas," said Coronado coach Missy Krueger. "She's got the heart to do it. Anyone who comes back from a surgery like that and comes back as soon as she did and with the attitude she has, can be one of the top players in the state.
"She's got to really love the game to come back from a surgery like that."
Pinkston went 7-3 with a 2.16 ERA and 67 strikeouts in 68 innings of work as a freshman at Shadow Ridge. She also hit .413 with two home runs and 14 RBIs.
And she did it all while the herniated disc was causing nerve damage and pain. At the start of her sophomore year, the back problem got worse.
"I couldn't walk," Pinkston said. "Because of the nerve damage, my leg would kind of give out. I wouldn't be able to go to school, and we decided it was time to have surgery. The doctor told me it was because of pitching too hard, too young and kind of the jarring motion of pitching that made it happen."
She had the surgery on Feb. 7, 2014, and sat out last season while she recovered. It took nearly six months to be able to walk normally again and shed her back brace.
"It was hard, mostly because all of my friends, you see them posting pictures (playing softball) and it just makes you want to go back and you can't," Pinkston said. "There was a rough time when in therapy I couldn't do basic things that I had done before. It was really frustrating, and I wanted to give up, but I didn't."
She played sparingly in the fall for a Las Vegas Rage Gold team and joined Coronado for intramurals in January.
"Anything softball-wise, even just being on a team and supporting my team, is just a blessing," said Pinkston, whose family moved into Coronado's zone last summer to be closer to her father's work.
Her strength is quickly coming back. Pinkston tossed a complete game in one of Coronado's scrimmages.
"She's getting there," Krueger said. "Every day she gets stronger. She's definitely stronger than she was when she came out in January. She is starting to get her timing back with hitting, and she's starting to do a little bit more running. She's pitching every day. Accuracy-wise, she's there now."
Pinkston is expected to be the No. 1 pitcher for Coronado, which has to replace four-year starting pitcher Danielle Amato. The Cougars also should get contributions in the circle from sophomore Jillian James and freshman Tatum Spangler.
Krueger also will rely on Pinkston to join classmates Basia Query and Brooke Younie as leaders on a team with no seniors.
"She's going to be our leader in the circle," Krueger said. "She's going to have to be the one who sets the tone and help be a mentor to JJ and Tatum as they work their way through the ups and downs. She's already had an impact."
Krueger isn't the only one who sees a high ceiling for Pinkston. On Sunday, the pitcher orally committed to play at Middle Tennessee State.
"It was amazing," Pinkston said. "I didn't have the words to describe it when it happened. I was just glad that a college still wanted me after what happened.
"I have to remember that this was a big deal and I'm just blessed to be out there even playing again. If I do bad, then I do bad, but I'm going to keep on trying. I feel like I can surpass where I was before if I really put my mind to it."
Contact reporter Bartt Davis at bdavis@reviewjournal.com or 702-387-5230.