Cowboys DE Greg Hardy has domestic violence charges expunged
November 6, 2015 - 10:44 am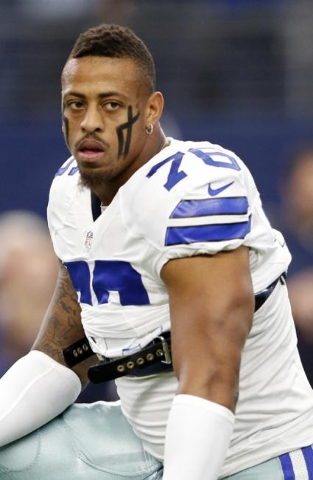 The domestic violence charges filed last year against Dallas Cowboys defensive end Greg Hardy have been expunged.
Hardy originally was suspended for 10 games by the NFL for multiple violations of its personal-conduct policy resulting from an incident with former girlfriend Nicole Holder in the spring of 2014 while he was with the Carolina Panthers.
Hardy was found guilty by a Mecklenburg County (N.C.) judge of assault and making death threats against Holder. However, Hardy appealed the ruling, and the charges against him were dismissed after Holder refused to cooperate with the district attorney's office. Hardy reportedly reached a civil settlement with Holder, which prompted her to not show up for the jury trial.
In July, his NFL-imposed ban was reduced to four games by an arbitrator. Hardy played in only one game last season for the Panthers after he was placed on commissioner Roger Goodell's exempt list. In March, Hardy signed a one-year contract worth up to $13.2 million with the Cowboys.
Hardy filed paperwork in April asking for the charges against him to be expunged after the case was dismissed.
Hardy's attorney, Chris Fialko, confirmed to the Charlotte Observer on Thursday that a Mecklenburg County district judge signed the expungement order this week.
Like Sports News on Facebook: