De La Hoya in market for experienced trainer
September 12, 2008 - 9:00 pm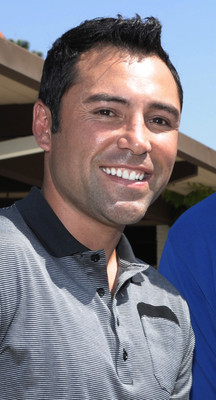 Oscar De La Hoya spent Thursday doing some typical Las Vegas tourist activities: golfing and shopping.
The future Hall of Fame boxer shot 79 on the Reflection Bay course at Lake Las Vegas. But it will take more than a trip to an outlet mall to fill De La Hoya's shopping list.
He is in the market for a trainer for his 147-pound fight against Manny Pacquiao on Dec. 6 at the MGM Grand Garden.
De La Hoya's usual trainer, Floyd Mayweather Sr., opted instead to prepare Ricky Hatton for his Nov. 22 IBF junior welterweight title fight against Paulie Malignaggi.
"At this moment, I'm looking for a trainer," said De La Hoya, who is in town to promote Saturday's Juan Manuel Marquez-Joel Casamayor and Vernon Forrest-Sergio Mora card at the MGM. "There's no real rush. But I've been talking to some people, and I hope to have it done by Monday."
Hatton hired Mayweather last week to replace his longtime trainer, Billy Graham, who decided this summer to retire.
"I'm very disappointed Floyd Sr. won't train me for this fight," De La Hoya said. "He's a good trainer and a good friend. I'm just disappointed he didn't come tell me first before he went to Ricky Hatton."
Mayweather was traveling Thursday and did not return calls seeking comment.
With the fight not until December, finding a trainer isn't a pressing issue for De La Hoya. But, at the same time, he doesn't want the situation to linger to the point that it becomes a distraction.
De La Hoya, 35, knows exactly what he's looking for in a trainer.
"I'm going to want someone who's experienced. I want someone who has the knowledge of Pacquiao and Pacquiao's style," said De La Hoya, a 10-time world champion with a 39-5 record and 30 knockouts who last fought May 3 in a 12-round unanimous decision over Steve Forbes.
De La Hoya predicted a lot of people will be rumored to take over as his trainer but said he is keeping an open mind.
One possibility could be Ignacio "Nacho" Beristain, who worked Marquez's corner in a controversial 12-round split-decision loss to Pacquiao on March 15.
An intriguing candidate would be Floyd's brother, Roger Mayweather. He is quite familiar with De La Hoya after training his nephew, Floyd Mayweather Jr., for a 12-round split-decision win over De La Hoya in their May 2007 showdown.
"There's a lot of speculation out there," De La Hoya said. "The truth is, right now I have no idea as to who's going to train me."
Contact reporter Steve Carp at scarp@reviewjournal.com or 702-387-2913.