Devante Davis staying at UNLV for senior year
January 15, 2014 - 7:19 pm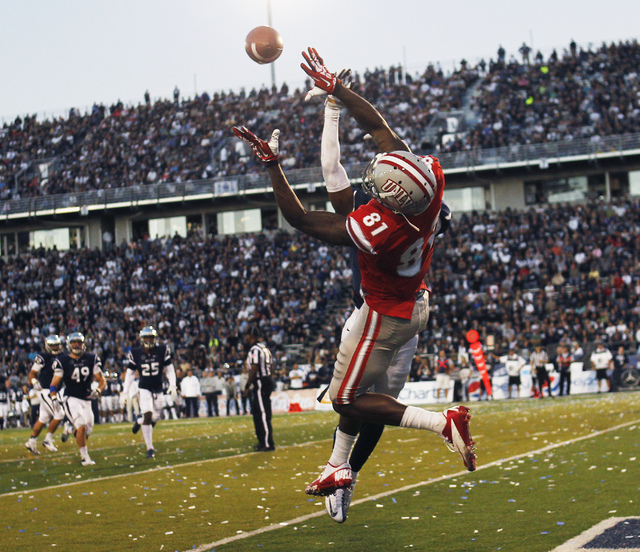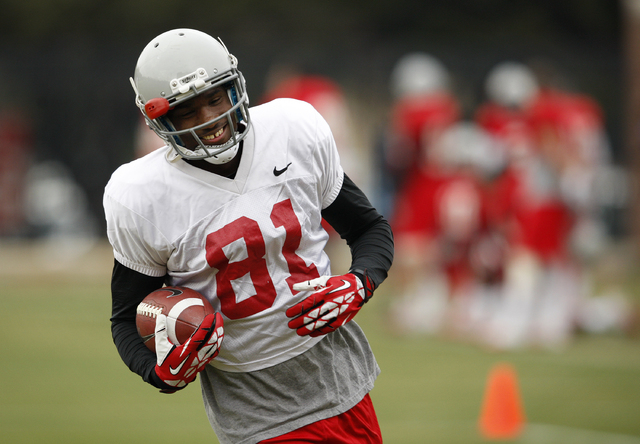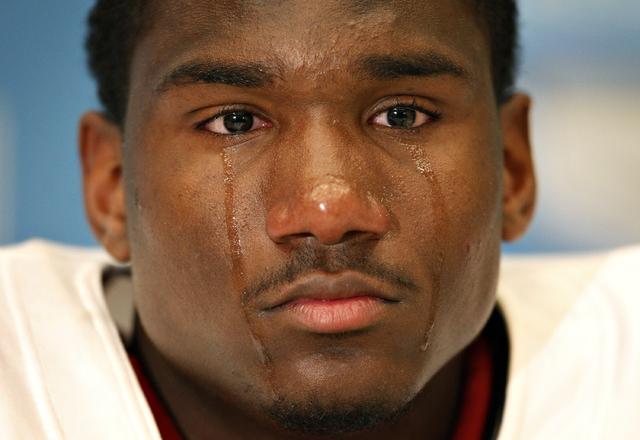 UNLV will head into next football season with the difficult task of replacing quarterback Caleb Herring and running back Tim Cornett.
The Rebels, however, will not need a replacement for junior wide receiver Devante Davis.
The deadline for underclassmen to declare for the NFL Draft was Wednesday, and coach Bobby Hauck confirmed Davis will return for his senior season.
"Obviously, it's important for our football team to have him back," Hauck said. "He's a terrific player, and the idea that getting your degree … and your team is something is a priority to you and finishing out something you started is what we all like to see."
Davis was not made available for comment, but he might issue a statement today.
Getting back Davis is a huge boost for the Rebels, who at 7-6 and with a New Year's Day appearance in the Heart of Dallas Bowl are coming off their best season in 13 years.
He was an integral part of that success, catching 87 passes for 1,290 yards and a school-record 14 touchdowns. The receptions total was just one off UNLV's record shared by Ryan Wolfe in 2008 and Randy Gatewood in 1994, and the yardage total was second to Jim Sandusky's 1,346 in 1981.
Another outstanding season probably would make Davis (6 feet 3 inches, 210 pounds) a strong NFL prospect next year.
"He'll be able to improve where he begins his NFL career, which I think is evident," Hauck said. "By staying in college, he'll make himself a lot of money."
Davis' return is especially important because the Rebels lose Herring and Cornett.
Herring set UNLV records for highest completion percent (63.2) and lowest interception percent (1.2) this season. He also passed for 2,718 yards and 24 touchdowns. The yardage figure was the Rebels' fourth highest ever, and the TD total tied Randall Cunningham for second-best and was just one touchdown behind Jon Denton's total in 1996.
Herring will compete in the NFL Players Association Collegiate Bowl on Saturday in Carson, Calif.
Cornett joined Mike Thomas as the only UNLV backs to post two 1,000-yard rushing seasons, gaining 1,284 yards in 2013, fourth-best in Rebels' history. Cornett also rushed for 15 touchdowns, the third highest.
How well the Rebels do in replacing Herring and Cornett will help determine whether they can make back-to-back bowl appearances for the first time.
Quarterback Nick Sherry, who will be a junior, will try to win the job back he lost to Herring last season. Sherry has shown promise, but must cut down on his problem with turnovers that sent him to the bench. He will be pressed in spring practices, which begin March 3, and in training camp in August by junior college transfer Blake Decker and perhaps two or three freshmen.
At running back, the Rebels have a committee of backs they can turn to in rising seniors Adonis Smith and Shaquille Murray-Lawrence and sophomore-to-be Keith Whitely. Freshman Henri Jussila, who redshirted, put in a promising camp last preseason.
So Hauck and his coaching staff have questions, but at least they don't have to worry about needing to find someone to step in for Davis.
Contact reporter Mark Anderson at manderson@reviewjournal.com or 702-387-2914. Follow him on Twitter: @markanderson65.