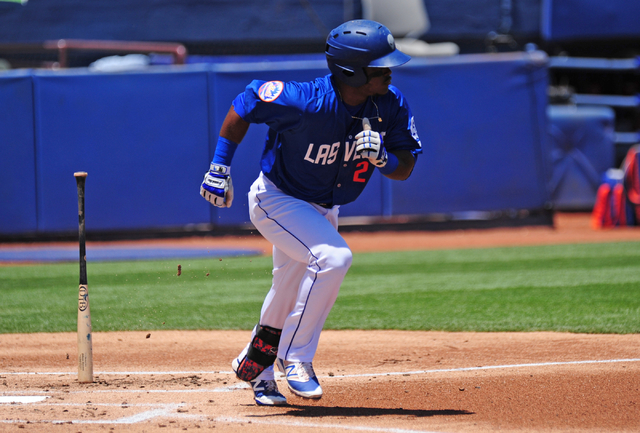 Dilson Herrera looks the part of a leadoff hitter. And for almost every game this season, he has been.
But Wednesday, Herrera was batting third. And Herrera, up at an opportune time, belted a grand slam in the eighth inning to give the 51s a lead they wouldn't relinquish in their 12-10 victory over the Reno Aces at Greater Nevada Field in Reno.
By the sixth inning Wednesday, Las Vegas (39-33) had a 5-1 lead and starter Duane Below had been throwing well.
Then the bottom half of the inning came and that lead unraveled quickly. Below gave up a run and was yanked with two runners on. Jeff Walters allowed both inherited runners to score as well as two of his own, squandering the lead and putting the Aces up 6-5.
Up next
Who: Las Vegas 51s at Reno Aces
When: 7:05 p.m. Thursday
Where: Greater Nevada Field
Starters: Gabriel Ynoa (8-2, 3.45 ERA), 51s, vs. Edwin Escobar (4-1, 3.65)
Next five
Friday: Las Vegas at Reno, 7:05 p.m.
Saturday: Sacramento at Las Vegas, 7:05 p.m.
Sunday: Sacramento at Las Vegas, 12:05 p.m.
Monday: Sacramento at Las Vegas, 7:05 p.m.
Tuesday: Sacramento at Las Vegas, 12:05 p.m.
Update
The New York Mets recalled pitcher Logan Verrett and optioned Ty Kelly back to Triple-A Las Vegas. Verrett was scheduled to pitch Tuesday, but was scratched shortly before his start in Reno after Mets starter Bartolo Colon was knocked out of his start by a batted ball in the first inning.
Also, catcher Kevin Plawecki joined the 51s in Reno after being optioned by the Mets upon Travis d'Arnaud's return.
Betsy Helfand can be reached at bhelfand@reviewjournal.com. Follow on Twitter: @BetsyHelfand.