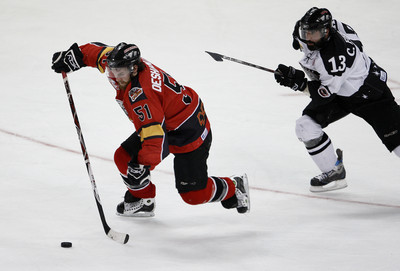 As David Desharnais has gone, so has Cincinnati in the Kelly Cup Finals.
Desharnais (pronounced DAY-har-nay) had two goals and an assist in the Cyclones' 4-2 win over the Wranglers in Game 1, and he had a goal and two assists in Cincinnati's 4-2 triumph over Las Vegas in Game 3.
The Wranglers shut out the Cyclones 1-0 in Game 2 and 2-0 in Game 4 to tie the best-of-7 series, which resumes at 7:05 p.m. Monday in Game 5 at the Orleans Arena.
Desharnais, 21, from Quebec City, might be just 5 feet 6 inches tall, but he has been huge for Cincinnati throughout a sensational season in which he led the league in scoring with 106 points and was named the ECHL Most Valuable Player and Rookie of the Year.
"He's been the straw that stirs the drink, especially offensively and the way he competes," said Cyclones coach Chuck Weber, the ECHL Coach of the Year. "If people can overlook his size, they've got a pretty special player here. (The) Montreal (Canadiens) are pretty lucky to have him in their organization."
Desharnais has put up eyebrow-raising numbers the past four years, including this one, compiling three consecutive 100-point seasons after scoring 97 points in 2004-05.
After scoring 323 points (103 goals, 220 assists) in his last three years in the Quebec Major Junior Hockey League, Desharnais hasn't missed a beat in his first professional season.
He scored 106 points, on 29 goals and 77 assists, in 68 games in the regular season and also leads the league in scoring in the playoffs, with 28 points (9-19) in 20 games.
Desharnais set a league record with an assist in 20 straight games this season and also compiled a 27-game point streak.
So why hasn't the NHL drafted this high-scoring dynamo?
"He's 5 feet 6," Weber said. "If he's 4 inches taller, he's probably in the NHL as a 21-year-old."
Inspired by similar-sized NHL players such as retired All-Star Theo Fleury, also 5-6, Desharnais already has played at the next level, in the American Hockey League — scoring two points in seven games with Bridgeport last year and notching an assist in four games this year with Hamilton.
Next season, Weber expects him to go back up there for good.
"There's no reason why he shouldn't be in the AHL all year next year," he said. "As for the NHL, we'll see how he develops the next two or three years. He's got those types of abilities (to make it).
"He has an uncanny ability to play the game with his head up, which makes him special, and the way his vision is, the way he passes the puck and the way he shoots the puck (is special) as well. He's still 21, and he's going to get stronger. The sky's still the limit for him."
Despite his small stature, Desharnais embraces physical play and defense.
"He finishes his checks on guys bigger than him, and he never shies away from traffic," Weber said. "He plays better in tight quarters, feeling guys hitting him, spinning off them and attacking the net.
"And he doesn't cheat defensively. A lot of guys who get 100 points are cheating on breakaways and up the ice, but he makes sure he takes care of his end first."
Desharnais has no doubt why he never has been drafted by the NHL.
"For sure it's my height. I'm 5-6, so I have to work harder than some guys 6-foot," he said in a thick French accent. "I'm just hoping this year will show everybody that height is not an issue. I hope that next year I'll be in the (AHL). I'm sure I'm ready for the next level."
First things first, though. Capturing a Kelly Cup would be the perfect way to cap what has been a dream season for Desharnais, who never has won a title.
"To be in the Finals is exciting, and this is the best season ever for me," he said. "We just have to continue to work hard and … I'm pretty sure we're going to end up with the Cup."
Contact reporter Todd Dewey at tdewey@ reviewjournal.com or 702-383-0354.