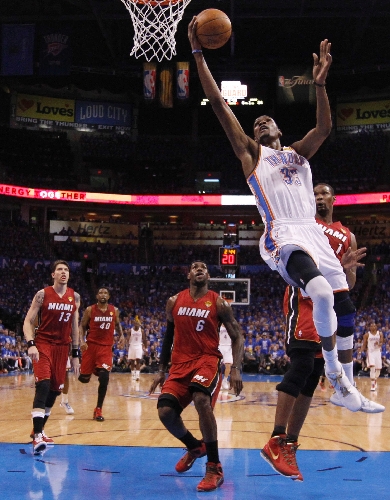 OKLAHOMA CITY – Kevin Durant delivered the fourth quarter LeBron James never could last year.
So forget those NBA Finals jitters at the start. Durant and the young Thunder showed they already have figured out how to finish.
Durant scored 17 of his 36 points in another nightmarish final period for James and his team, leading a Thunder storm that overwhelmed the Heat and gave Oklahoma City a 105-94 victory over Miami in Game 1 on Tuesday night.
"That's what they do: They keep on coming," Heat coach Erik Spoelstra said. "They're relentless."
Teaming with Russell Westbrook to outscore the Heat in the second half by themselves, Durant struck first in his head-to-head matchup with James, who had seven points in the final quarter and was helpless to stop the league's three-time scoring champion.
"Well, those guys, they came out on fire. They were passing the ball well, knocking down shots. We just wanted to continue to keep playing," Durant said. "It's a long game, and every time our coach was just saying play harder, play harder, and that's what we did."
Westbrook turned around a poor shooting start to finish with 27 points, 11 assists and eight rebounds for the Thunder, keying a strong finish to the third period that gave Oklahoma City the lead for good.
Durant took over from there.
Scoring in nearly every way possible, Durant finished 12 of 20 from the field and added eight rebounds. He and Westbrook outscored the Heat 41-40 in the final two periods.
James finished with 30 points, his most in any of his 11 Finals games, but had only one basket in the first 8:15 of the fourth, when the Thunder seized control of a game they trailed for all but the final few seconds of the first three quarters.
James averaged three points in the fourth quarters of the Heat's six-game loss to Dallas last year, taking almost all the heat for Miami's Finals failure. He was good in this one; Durant was just better.
"They didn't make many mistakes in the fourth quarter," James said.
And when fans chanted "MVP! MVP!" late in the game, they weren't talking about James, the guy who won the regular-season award.
They meant Durant, who is in a race with James for his first ring – and maybe the title of best player in the game.
Dwyane Wade had 19 points but shot 7 of 19 for the Heat, and Shane Battier provided rare offense by scoring 17 points, his high this postseason.
Turning to a small lineup late in the third quarter, the Thunder improved to 9-0 at home in the postseason. Defensive ace Thabo Sefolosha helped defend James during the Thunder's comeback, relieving Durant of the burden so he could focus on his scoring.
Spoelstra said his team, pushed to seven games against Boston in a grueling conference finals the Heat finally won Saturday, preferred this quick turnaround. But perhaps they ran out of gas against the young Thunder, whose core players are 23 and younger and look as if they could keep playing all night.
"Honestly, I think we just came out with a lot more intensity on the defensive end. Made them feel us a little bit," Westbrook said of the second half, when the Thunder outscored the Heat 58-40.
Durant threw down a fast-break dunk and added a 3-pointer that pushed Oklahoma City's lead to 87-81 with 6½ minutes left. The Heat got within four points, but Durant hit two quick baskets and Westbrook added another for a 10-point lead with 3:35 left.
OKLAHOMA CITY 105
MIAMI 94
■ KEY: Kevin Durant and Russell Westbrook combined to outscore the Heat 41-40 in the second half as the Thunder overcame a 13-point deficit.
■ NEXT: Game 2, Heat at Thunder, 6 p.m. Thursday, ABC (13), KWWN (1100 AM, 98.9 FM)