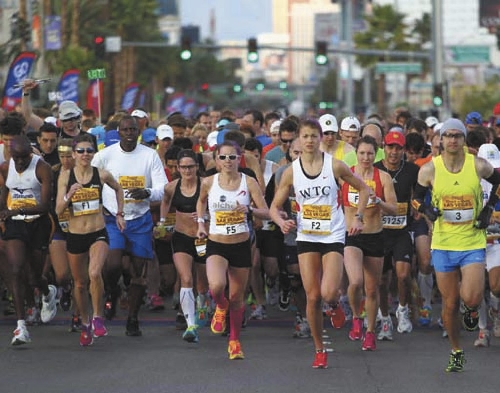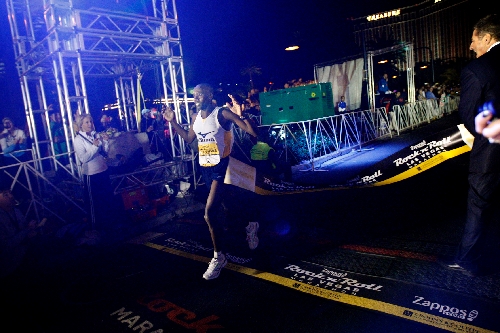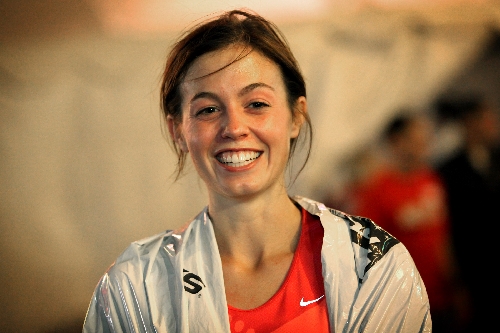 The full marathon gets top billing each year in the Zappos.com Rock 'n' Roll Las Vegas Marathon and Half-Marathon. But make no mistake, the half-marathon is wildly more popular, and it had a wild and windy finish Sunday night on the Strip.
England's Craig Hopkins won a three-man battle for the title, covering the 13.1 miles in 1 hour, 7 minutes, 23 seconds, just barely holding off Kenya's Francis Maundu (1:07:28), with Costa Rica's Cesar Lizano third in 1:07:42.
Runners benefited from a tremendous tailwind as they made their way from the start line at Mandalay Bay downtown to Fremont Street. But when they made the turn south for the trek back to the finish line at The Mirage, they were greeted by headwinds of 25 mph, with gusts up to 40.
"We were drafting, kind of like cycling," Hopkins said of his showdown with Maundu and Lizano. "It was very tactical with a very up-and-down pace.
"The last two miles, I thought I might have a chance for first or second. I didn't know I'd win until I could see The Mirage sign."
Maundu thought a win was in the works, but the wind and Hopkins proved a little too much.
"The race was good, but those last two to three miles, there were really strong winds, and that kept us off-balance," Maundu said. "I thought I would get him, but he was stronger."
Bradi Hutchison of Pocatello, Idaho, took the women's half-marathon with a little more ease, clocking 1:19:34. Hutchison loved the first few miles, but knew a rough road was ahead for the final stretch.
"It was so awesome going out, but the last four miles were really tough, to say the least," said Hutchison, who took the lead about five miles in but never assumed victory, despite winning by more than a minute. "I wasn't quite sure. The whole time, I was trying to tell myself that people were right behind me. I really didn't know until the last 10 meters.
"I was aiming for a top-20 finish. I am insanely surprised."
Paige Biglin of Columbus, Ohio, was also happy with her second-place showing of 1:20:47, lauding Hutchison's effort.
"She flew by me at like mile 6, and woke me up a little bit," Biglin said. "The tailwind on the way out, I was floating on air, like a sailboat, but knowing I'd be in trouble on the way back. I knew it was gonna be a fight. I had a great nine miles, and a character-building last four miles."
Marathon winner Jonathan Ndambuki had nothing but character building to worry about, because he was virtually unchallenged for the last 20 miles – with the exception of that wind. The Kenyan won in 2:32:24, nearly a minute ahead of Seattle's Steve Dekoker.
"It was really very tough, especially the last two miles. I was struggling because the wind was blowing me backwards," Ndambuki said. "I knew I had a big lead, but those last two miles, I kind of felt like I was not moving at all."
Dekoker was alone, too, finishing in 2:33:21, eight minutes ahead of third-place Sam Robinson of Oakland.
"I started running by myself at 14 miles, and I was literally by myself the rest of the race," Dekoker said. "It was a monumental sludge through the mud. It was excruciating. I just had to keep putting one foot in front of the other. It was a crazy headwind."
The women's marathon provided the most exciting finish, with Nuta Olaru holding off Adrian Neal of Colorado Springs, Colo., by one second, winning in 2:51:31. Olaru and Neal went at it for the last six miles, trading the lead so that they could draft off each other, and Olaru also battled a leg cramp late.
"I had a cramp in my right leg, and for the last two kilometers, it was like a fist – really tight," said Olaru, who was born in Romania but became an American citizen last year. "But I saw the finish line, I kept running, and I said, 'OK, I can win this race.' "
Said Neal: "It was pretty brutal, one of the toughest marathons I've ever run. It came down to those last 30 meters. I kicked and gave everything I had. I didn't know who had more left, but obviously she did."
Despite the issues with the wind, most in the field of 25,000-plus runners – 22,323 for the half, and another 3,245 for the full – still reveled on a relatively warm December night below the lights of Las Vegas Boulevard, where fans were lined up by the hundreds.
This is the fourth year of this event under the Rock 'n' Roll banner, and the second year it has been held at night.
"The energy out here is awesome," said Neal, competing in Vegas for the first time. "It's a great atmosphere."
Hopkins, who now lives in Portland, Ore., termed his victory the biggest of his career, and he couldn't think of a better place for it.
"It's pretty sweet," he said. "All the lights and the music and the massive crowds, it gets you going, for sure."
Contact reporter Patrick Everson at peverson@reviewjournal.com or 702-383-0353.
Map of Las Vegas marathon street closings
More on the marathon