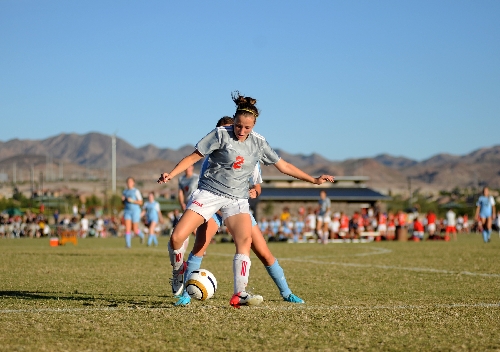 Arbor View girls soccer coach Jay Howard will tell anyone who will listen how well his team passes and moves.
Or he could simply show them a video of the Aggies' Sunset Region-winning goal from Saturday at Heritage Park.
Arbor View converted on two good passes and great awareness by trailing forward Lexi Eply to score midway through the first half and held off Centennial 1-0 in the Sunset title match.
"When we're passing, it's hard to keep up with us," Howard said. "We are a really good passing team. We play hard, and that goal was a result of us just playing hard. We were moving toward the ball."
The Aggies (13-4) advance to the Division I state tournament, which begins Friday. Centennial will face Coronado in a play-in match at 6 p.m. Monday at Faith Lutheran.
Eply seemed to appear out of nowhere to get the only goal in the 21st minute.
Arbor View moved the ball through the middle of the field with Chandler Yoder and Amberly Halstead neatly setting up Breanna Larkin on the right wing for a shot that beat Centennial goalkeeper Charlotte Madrid to the far side.
The Bulldogs defense got to the ball as it trickled near the goal line, but Eply raced in from the left side to hammer it in and give Arbor View the lead.
Aggies goalkeeper Hayley Fife was solid, making five saves, though the Bulldogs' best chances never found the net, often sailing over the crossbar or just wide of the post.
"This is great, and especially this year because the season changed and there were sacrifices to be made," Howard said. "They stuck with us, and I'm just really proud of them."
Contact reporter Bartt Davis at bdavis@reviewjournal.com or 702-387-5230.
In-depth high school sports coverage