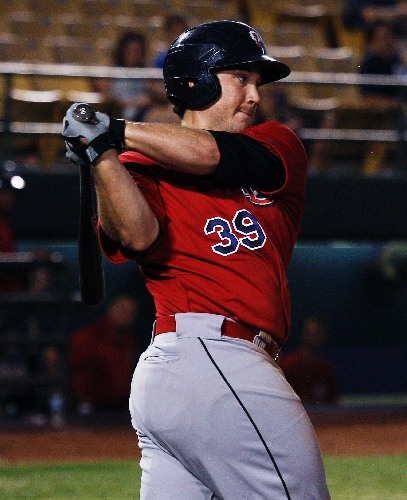 Around this time last year, first baseman Brett Wallace was enjoying an impressive season for the 51s when he was stunned to learn he'd been traded from the Toronto Blue Jays to the Houston Astros for minor league outfielder Anthony Gose.
"I had no idea that was coming," said Wallace, who hit .301 with 18 homers and 61 RBIs in 95 games last year for Las Vegas and was named a Pacific Coast League All-Star. "I was just as surprised as probably everybody just because I had no heads up, no anything."
The trade, which was an offshoot of the deal that sent former Astros ace Roy Oswalt to the Philadelphia Phillies, worked in Wallace's favor as he immediately was inserted as Houston's starting first baseman.
The 6-foot-2-inch, 252-pound slugger remained with the Astros until Wednesday, when he was optioned to Oklahoma City.
Wallace is hitting .268 with four homers and 26 RBIs for Houston this season and is batting .254 in 152 games for the Astros overall.
He hit .388 in April and was batting .316 through May but has hit .207 since then.
Still, the 24-year-old said the demotion took him by surprise.
"Coming down here is definitely an eye opener, but I'm going to use it as a tool to get back on it and get back up there," Wallace said before Oklahoma City's 17-10 loss to the 51s on Thursday at Cashman Field. "I'm just going to bust my butt and try to get that confidence back and get that timing back."
Wallace took out his frustrations on the 51s, hitting a go-ahead two-run double in the ninth inning Wednesday to cap a 4-for-4 night in the RedHawks' 7-6 win. He finished 2-for-5 on Thursday.
"He's just trying to get his swing back," Oklahoma City manager Tony DeFrancesco said. "I think he just lacked some confidence up there. He's got to be more selective. (The Astros) want him to drive the ball."
A two-time Pac-10 player of the year at Arizona State, Wallace has been traded three times since the St. Louis Cardinals drafted him in the first round in 2008.
He was dealt to the Oakland Athletics in July 2009 as part of the trade for outfielder Matt Holliday and was flipped to Toronto in December 2009 for A's prospect Michael Taylor as part of a deal that sent former Blue Jays ace Roy Halladay to the Phillies.
"It's a business. You realize it's part of the game, and you don't really worry about it," Wallace said of getting traded. "Wherever you are, you're going to get an opportunity. That's the way I look at it."
■ NOTES — The Blue Jays called up third baseman Brett Lawrie from the 51s and optioned outfielder Travis Snider to Las Vegas. Toronto also recalled left-handed pitcher Luis Perez from the 51s and placed right-hander Carlos Villanueva on the 15-day disabled list with a right forearm strain. Lawrie, 21, batted .353 with a team-leading 18 homers and 61 RBIs in 69 games for the 51s. He missed seven weeks after suffering a fractured left hand May 31 but quickly regained his form after rejoining Las Vegas on July 19. He compiled a 12-game hitting streak from July 20 to 31, batting .420 (21-for-50). … Seven-time Cy Young Award winner Roger Clemens was in attendance for the second straight night to watch his son Koby play for the RedHawks.
Contact reporter Todd Dewey at tdewey@reviewjournal.com or 702-383-0354.
LAS VEGAS — 17