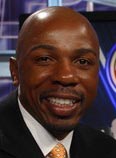 Greg Anthony is going back to college.
Anthony, the point guard who helped UNLV to the 1990 national championship and the 1991 Final Four, is leaving ABC and ESPN to become the lead studio analyst for CBS' college basketball coverage.
Anthony, 40, will join Greg Gumbel and Seth Davis in the studio for coverage of this year's NCAA Tournament. He also will be an analyst for CBS' regular-season games starting in December, the network said.
Anthony replaces Clark Kellogg, who is leaving the studio to take Billy Packer's spot alongside Jim Nantz as the network's lead courtside broadcast team.
"With his knowledge, passion and versatility as an analyst in the studio and in the field, Greg Anthony is quickly becoming one of the top analysts in college basketball," CBS vice president of production Harold Bryant said in a statement.
CBS didn't disclose terms of Anthony's contract.
The career assists leader at UNLV with 838 and a first-round draft pick of the New York Knicks in 1991, Anthony played for six teams in 12 seasons in the NBA. After his playing career, he was an NBA analyst for ESPN and ABC.
• RESTORING FAMILY NAME — Kendrick Carmouche, one of the top jockeys at Philadelphia Park race track, gets a taste of the big time Saturday when he rides True to Tradition in the $1 million Breeders' Cup Turf Dash at Santa Anita.
He'll try to boost his own name as well as alter the family's infamous legacy by winning. His father, Sylvester, was involved in one of the most bizarre incidents in racing history when he was riding at Delta Downs in Louisiana one night in 1990. With fog cloaking the track, he brought home a 23-1 long shot by 24 lengths.
The stewards were suspicious of the finish, and after further review ruled that Carmouche parked his horse in the fog, waited for the field to catch up and took off again. The stunt earned him an eight-year suspension.
"We always say, 'You know, dad, you are a legend, no matter what,' " Kendrick said. "Nobody ever did that before. Even though it was wrong, people still look at it as a story. And people love stories."
The son hopes to write his own success story with a horse claimed for $35,000 by veteran trainer Scott Lake and who has won three straight on the grass with Carmouche in the saddle.
• NO. 1 RAYS FAN — Dick Vitale has been a Tampa Bay Rays season-ticket holder since they started playing baseball in front of all those empty seats at Tropicana Field and losing all those games.
"I had my season tickets for 11 years, and I couldn't even give them away, and my section is great," Vitale told the Philadelphia Daily News as the Rays prepared to play their first World Series game Wednesday against the Philadelphia Phillies. "Now, my phone is constantly ringing with people wanting tickets. I couldn't give them away for 10 years."
The consummate optimist, Vitale is still pinching himself that his team is actually in the Fall Classic.
"It's unbelievable to think a World Series is going to be here," Vitale said. "I've been here when they announced 10,000 and there was like 7,000 there. It would break your heart."
COMPILED BY STEVE CARP REVIEW-JOURNAL