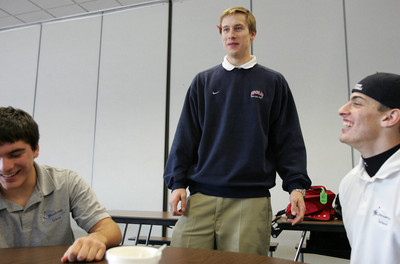 Brian Chausmer cuts to the basket, E.J. Rudy dishes him the ball, and Chausmer hits the layup, drawing a foul.
Henderson International goes up two points on visiting Tonopah.
And two teams celebrate?
Sure the Wolverines were happy, jumping into the air, doling out high fives on that Jan. 11 night.
But on the sideline, awaiting the start of their game, members of the Findlay Prep basketball team were just as excited.
Two teams. One campus. One sport.
After a rocky reception for the program, conceived in July 2006 and fully assembled less than two months later, Findlay Prep has been welcomed into the Henderson International (formerly Warren Walker) community.
And the feeling is mutual.
"Right after that play, all the Findlay Prep guys are standing on the sidelines, and I just walked right to (guard) Deividas Dulkys and gave him a high five," Rudy said. "It was like there was no division at all. We were all just one family.
"They were just genuinely happy for us getting that victory."
It wasn't always so peachy keen, so "Partridge Family."
When Findlay Prep started its program, Henderson International faculty, staff and parents didn't know what to expect. In two months, Findlay Prep coaches had to have an entire program in place — games, uniforms, schedule, the team. Simple things like an introductory assembly or a welcoming party were ignored for even simpler things, like inflating basketballs and designing a logo.
"People were surprised," said Findlay Prep coach Michael Peck, an assistant on last year's team. "They didn't roll out any carpets for us.
"They weren't aware of us; they had heard some things, but nothing was official."
Added Henderson International coach Hollis Hale: "At first, I think it was kinda like, 'They're just here for basketball. What are they doing here? Why are they here?'
"And I think it went both ways."
Now, the two entities are more familiar, more comfortable with each other. In the small cafeteria — Findlay Prep included, Henderson International has roughly 70 total high school students — Findlay Prep players mix with Henderson International players over plates of spaghetti.
And they also mix over textbooks, attending the same classes and turning in the same homework.
Their relationship has been forged on mutual respect, a sentiment many players echoed. The Henderson International community has realized the Findlay Prep kids aren't just there for basketball; likewise, the elite basketball recruits appreciate the standards to which they're held.
Findlay Prep players all come from different backgrounds and birthplaces, from Los Angeles to Lithuania, but the common tie is simple — in their past lives, they were treated like royalty.
"They treat us like regular people, and we love them for that," said forward Curtis Dennis, whose Pilots are 19-0 and the third-ranked prep team in the country by Scout.com. "I appreciate that. You're gonna learn later in life that you can't get away with things.
"You see athletes today, and they mess up, and they pay for it. Just because you have god-given talent doesn't mean you can do whatever you want."
And just as Henderson International has been tough on the Findlay Prep players off the court, Findlay Prep has been tough on Henderson International in the gym.
Dennis said he often gives pointers to some of the Wolverines, and that's when he's not taking stats for the team on road games. The teams' respective games are so different — Henderson International plays below the rim; Findlay Prep, with an average height of 6 feet 7 inches, plays above the rim, perhaps even above the ceiling — but really, the game is the same.
"It sometimes is a little … I guess it makes you feel kinda helpless" watching them, Rudy said. "It comes with such ease for them; they're so athletic, so physically gifted. But basketball is basketball — they learn stuff from watching us play, too.
"There's something to learn when you don't have people flying around the rim, dunking. You get back to the raw fundamentals of the game.
"It's mutual. They learn from us; we learn from them."
Contact reporter Jon Gold at jgold@reviewjournal.com or (702) 380-4587.