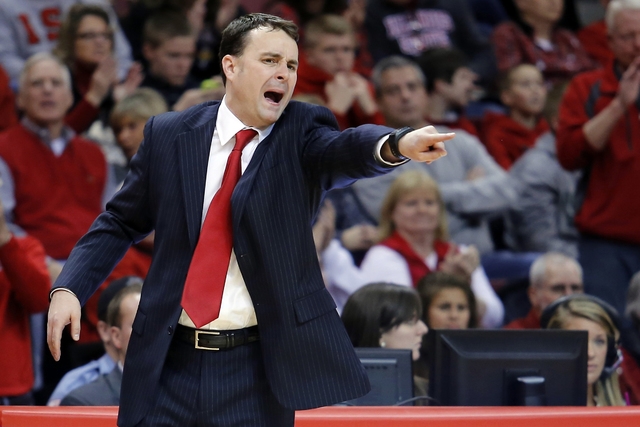 What to watch today in the NCAA Tournament:
TOP BILLING: The best game of the day? It should be Dayton-Ohio State in the South Region. The sixth-seeded Buckeyes are 6-point favorites, but expect the underdog to put up a big fight. The Flyers' leading scorer is Jordan Sibert, a transfer from Ohio State. The last time these in-state rivals played a regular-season game was in 1988. So is it really a rivalry? You can bet the game means a lot to Dayton. The teams cross paths in Buffalo. Wake up early to see it. The tip time is 9:15 a.m.
FLIP A COIN: There will be some blowouts today, but oddsmakers don't anticipate Arizona State-Texas will be one. The Longhorns, a No. 7 seed in the Midwest, are 2-point favorites. Sun Devils star Jahii Carson might be the fastest point guard in college basketball. A 5-foot-10-inch sophomore, Carson might also be playing his last college game. He is headed for the NBA Draft.
MOST LIKELY TO SUCCEED: Michigan State just won the Big Ten tournament, and coach Tom Izzo is magical in March. A panel of five ESPN experts made Final Four picks Sunday night, and all five picked the Spartans to win the national championship. That's called a unanimous decision. It's also crazy because there is no one dominant team this season. Michigan State might not go all the way, but it also won't lose today. The Spartans, seeded No. 4 in the East Region, are 14-point favorites over Delaware. If the Blue Hens win, five ESPN experts will look like idiots.
UPSET ALERT: The Ivy League champs are no chumps. Harvard (26-4) is a 3-point underdog to fifth-seeded Cincinnati. A No. 12 seed has won at least one game in 23 of 25 years, and the 12 seeds are 5-3 against the 5 seeds in the past two tournaments. Wesley Saunders and Siyani Chambers are the top scorers for the Crimson, a popular underdog pick.
UPSET ALERT, TOO: Oklahoma is the No. 5 seed in the West, and we know all about the history of the 5-12 games. Is Sooners coach Lon Kruger going to be heading home early, one year after San Diego State sent him home early? North Dakota State, the Summit League champion, has won nine straight games and is a 3½-point underdog. The Bison rank No. 1 in the nation in field-goal percentage (.509).
NICKNAME GAME: Senior point guard Russ Smith is no secret, not after leading Louisville to the NCAA championship last year. His nickname — "Russdiculous" — is no secret, either. It was given to him by his coach, Rick Pitino, who looks ridiculous when he wears those all-white suits.
BEST BIG MAN: The Cardinals have a low-post force to complement Smith's perimeter scoring. Montrezl Harrell has been an unstoppable monster for Louisville, especially late in the season. A 6-8, 235-pound forward, Harrell averages 14.2 points and 8.2 rebounds and shoots 61.4 percent from the field. A lot of his attempts are dunks, and those are high-percentage shots. Harrell has an explosive game. He also has a unique first name. The Cardinals are 16-point favorites in their opening game against Manhattan.
BIGGEST MAN ON CAMPUS: This one is easy. Sim Bhullar is a giant, one of the largest men in the world, at 7-5 and 355 pounds. He plays for New Mexico State, and he's obviously not the point guard. The sophomore center averages 10.3 points, 7.9 rebounds and 3.4 blocked shots. He also blocks out the sun. If Bhullar doesn't make it to the NBA, he might have a future in pro wrestling. The Aggies are 7½-point underdogs to fourth-seeded San Diego State in the West Region.
COACHING CLINIC: Who is Mike Brennan? How about Mike Young? Brennan is the coach for American University. Young coaches Wofford. One of those unknown coaches could be running around looking for someone to hug after a major upset. Several big-name coaches will be barking at refs today, including Izzo, Pitino, Florida's Billy Donovan, San Diego State's Steve Fisher, Syracuse's Jim Boeheim and Wisconsin's Bo Ryan. And let's not forget John Beilein, who led Michigan to the title game last year. Beilein is as good as it gets, and his Wolverines face Wofford.
MUST-SEE SEQUEL: Oregon is a 5½-point favorite over Brigham Young in a West Region game in Milwaukee, a geographic quirk in the bracket. But it should be a wild West shootout. The total is 158½. When the teams first met on Dec. 21, the Ducks won 100-96 in overtime. Tyler Haws led the losing Cougars with 32 points. It was a game worth seeing again.