Hyde leads 49ers to victory over Vikings, 20-3
September 14, 2015 - 11:05 pm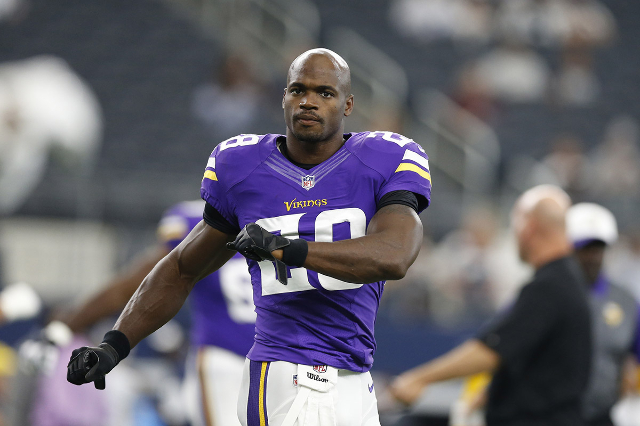 San Francisco 49ers running back Carlos Hyde had some big shoes to fill Monday night when he made his first career NFL start, taking over for Frank Gore, the team's all-time leading rusher.
Hyde stepped into the spotlight and rushed for a career-high 168 yards and two touchdowns, leading the 49ers to a 20-3 season-opening victory against the Minnesota Vikings at Levi's Stadium in new San Francisco coach Jim Tomsula's debut.
Hyde, who carried 26 times, scored on a 10-yard run in the second quarter and a 17-yard run in the fourth.
"I just tried to be the momentum-builder for our offense," Hyde said.
The 49ers lost Gore as a free agent to the Indianapolis Colts after last season. Hyde, who backed up Gore last year as a rookie, took full advantage of the team's new zone blocking scheme.
"I love it," Hyde said. "I feel like I was back at Ohio State tonight. It felt good. I have an awesome line, they do a great job of zone blocking and make it easy for me to hit those cut-back lanes."
Vikings running back Adrian Peterson, who missed the final 15 games last season over child-abuse charges, rushed for 31 yards on 10 carries in his first game since Sept. 7, 2014.
"This wasn't the way we expected it to go," Peterson said. "It will be a much different feel coming in (next week at home). You have to credit those guys on defense. They have good players, and they got the better of us."
Linebacker Ahmad Brooks said the 49ers "preached all week" about stopping the run.
"That's how we play defense over here, and that's how we'll continue to play defense," Brooks said.
San Francisco quarterback Colin Kaepernick completed 17 of 26 passes for 165 yards and ran for 41 yards on seven carries. Tight end Vernon Davis caught three passes for 47 yards, and tight end Garrett Celek had three catches for 40 yards.
Minnesota quarterback Teddy Bridgewater completed 23 of 32 passes for 231 yards with one interception. He was sacked five times.
"Maybe we're just not ready for prime time yet," Vikings coach Mike Zimmer said. "This performance leads me to believe that. Everybody's been talking about us for 11 months, and maybe we thought we were a little bit better than what we were."
Strong safety Antoine Bethea, linebacker NaVorro Bowman, safety Jaquiski Tartt, tackle Tank Carradine and linebacker Aaron Lynch each had a sack for San Francisco.
The 49ers entered the second half with a 7-0 lead and made it 10-0 on kicker Phil Dawson's 30-yard field goal with 4:32 left in the third quarter.
Minnesota cut San Francisco's lead to 10-3 with 14:43 left to play when kicker Blair Walsh made a 37-yard field goal.
The 49ers drove 80 yards for a touchdown, moving ahead 17-3. Hyde gained 17 yards to the Vikings 10 and scored on a 10-yard burst over right guard with 9:30 left to play then leaped into the stands behind the end zone.
"Why not?" Hyde said. "The fans believe in us. Why not (celebrate) with them, too?"
San Francisco cornerback Tramaine Brock picked off a Bridgewater overthrow and returned it 26 yards to the Vikings' 30, setting up Dawson' 25-yard field goal with 6:08 remaining.
The 49ers had a tumultuous offseason, replacing Jim Harbaugh with Tomsula, who previously coached the defensive line. They also lost a long list of players to retirement, free agency and legal problems.
"It showed we blocked out all the distractions," Hyde said. "We came together as a group. A bunch of guys that believe in each other."
The 49ers took a 7-0 lead on Hyde's 10-yard touchdown run with 4:58 left in an error-filled first half. Facing second-and-3, Hyde started right, spun to his left and raced untouched into the end zone.
The 49ers lost backup running back Reggie Bush to a left calf injury early in the first quarter. That left the 49ers with rookie Jarryd Hayne, a former Australian rugby star, as their only backup running back. Hayne finished with four carries for 13 yards.
San Francisco survived a first-half special teams meltdown. Dawson had a 28-yard field-goal attempt blocked by safety Andrew Sendejo and returned 44 yards by cornerback Marcus Sherels to the 49ers' 26.
Hayne muffed a punt that Minnesota recovered at its 43. San Francisco punt returner Bruce Ellington had an 85-yard return for a touchdown nullified because of two illegal blocks in the back by the 49ers.
NOTES: Vikings starting C John Sullivan was placed on injured reserve/designated for return. Joe Berger started in his place. … Vikings MLB Gerald Hodges Jr., who started the final two preseason games, started against San Francisco, beating out Audie Cole for the top job. … Vikings SS Andrew Sendejo started against the 49ers, ahead of Robert Blanton. … Niners OLB Corey Lemonier, who saw significant playing time during the preseason, was inactive.