Lions' Suh has one-game suspension overturned
December 30, 2014 - 3:06 pm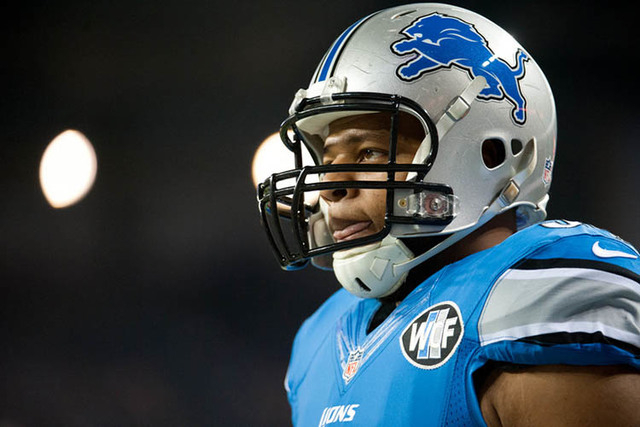 Detroit Lions defensive tackle Ndamukong Suh has had a one-game suspension rescinded, making him eligible for Sunday's NFC wildcard game against the Dallas Cowboys.
Appeals officer Ted Cottrell reduced the discipline to a $70,000 fine, the National Football League (NFL) announced on Tuesday.
Suh on Monday was suspended by the league for one game for violating safety-related playing rules prohibiting unnecessary roughness.
But he appealed the penalty, handed down for stepping on the left leg of Green Bay Packers quarterback Aaron Rodgers during the fourth quarter of Sunday's regular season finale.
With Rodgers in a defenseless posture, Suh backed up and stepped on the quarterback's leg with his right foot before repeating the move with his left foot in a display of "unnecessary roughness", the NFL said in a statement on Monday.
"You did not respond in the manner of someone who had lost his balance and accidentally contacted another player who was lying on the ground," Merton Hanks, the NFL's vice president of football operations, said.
"This illegal contact, specifically the second step and push off with your left foot, clearly could have been avoided."
Suh has a long history of player-safety violations.
Cottrell is jointly appointed by the NFL and NFL Players Association to hear and decide appeals for on-field player discipline.
Suh's fines for on-field conduct
NEW YORK — NFL fines and suspensions of Detroit defensive tackle Ndamukong Suh:
Sept. 3, 2010 – $7,500, for a roughing-the-passer penalty on Cleveland quarterback Jake Delhomme in a preseason game.
Nov. 9, 2010 – $5,000, for attempting to gain leverage on an opponent during a field goal attempt vs. New York Jets.
Dec. 8, 2010 – $15,000, for an unnecessary roughness penalty for a hit on Chicago quarterback Jay Cutler. Referee Ed Hochuli called the play "an unnecessary non-football act."
Aug. 17, 2011 – $20,000, for slamming Cincinnati quarterback Andy Dalton after Dalton had already released the ball.
Nov. 29, 2011 – Suspended two games without pay for unnecessary roughness and for stepping on the right arm of Packers OL Evan Dietrich-Smith ($164,000 lost pay).
Nov. 28, 2012 – $30,000, for a kick to the groin of Houston quarterback Matt Schaub.
Sept. 10, 2013 – $100,000, for his illegal low block on Minnesota center John Sullivan. Suh hit Sullivan during an interception return by Detroit linebacker DeAndre Levy, and the penalty negated what would have been a touchdown.
Oct. 23, 2013 – $31,500, for a hit on Cleveland QB Brandon Weeden.
Nov. 29, 2013 – $7,875, for motioning a throat slash in a game with Tampa Bay.
Dec. 29, 2014 – Suspended for the wild-card playoff game against Dallas after stepping on Green Bay QB Aaron Rodger's left leg in violation of safety-related playing rules. The suspension was rescinded on Tuesday and reduced to a $70,000 fine.
— ASSOCIATED PRESS