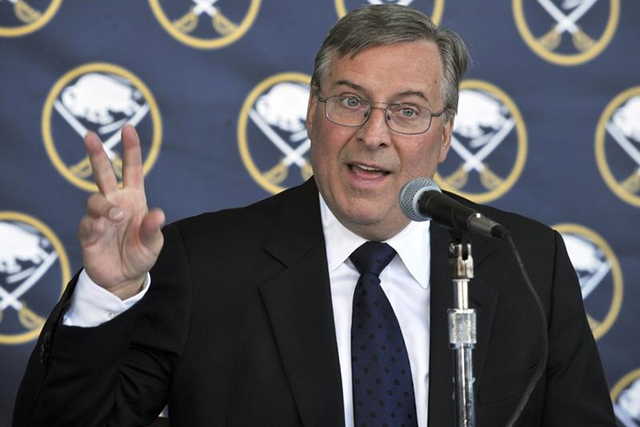 NEW YORK — NFL owners unanimously voted to add another member to their club, approving Terry Pegula as the new owner of the Buffalo Bills.
"Kim and I are honored that the NFL owners have approved us as the new owners of the Buffalo Bills and we'd like to thank the owners for their support," Pegula said in a brief public statement at the Conrad Hotel on Wednesday. "This is a significant step in us owning the team but we still don't own it yet. There's a small matter of having to pay some money and wires have to be sent from banks and paperwork has to be signed and whatnot but we'll get that done."
The vote took place early Wednesday, where owners are holding their fall meeting.
"It's a historic day. It's one of the greatest days in Buffalo history no question," Bills CEO Russ Brandon said Wednesday. "It's cementing Mr. (Ralph) Wilson's unbelievable legacy and it's time to create a new legacy with the Pegula family and it's time to win some games on the field."
Pegula purchased the Bills from the estate of original owner Ralph Wilson for $1.4 billion and their bid was unanimously approved by the finance committee on Sept. 17. They need three-fourths of owners to vote in favor of their bid to become the league's newest owners.
"We're delighted to approve them and I think they'll be great for Buffalo," Philadelphia Eagles owner Jeffrey Lurie said Tuesday.
The vote consisted of a short financial presentation without Pegula and his wife, Kim, before they were invited into the room to make a presentation and answer questions.
Pegula did not have a vote, but the Wilson family estate held one of the 32 votes. The next step for the ownership group is to close the sale, which involves review of financial records and the actual transfer of funds to the Wilson estate.
"We will check that box and be on our way," said Bills CFO Jeffrey Littman shortly after Pegula's approval Wednesday. "Once all of that is complete, our focus for the interim time after that is going to be to do whatever we can do and whatever they'd like us to do to help ensure a very smooth transition for all of our people back at One Bills Drive and for all of our fans in Western New York.
"Once that's done, we will be turning our attention — we've, of course, done some pre-planning work — to the future and the mission of the Ralph Wilson Foundation, and we won't have anything further to say until we've done that and gotten on to that work."
Pegula, 63, was a real estate and natural gas mogul and has owned the Buffalo Sabres since Feb. 2011. He won a bidding process that included Donald Trump, singer Jon Bon Jovi backed by Toronto's Maple Leaf Sports and Entertainment group, who also own the Toronto Raptors and Maple Leafs.
"In terms of Ralph, I think he was one of the best owners in the history of the league," Green Bay Packers President and Chief Executive Officer Mark Murphy said. "You go back to what he did with the Bills and the AFL and just him throughout his whole tenure as owner, just was great for the organization and for the community. He leaves a great legacy but I think we're excited about the Pegulas and excited to see how things unfold."
The Bills were put up for sale after Wilson passed away in March. Russ Brandon has been serving as team president and the priority for a new owner is someone committed to keeping the team in Western New York.
"I think it's very important for the league to have a variety of different ownership structures and teams and different markets and we've shown that we can be very successful in a small market," Murphy said. The Bills have had success both on and off the field. Just having grown up in Buffalo, I know how much the Bills mean to the community and it would have been a big loss."
The Bills have played in Ralph Wilson Stadium in suburban Orchard Park since 1973. Before that, they spent 13 years at downtown Buffalo's War Memorial Park.
The team signed a 10-year lease to stay in Buffalo in 2012 and reports have stated that Pegula would like to build a stadium in downtown Buffalo near where the Sabres play.
"For me the most important thing is that they're somewhere in Western New York," Murphy said.
RELATED:
Sabres owners bid NFL-record $1.4 billion for Buffalo Bills