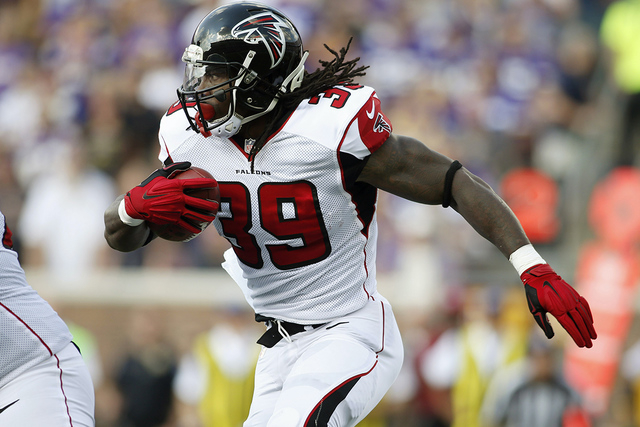 (Byes: Miami, Oakland)>
Atlanta Falcons (2-2) at New York Giants (2-2)
Sunday, 1:00 p.m. ET, at MetLife Stadium, East Rutherford, N.J. – TV: FOX
TV announcers: Kevin Burkhardt, John Lynch, Pam Oliver
Keys to the game: The Falcons are in the unenviable position of knowing they must engage in shootouts to compensate for the league's second-worst defense while lining QB Matt Ryan up behind an offensive line down at least three projected starters. Atlanta has the league's most prolific offense through the first quarter of the season, but it's a tenuous perch considering the state of the offensive line. The backfield committee is averaging a surprising 4.8 yards per carry, led by Steven Jackson's 201 yards on 50 carries. His ability to keep Atlanta out of long third-down situations might be the key to Ryan surviving the season.
While the Falcons watch their front five crumble, the emergence of the Giants' o-line as a road-grading unit has paved the way for the offensive resurgence over the past two weeks. Journeyman RB Rashad Jennings is averaging 4.2 yards per carry and being adequately spelled by rookie Andre Williams. Buoyed by an improved ground game attacking a Falcons defense that was trucked over by Matt Asiata and Jerick McKinnon last week, QB Eli Manning can continue to avoid forcing the ball downfield while looking for higher percentage passes to the likes of emerging TE Larry Donnell.
Matchup to watch — Falcons S Kemal Ishmael vs. Giants QB Eli Manning: Ishmael has one of the Falcons' two interceptions this season, but that's hardly a resume that will scare Manning away from testing the second-year player in his first start in place of William Moore (shoulder)
Player spotlight — Falcons OG Harland Gunn: Promoted from the practice squad this week, Gunn would be in line to start on the left side if Justin Blalock's 102-game consecutive streak start comes to an end due to a sore back.
Fast facts: The Falcons have lost nine consecutive games played outdoors. … Donnell has caught all 25 "catchable" passes thrown his way this season, according to Pro Football Focus.
The Falcons haven't won an outdoor game since 2012, and with a decimated offensive line they run into another road buzzsaw in a Giants team just starting to find its offensive identity.
Our pick: Giants 31-27
---
Baltimore Ravens (3-1) at Indianapolis Colts (2-2)
Sunday, 1:00 p.m. ET, at Lucas Oil Stadium, Indianapolis – TV: FOX
TV announcers: Kevin Harlan, Rich Gannon
Keys to the game: With 429 receiving yards, Steve Smith is officially the most productive 35-year-old wide receiver in NFL history through four games of a season. Defenses are beginning to recognize Smith isn't easily contained by Father Time or single coverage. More opportunities are coming for TE Owen Daniels, quietly one of the most integral factors in Baltimore winning three straight, and vertical threat WR Torrey Smith. The names have not mattered at running back for Baltimore without Ray Rice. Justin Forsett leads the NFL in yards per carry (5.8) and fourth-round rookie Lorenzo Taliaferro has touchdowns in back-to-back games. Bernard Pierce could return from a leg injury this week to round out a solid co-op that must be productive to keep the Colts' offense on the sideline.
Colts QB Andrew Luck leads the NFL in passing yards (1,305) and touchdowns (13) and seven Indianapolis receivers have at least 10 receptions. Baltimore is not deep at cornerback, and Luck is getting three and four options deep in his progressions behind a stabilized offensive line. If Baltimore cannot take the ball away and hit Luck when he escapes the pocket, it will be a long day for the Ravens.
Matchup to watch — Colts C A.Q. Shipley vs. Ravens ILB C.J. Mosley: Shipley is holding off projected starter Khaled Holmes by adapting to a heightened tempo and fortifying protection in front of Luck. Veteran Daryl Smith and Ravens teammates rave about Mosley's maturity and cognitive skills, which will be tested by Luck and his penchant to operate between the hashes to WR Reggie Wayne and TEs Coby Fleener and Dwayne Allen.
Player spotlight — Colts LT Anthony Castonzo: Castonzo appears more polished this season and has gone 10 games — more than 45 attempts per game — without giving up a sack. Ravens OLB Terrell Suggs is hobbled and his 2014 production only modest, but he plans to play.
Fast facts: Luck has 21 TD passes in his last eight games. … The Ravens are second in the NFL with 15 points allowed per game. The Colts lead the NFL with 34 points scored per game.
The Colts are thriving with Luck making the rest of the Indianapolis cast look better than it truly is yet. Until teams find a way to make the rest of the skill players win, the Indy train keeps rolling.
Our pick: Colts 30-20
---
Buffalo Bills (2-2) at Detroit Lions (3-1)
Sunday, 1:00 p.m. ET, at Ford Field, Detroit – TV: FOX
TV announcers: Sam Rosen, Ronde Barber, Jennifer Hale
Keys to the game: Kyle Orton comes out of the mothballs to start for the Bills, and a rude welcome is assured by the Lions' feisty front seven headlined by DT Ndamukong Suh. With double-teams mandatory to keep Suh at bay, the Lions are hiking up their edge rush. Orton's best friend is the handoff to set up play-action tosses to WRs Sammy Watkins, Robert Woods and Mike Williams. Injuries assure Detroit is still susceptible on the back end if Orton gets a clean launch point.
Lions wide receiver Calvin Johnson (ankle) didn't practice midweek but is expected to go again this week after posting 12 yards in a game — lowest total since 2009 — last Sunday. Johnson and WR Golden Tate get plenty of cushion and QB Matt Stafford has been much improved in showing patience with shorter tosses to the flanks, where RB Reggie Bush can do damage on chunk plays. He's the primary ballcarrier this week with between-the-tackles option Joique Bell (concussion; out) replaced by George Winn, just elevated from the practice squad.
Matchup to watch — Lions OL vs. Bills DL: Stafford has been sacked 11 times this season while the Bills have 10 sacks. The scariest matchups for Detroit might be up the gut with NT Marcell Dareus leading the Bills with two sacks, although DT Kyle Williams (knee) appears a long shot to play.
Player spotlight — Lions TE Eric Ebron: Buffalo's soft spot is the second level and particularly up the middle, where injuries and offseason defections have the Bills mixing and matching to find the right fits. Ebron caught his first career touchdown last week and is being flexed to the slot more to give Stafford wider windows to work with.
Fast facts: Orton is the 14th starting quarterback for the Bills since Jim Kelly retired in 1997. … Detroit is No. 1 in the NFL in total defense (267.3 yards per game allowed).
Quarterbacks are the focus, but running backs are likely to determine the outcome if the teams play to the existing metrics. That gives the Bills a shot with C.J. Spiller and Fred Jackson aiding Orton in his re-acclimation to a starting job against the NFL's top defense.
Our pick: Lions 27-20
---
Chicago Bears (2-2) at Carolina Panthers (2-2)
Sunday, 1:00 p.m. ET, at Bank of America Stadium, Charlotte – TV: FOX
TV announcers: Thom Brennaman, David Diehl, Laura Okmin
Keys to the game: Carolina's vaunted defense is not devoid of talent, but the front seven is heavily taxed, allowing 140.8 rushing yards per game and a 49 percent third-down conversion rate. The Bears' multiple offense brings some of the same unique challenges the Panthers fought unsuccessfully against Pittsburgh and in Baltimore, losses in which they were outscored a combined 75-29. RB Matt Forte was able to get downhill last week from sets using zone-blocking principles designed to beat blitz fronts. With Carolina's front four failing to get to the passer, coach Ron Rivera has leaned more on extra pressure that brings a high-risk, high-reward element into play.
Leaving QB Jay Cutler to find a hot read in single coverage, even against Carolina's long-levered defensive backs, would be a losing proposition.
Mobility is typically Panthers QB Cam Newton's calling card, but he is hemmed in the pocket by an ankle injury that is unlikely to heal fully without rest. Having a healthy back to hand off to would be the biggest benefit to Newton, who is otherwise a sitting duck in the pocket relative to when he's fully healthy.
Chicago rarely blitzes to generate pressure, but after being picked apart by Aaron Rodgers last week, defensive coordinator Mel Tucker could get the green light without losing awareness of Chicago's lack of playmakers at safety.
Matchup to watch — Bears TE Martellus Bennett vs. Panthers MLB Luke Kuechly: Bennett's height, hands and surprising wiggle to dodge the first defender have been on display in the first four weeks and he's third in the NFL with 29 catches. With safeties shading Alshon Jeffery and Brandon Marshall, Bennett is winning one-on-one matchups. His major size advantage makes him a primary option again this week.
Player spotlight — Panthers RB Darrin Reaves: With or without DeAngelo Williams (ankle), Reaves will be on the field, Rivera said. With Carolina scrapping for 3.1 yards per carry, the Panthers plan to make a stronger commitment to get the running game going.
Fast facts: Newton passed for 300-plus yards in each of his two previous games against Chicago. … Kuechly leads the NFL with 366 tackles since he entered the NFL in 2012. … Forte averages 155.8 yards per game in four career meetings.
Carolina slid from second to 17th in total defense in dropping two consecutive games. If the Panthers can contain Forte and the running game of Chicago, Newton makes a play with the game on the line.
Our pick: Panthers 27-24
---
Cleveland Browns (1-2) at Tennessee Titans (1-3)
Sunday, 1:00 p.m. ET, at LP Field, Nashville – TV: CBS
TV announcers: Andrew Catalon, Steve Tasker, Steve Beuerlein
Keys to the game: Rebounding from a game in which the Titans converted just one third down, QB Jake Locker (wrist) returns to the lineup to draw a well-rested Browns defense capable of forcing him to make snap decisions. That helps eliminate the team's most productive offensive player so far this season, TE Delanie Walker.
Tennessee has gotten away from running the football consistently, in part because of huge deficits in the first half of each game. When the Titans do run the ball, they probably need to find ways to get it into the hands of players like rookie Bishop Sankey and free-agent signee Dexter McCluster. Sankey has been the Titans' leading rusher in the past two games, but did not get carries last week until the third quarter. McCluster has been on a milk carton in the offense.
RB Ben Tate is practicing with the Browns for the first time since injuring his right knee in the first half of the season opener in Pittsburgh. If there are no setbacks he will start against the Titans, which means diminished carries for rookies Terrance West and Isaiah Crowell — but the kind of depth the Browns want in a bang-boom backfield.
The Browns could go downfield early to set a tone. The Titans haven't scored a point in the first quarter, so the Browns would like to jump to an early lead by targeting TE Jordan Cameron and WR Miles Austin.
Matchup to watch — Browns LB Karlos Dansby vs. Titans RB Shonn Green: Shoring up run defense was a major focus during Cleveland's bye, and head coach Mike Pettine is stressing it's essential to winning on the road. Opponents are averaging 5.2 yards per carry on the Browns. Green is averaging 4.7 yards on 33 carries. Dansby and the rest of the defenders have to stay in their gaps to take away cutback lanes.
Player spotlight — Browns RB Ben Tate: Back from a Week 1 knee injury, a nemesis of the Titans as a member of the Houston Texans, Tate makes his sixth appearance against Tennessee. He averaged 6.7 yards per carry in five previous meetings.
Fast facts: The Browns have lost seven consecutive road games. … Including the Titans, Cleveland's next five opponents are a combined 4-16.
Containing Tennessee's running game is the focus of the Browns. If they bottle up the Titans' backfield, the Browns should like their chances against the inconsistent Locker.
Our pick: Browns 20-18
---
Houston Texans (3-1) at Dallas Cowboys (3-1)
Sunday, 1:00 p.m. ET, at AT&T Field, Arlington, Texas – TV: CBS
TV announcers: Ian Eagle, Dan Fouts, Jenny Dell
Keys to the game: Given RB DeMarco Murray's potential and the fact that he's playing for a new contract, the biggest surprise in Big D is the Cowboys' defense. A plus-one turnover margin might seem like small potatoes but with two takeaways per game, Dallas is far ahead of its 2013 pace. QB Ryan Fitzpatrick isn't ideally suited for a shootout, and the Texans will mimic the Cowboys' blueprint of running to get a lead. If play-action doesn't draw Dallas in, Fitzpatrick is prone to interceptions (five in 112 passes this season).
Cowboys QB Tony Romo's turnover total is down and his agility seems to be improving since Week 2. Dallas likes to bunch two-tight end sets to widen the pocket for Romo, and that formation is likely with DE J.J. Watt (two sacks, one FF, one INT) playing the role of world-beater for the Texans' defense. He's on pace for 64 quarterback hits in 2014.
Murray's patience will be tested by combination blitzes from the Texans, and offensive coordinator Scott Linehan can use more swing passes and screens to get him the ball in space. To date, there has been no match for the Cowboys' offensive line.
Matchup to watch — Cowboys LB Rolando McClain vs. Texans RBs Arian Foster and Alfred Blue: Buffalo's front seven dominated the Texans' offensive line, but RB Arian Foster, limited to six yards on eight carries, tied his career high with seven receptions. Reading keys accurately is a must for McClain and the success of the Dallas defense. McClain is likely to play in the nickel as well with Bruce Carter (quad) out.
Player spotlight — Cowboys PK Dan Bailey: Bailey had seven touchbacks on kickoffs last week and is becoming one of the most reliable players on the roster. He enters Sunday with a team-record 29 consecutive field goals made.
Fast facts: Houston has nine takeaways, including a league-best five in the red zone. … Murray, O.J. Simpson, Emmitt Smith, James Wilder, Stephen Davis and Terrell Davis are the only running backs in NFL history to begin the season with four consecutive 100-yard games.
If the Cowboys contain Houston's scuffling running game, Dallas rolls to 4-1 ahead of a Week 6 visit to the Seattle Seahawks.
Our pick: Cowboys 27-20
---
Pittsburgh Steelers (2-2) at Jacksonville Jaguars (0-4)
Sunday, 1:00 p.m. ET, at Heinz Field, Pittsburgh – TV: CBS
TV announcers: Spero Dedes, Solomon Wilcots
Keys to the game: The Steelers travel to Florida with three things on their mind — cutting down on their penalties (11 per game), making progress on defense … and avoiding consecutive losses to winless teams.
The Jaguars' defense was billed as the team's strength, but is currently last in the NFL allowing 38 points and 451.2 yards per game. Outside of the pass rush (12 sacks), the defense hasn't shown the ability to stop anyone. The Steelers can set the table with RB Le'Veon Bell and then begin opening up the downfield passing game, and there is little evidence the Jaguars are equipped to contain either facet.
Rookie QB Blake Bortles performed admirably in his starting debut last week, showing poise and a strong arm. But to have any chance of being competitive into the second half, he simply must get more support from RB Toby Gerhart, who enters averaging just 2.6 yards per carry and is increasingly losing snaps to Denard Robinson. The Jaguars have allowed 20 sacks — seven more than anyone else in the NFL — and the horrid protection affords Bortles little hope of converting third-and-5, much less third-and-long.
Matchup to watch — Steelers LT Kelvin Beachum vs. Jaguars DE Chris Clemsons: Signed to play the LEO position in coach Gus Bradley's scheme, Clemons does not have a sack since the opener but is key in Jacksonville's plan to get after QB Ben Roethlisberger.
Player spotlight – Jaguars WR Ace Sanders: Back from his four-game suspension, Sanders will be thrown into the offensive mix with WRs Cecil Shorts and Marqise Lee out, and may also return punts.
Fast facts: The Steelers have outscored their first four opponents 56-26 in the first half, and been outscored 73-41 in the second half. … The Jaguars have been outscored 152-41 over their past 14 quarters.
The Jaguars have been competitive in spurts. They simply don't have the personnel to hang on either side of the ball for four quarters against a Steelers team bent on making a point after losing to Tampa Bay.
Our pick: Steelers 41-19
---
St. Louis Rams (1-2) at Philadelphia Eagles (3-1)
Sunday, 1:00 p.m. ET, at Lincoln Financial Field, Philadelphia – TV: FOX
TV announcers: Kenny Albert, Daryl Johnston, Tony Siragusa
Keys to the game: The popular topic in Philadelphia is what is wrong with RB LeSean McCoy, who is averaging just 2.7 yards on 70 carries this season. The domino effect begins with the underperforming offensive line and ends with QB Nick Foles, who is completing just 57.8 percent of his passes — and only 25.6 percent of attempts 20-plus yards downfield. Foles is getting hit regularly, and missing open targets almost as often. The deep pass is integral to the Eagles' passing attack, but Foles will have to get the ball out quickly against the Rams' stout front seven.
Rams coach Jeff Fisher named Austin Davis as his starting quarterback going forward, putting his faith in the former undrafted rookie who has impressed his teammates with his poise as a third-stringer thrust into the limelight. This will be Davis' first NFL test against a 3-4 defense, and the Eagles regularly crashed the pocket in San Francisco last week. Davis has led a consistent passing attack, but he also has three interceptions and the Rams will lean on RB Zac Stacy early in trying to avoid a score-for-score shootout.
Matchup to watch — Rams WR Tavon Austin vs. Eagles CB Brandon Boykin: Boykin continues to be bothered by a hamstring injury, although he did a good job of shadowing the 49ers' Michael Crabtree over the middle on a third down last week. Austin, who has been battling a sore knee, presents a different set of issues with his quick acceleration and versatility as the Rams put him in motion seeking mismatches and confusion for the defense.
Player spotlight — Eagles RT Lane Johnson: The second-year player returns from a four-game suspension and provides an immediate boost to the Eagles' run-blocking, although it remains to be seen how many snaps he's ready to handle off the bat.
Fast facts: Eagles WR Jeremy Maclin has 20 catches, but they have come on 45 targets. His 44.4 catch percentage is the second lowest in the league among wideouts with at least 10 targets. … The Rams' opponents the next eight games have a combined 19-10 record.
The Rams' struggles in stopping the run (5.1 yards per carry), lead to a breakout game for McCoy while allowing Foles to get back to his high-percentage downfield attack.
Our pick: Eagles 27-23
---
Tampa Bay Buccaneers (1-3) at New Orleans Saints (1-3)
Sunday, 1:00 p.m. ET, at Mercedes-Benz Superdome, New Orleans – TV: FOX
TV announcers: Dick Stockton, Kirk Morrison, Kristina Pink
Keys to the game: Drew Brees thrives against Tampa and the Saints have won five in a row in the series, but the bull's-eye is on the back of the New Orleans defense after it was gouged for 190 rushing yards at Dallas.
Tampa is not a powerful running outfit, but that's the identity coach Lovie Smith is shooting for with Doug Martin leading the way. Saints Defensive coordinator Rob Ryan will load up to stop the inside running game, which pushes the pressure to Mike Glennon in his 15th career start to find his jumbo receivers in man coverage. Particularly, Glennon wants to spark the connection with Vincent Jackson, who has just five catches on 19 targets in the past two games.
Saints TE Jimmy Graham caught 15 passes for 250 yards and two scores in two games with the Bucs last season.
Matchup to watch — Saints FS Jairus Byrd vs. Glennon: It has been a whopping 263 defensive snaps for the Saints since Byrd forced a fumble, the team's only takeaway this season, in the first quarter of the opener. Byrd is the player likely to get the most chances to make a play on the ball in the air. The Saints have six interceptions in the past three games against Tampa.
Player spotlight — Saints RB Mark Ingram: On track to return after missing two games due to a fractured hand, Ingram is averaging 6.0 yards on 24 carries and provides the most physical downhill presence out of the three-headed backfield.
Fast facts: Since the start of 2013, the Saints are 9-0 at home, outscoring opponents by 17.6 points per game. … Glennon had five 20-plus-yard pass plays last week, matching the team's total in the first three games.
For the shocker over the Steelers last week to lead to a turn in their season, the Bucs must back it up with another road win. With the Saints scrapping to stay relevant in early October, New Orleans finds an edge with home cooking.
Our pick: Saints 31-17
---
Kansas City Chiefs (2-2) at San Francisco 49ers (2-2)
Sunday, 4:25 p.m. ET, at Levi's Stadium, Santa Clara, Calif. – TV: CBS
TV announcers: Jim Nantz, Phil Simms, Tracy Wolfson
Keys to the game: The build up to Sunday's game has focused on the return of Chiefs QB Alex Smith against the team he spent his first eight NFL seasons with. But the reality is this game will be dictated by how well the 49ers' front seven handles a Kansas City offense averaging 145.3 rushing yards per game. San Francisco allows just 69.8 yards per game on the ground, so something has to give. The 49ers all but shut down the Eagles' high-octane offense last week by stuffing the ground game and then getting after QB Nick Foles. The Chiefs will use a variety of formations and utilize the screen game if the 49ers get to aggressive in crashing the line.
The 49ers continue to struggle to find an identity offensively. Are they a power running team behind Frank Gore? Or are they a three- and four-wideout team looking to sling the ball all over the field. Gore received 24 carries last week and should be in line for another extensive workload so QB Colin Kaepernick — still very streaky with his accuracy — isn't forcing the ball into the teeth of a defense ranked eighth against the pass. And working toward short third-down distances sets Kaepernick up for potential big plays with his legs.
Matchup to watch — Chiefs OLB Justin Houston vs. 49ers RT Anthony Davis: Houston is tied for the NFL lead with 5.0 sacks, and it's difficult to provide extra help with Tamba Hali attacking the edge from Kaepernick's blind side. Davis suffered knee and ankle injuries last week, but is expected to play.
Player spotlight — Chiefs TE Travis Kelce: After missing all but one game as a rookie due to microfracture knee surgery, the former third-round pick has emerged as Smith's most trusted third-down target. Kelce leads the team with 18 receptions, and the Chiefs move him between tight end and split wide to take advantage of his 6-5, 260-pound frame.
Fast facts: Smith was selected by the 49ers with the No. 1 overall pick in the 2005 draft. He is 14-8 with the Chiefs since being acquired for a pair of second-round draft picks. … The 49ers are 11-1 in the month of October under coach Jim Harbaugh.
The Chiefs aren't as bad as their 0-2 start, and not as dominating as their Monday night thrashing of the Patriots might suggest. But they are hitting on all cylinders offensively, while the 49ers still appear a bit disjointed.
Our pick: Chiefs 27-24
---
Arizona Cardinals (3-0) at Denver Broncos (2-1)
Sunday, 4:05 p.m. ET, at Sports Authority Field at Mile High, Denver – TV: FOX
TV announcers: Joe Buck, Troy Aikman, Erin Andrews
Keys to the game: QB Drew Stanton played with far more confidence in his second start and is again expected to take the call in place of Carson Palmer (shoulder), but this still isn't a game the Cardinals want to place on Stanton's arm. A shootout against Peyton Manning isn't in Arizona's best interest and the team believes it has its best offensive line in years. Look for RB Andre Ellington to get plenty of touches as the Cardinals attempt to control the ball and the tempo and string together lengthy drives. Stanton has yet to throw an interception in 62 pass attempts this season.
Denver's offense is certainly still potent, but Manning is also still building chemistry with a few new components as the Broncos are just 23rd in the league with 339.3 yards per game. The primary issue has been a ground game averaging just 3.2 yards per carry. RB Montee Ball is at 3.4 yards per carry, with a long of 23. The Cardinals remain thinned by injuries on defense but if they can keep Denver one-dimension then Arizona stands a good chance to take the game into the fourth quarter.
Matchup to watch — Cardinals OTs Jared Veldheer and Bobbie Massie vs. Broncos pass rushers DeMarcus Ware and Von Miller: This is easily the biggest test to date for Arizona's new starters. The Cardinals can't provide double-teams against both, and Ware and Miller have spearheaded a vastly improved Broncos pass rush through three games.
Player spotlight — Broncos WLB Danny Trevathan: Denver will have its projected starting 11 on defense for the first time this season with Trevathan returning from a left tibial impaction fracture below his knee.
Fast facts: The Cardinals are 10-2 in their past 12 games and have a five-game winning streak against the AFC. … Manning needs one touchdown to reach 500 for his career and nine to tie Brett Favre for the most in NFL history. Said Cardinals coach Bruce Arians. "If he gets nine, I'm not getting on the plane. I'll give him one."
The Cardinals make the short trek to Denver for the first time in 12 years. Arizona has three quality wins on the season, but its injury-thinned defense has yet to face an elite offense revving in mid-season form.
Our pick: Broncos 27-23
---
New York Jets (1-3) at San Diego Chargers (3-1)
Sunday, 4:25 p.m. ET, at Qualcomm Stadium, San Diego – TV: CBS
TV announcers: Greg Gumbel, Trent Green, Evan Washburn
Keys to the game: The Jets have been relatively balanced in their total play-calling — 124 runs vs. 137 pass attempts — and that number would be even close if they weren't playing from behind consistently. But offensive coordinator Marty Mornhinweg could stand to be more committed to the ground game from series to series. New York needs to control the tempo and put embattled QB Geno Smith in positive passing situations against a defense that enters the game fifth in the league allowing an average of just 15.8 points per game. Airing it out might prove difficult with top target Eric Decker (right leg) limping.
The Chargers have won three consecutive games largely on the play of QB Philip Rivers. The ground game is in tatters without injured RBs Ryan Mathews and Danny Woodhead, but Rivers has eschewed the constant vertical passes of the Norv Turner days in favor of a more controlled passing game that includes plenty of underneath targets to complement the meager ground attack. The Jets' 3-4 scheme has defenders attacking from all angles, and the key is to get to Rivers before he unleashes against a vastly overmatched secondary.
Matchup to watch — Jets interior defensive line vs. Chargers C Doug Legursky: Legursky is the third center the Chargers have turned to this season, and he was a clear vulnerability last week, including some snap miscommunications with Rivers. The Jets' defensive line is the clear strength of the team, including DT Sheldon Richardson and NT Damon Harrison.
Player spotlight — Jets CB Dee Milliner: The second-year player has missed three of four games due to quad and ankle injuries, but is expected to play. The beleaguered secondary desperately needs a boost, with converted safety Antonio Allen and career backup Darrin Walls starting at cornerback.
Fast facts: Smith leads all NFL quarterbacks with seven rushing TDs since 2013. … Chargers TE Antonio Gates needs two receiving touchdowns to move past Isaac Bruce (91) for 10th place in NFL history.
At least Smith won't hear the cat-calls for Michael Vick from the other side of the country. But the Chargers are averaging 31.5 points per game at home – a clip Smith can't keep pace with on his best day.
Our pick: Chargers 30-23
---
Cincinnati Bengals (3-0) at New England Patriots (2-2)
Sunday, 8:30 p.m. ET, at Gillette Stadium, Foxboro, Mass. – TV: NBC
TV announcers: Al Michaels, Cris Collinsworth, Michele Tafoya
Keys to the game: Cincinnati has not allowed a sack in three games, which serves the Patriots well in their plan to drop six or seven and play a bend-don't-break brand of defense. The big stage has not been a friend to Bengals QB Andy Dalton, who is 2-7 in primetime, but he is learning not to force the issue thanks to a heavier commitment to running the ball with Giovani Bernard and rookie bulldozer Jeremy Hill.
The Patriots are just 2-2 after Monday's loss and rank 29th in total offense and 30th in passing offense. Quarterback Tom Brady is yet to throw for 250 yards in a game and twice failed to break 200. But Bengals cornerback Adam Jones said they are still the Patriots.
Building a lead looks enticing to Cincinnati's smothering defense — No. 1 in the NFL with 11 points allowed per game. The Patriots are .500 after Monday's loss and rank 29th in total offense and 30th in passing offense. Brady's connection with TE Rob Gronkowski appears fluid and there are no playmakers in his ragtag receiving corps.
The Bengals have been surprisingly suspect against the run, so look for them to focus on that first in an attempt to get the Patriots off schedule with some third-and-long situations, where the Bengals can show off creativity by disguising coverages and blitz packages against New England's offensive line.
Matchup to watch — Bengals LB Emmanuel Lamur: A special assignment awaits Lamur — shadowing Gronkowski — but early returns indicate he's up to the task. Lamur is an excellent cover linebacker, but he hasn't spent much time running with explosive tight ends.
Player spotlight — Bengals WR Marvin Jones: In his first action of the season, Jones could be busy as WR A.J. Green encounters Revis Island. The Bengals are likely to chip their way down the field behind a power running game before getting their playmakers the ball in the open field.
Fast facts: Bengals coach Marvin Lewis is 1-4 against the Patriots. … The Bengals are 20-2 all-time when Dalton has a passer rating of at least 90. … Brady has a 33.4 passer rating in the fourth quarter this season.
It has been a decade since the sky was falling around Patriots coach Bill Belichick, who takes the opportunity to yet again prove he's smarter than the rest of 'em.
Our pick: Patriots 24-23
---
Seattle Seahawks (2-1) at Washington Redskins (1-3)
Monday, 8:25 p.m. ET, at FedExField, Landover, Md. – TV: ESPN
TV announcers: Mike Tirico, Jon Gruden, Lisa Salters
Keys to the game: The Seahawks travel cross-country following their bye week seeking to rediscover the downfield passing game that was so critical to the offense's success last season. RB Marshawn Lynch sat out the offseason program and has shown fresh legs and appeared quicker through three games. Seattle's lone loss came when it didn't commit to the ground game to open things up downfield. If the Redskins can keep QB Russell Wilson out of play-action, Seattle's offensive line can be collapsed in pass protection.
Redskins QB Kirk Cousins went from the Robert Griffin III's potential ouster to the doghouse with a four-pick outing against the Giants. The Seahawks boast an even more opportunistic secondary. The Seahawks are allowing just 2.8 yards per carry, but can expect a heavy dose of RB Alfred Morris. Seattle has yet to face a potent ground game and Washington has to build Cousin's confidence back up.
Matchup to watch — Seahawks RT Justin Britt vs. Redskins OLB Ryan Kerrigan: Kerrigan has 5.0 sacks — as many as Seattle has as a team. He will typically be trying to expose Britt, a second-round pick who has experienced typical rookie inconsistency. And Britt is without his security blanket. TE Zach Miller, a good in-line blocker, is sidelined with an ankle injury.
Player spotlight — Seahawks TE Luke Willson: Drafted last season for his good hands and ability to attack the seam, Willson has just one catch this season as the Seahawks have featured more three-wideout looks with Percy Harvin healthy. Now, Willson steps into the starting role with Miller out for a few weeks, and it will be his blocking, not his receiving skills, that will be put to the test.
Fast facts: The Seahawks have an eight-game winning streak on Monday nights and their 20-8 overall MNF record (.714) leads the NFL. Seattle is 10-1 in primetime games under coach Pete Carroll. … Morris has 12 rushing TDs in his past 13 home games.
The Seahawks are 0-1 on the road and face three lengthy trips in October. They will not overlook the Redskins, who have the pass rush on defense and strong ground game on offense to put up a good fight.
Our pick: Seahawks 24-20
---
Minnesota Vikings (2-3) at Green Bay Packers (3-2)
Eddie Lacy restored Green Bay's running game and busted out of his personal slump as he ran the Packers to a 42-10 rout over the Minnesota Vikings on Thursday.
Lacy rushed for 105 yards and two scores while quarterback Aaron Rodgers added three touchdown passes as Green Bay scored the game's first 42 points.
The Packers (3-2) offense had started slow in their 1-2 open to the season, but Rodgers and his team mates put fans' concerns to rest in a 38-17 victory against the Chicago Bears on Sunday.
Still, Green Bay's running game had yet to function effectively and Lacy had not reached 50 yards rushing in a game before Thursday's clash against the Vikings.
"We know what Eddie can do, we never lost faith," Packers receiver Randall Cobb told reporters after catching his league-leading sixth touchdown reception.
"We're going to be in his corner the whole way, and when he gets opportunities he's going to make it happen."
With steady rain falling at Green Bay's Lambeau Field, Rodgers kicked off the fireworks in the first quarter with a scoring throw to Randall Cobb and a 66-yard touchdown pass to Jordy Nelson.
Linebacker Julius Peppers then returned an interception 49 yards for a touchdown in the second quarter before Rodgers added a third touchdown toss to Davante Adams for an 11-yard score.
Lacy took over in the third, putting the game away with two scoring runs before Green Bay's starters rested in the fourth.
Minnesota sputtered behind third-string quarterback Christian Ponder, who was forced into action when rookie Teddy Bridgewater was ruled out due to an ankle injury at the end of a stellar debut against the Atlanta Falcons.
Ponder completed just 22 of 44 passes, threw two interceptions and was sacked six times.
Minnesota has faced their share of adversity thus far. They are already without opening season starter Matt Cassel, who broke his left foot, while Pro Bowl running back Adrian Peterson was banished to the NFL exempt list until a child abuse case is resolved.
"We have to want it more than our opponent does," Vikings defensive end Brian Robison said.
"Bottom line, I didn't feel like we wanted it more than our opponent tonight. Guys had their heads down, and that is not stuff you want to see on the sidelines."