Packers stun Lions with miraculous TD
December 3, 2015 - 9:09 pm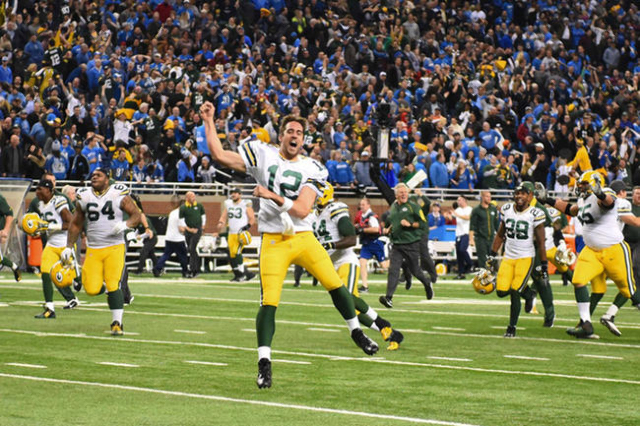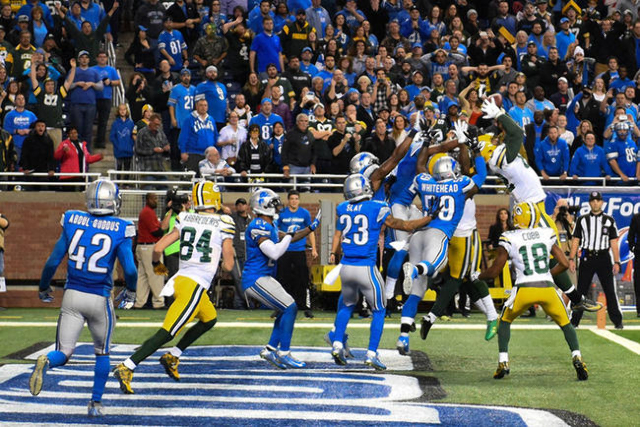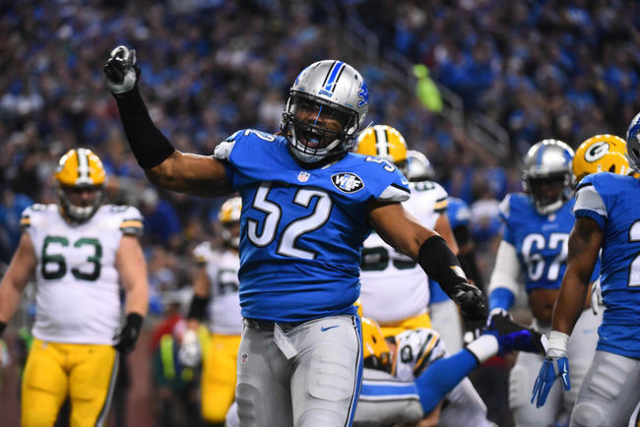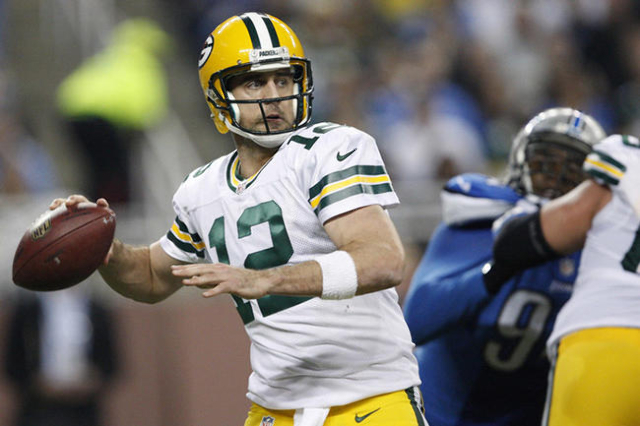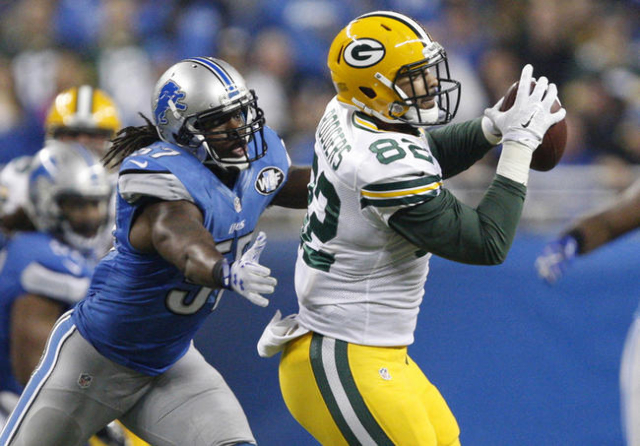 DETROIT — Aaron Rodgers threw a 60-yard Hail Mary to Richard Rodgers on the final play of the game to give the Green Bay Packers a shocking 27-23 win over the Detroit Lions on Thursday night at Ford Field.
Rodgers scrambled to his right and fired a bomb into the end zone and the Packers' tight end made a two-handed grab. A face mask penalty against Detroit on the previous play gave the Packers one last chance.
Rodgers passed for 273 yards and two touchdowns and also scored on a 17-yard scramble for Green Bay (8-4), which rallied from a 20-point deficit.
Richard Rodgers caught eight passes for 162 yards for Green Bay, which had its 56-game streak of scoring in the first half snapped.
Matthew Stafford threw two early touchdown passes for the Lions (4-8), who nearly swept the Packers for the first time in 24 years.
Calvin Johnson caught his 15th career touchdown pass against Green Bay, a record for a Packers' opponent, while Matt Prater added three field goals.
Prater's 34-yard field goal with 8:54 left in the third quarter gave Detroit a 20-0 lead.
The Packers needed good fortune to finally break through during their ensuing possession. Running back James Starks fumbled at the Lions 5-yard-line but the ball bounced forward and wide receiver Randall Cobb pounced on it in the end zone.
Green Bay scored again with 4:06 left in the quarter after forcing a turnover. Linebacker Julius Peppers made a strip sack against Stafford and linebacker Jake Ryan recovered at the Lions' 12. On third down, Rodgers found wide receiver Davante Adams over the middle for an eight-yard score to make it 20-14.
Prater's 42-yard field goal restored a two-score lead for the Lions with 7:06 left. The Packers responded with Rodgers' rushing touchdown with 3:04 remaining. But Stafford completed a 29-yard pass to wide receiver TJ Jones on third-and-12 to extend Detroit's next possession.
The Packers didn't get the ball back until 23 seconds remained. But the Detroit penalty extended the game and Green Bay pulled off the miracle.
Stafford threw two first-quarter touchdown passes as the Lions jumped to a 17-0 lead.
Prater's 51-yard field goal got Detroit on the board. After a Packers punt, rookie running back Ameer Abdullah scampered 36 yards to put the Lions on the Green Bay 11-yard-line. Stafford's three-yard pass to wide open tight end Eric Ebron completed that drive.
Rodgers was then picked off by free safety Glover Quin after he overthrew wide receiver James Jones. The Lions scored on the next play after Quin's 24-yard interception return. Johnson beat cornerback Sam Shields with a toe-tapping, 17-yard grab near the right corner of the end zone.
Green Bay's Mason Crosby missed a 41-yard field goal try with 12:15 left in the half. The Packers only had 78 yards of total offense before the break.
NOTES: Manny Ramirez started at center for the Lions in place of Travis Swanson, who was inactive with an ankle injury. Slot WR Lance Moore was sidelined with the same issue. … Green Bay used backups on the right side of its offensive line. G Lane Taylor started for T.J. Lang (shoulder) and T Don Barclay replaced Bryan Bulaga (ankle). CB Damarious Randall (knee/hamstring) was also inactive. … The Lions had not appeared in a Thursday night football game since Dec. 20, 2000, at Minnesota. … The usually explosive Green Bay offense had just five pass plays of 40 yards or more through the first 11 games, tying for 24th in the league. The Packers also had just one running play of at least 40 yards.