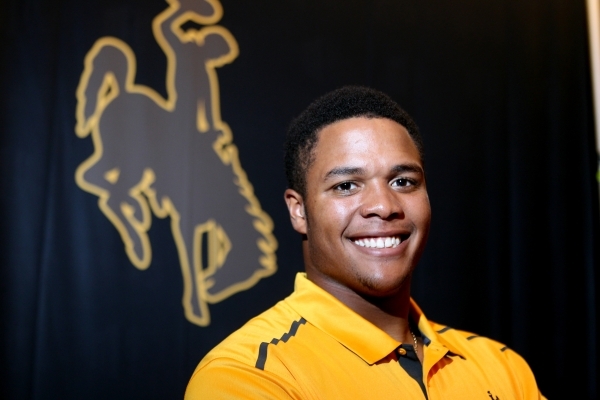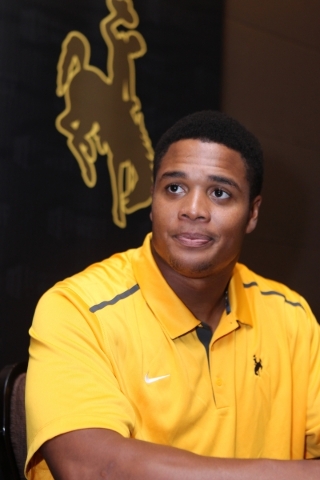 Players were seated throughout the ballroom, answering questions about the season and providing their expectations of what's to come.
Then the music began.
Wyoming senior defensive end Eddie Yarbrough was playing his ukulele, and suddenly a little touch of Hawaii had come to The Cosmopolitan of Las Vegas.
"He's got a magnetic personality," Cowboys coach Craig Bohl said. "He's got a big smile that's infectious, and he's got a positive attitude, somebody that a lot of people want to be around."
Yarbrough is more than just a big presence, though, and he was representing Wyoming at Mountain West football media days for a reason.
He is one of the Mountain West's top defenders, a first-team all-conference selection the past two seasons. Yarbrough has 14½ sacks and 28 ½ tackles for losses over his three seasons and is 7 ½ tackles for loss from tying the school record.
The Cowboys plan to use Yarbrough (6 feet 3 inches, 251 pounds) at linebacker in addition to rush end.
"In high school, all I played was linebacker, so when they stand me up, I feel like I'm going back home," Yarbrough said. "This is where I was born at."
He also will be counted on for his leadership in a program still in the building process under Bohl, who enters his second season at Wyoming after winning three successive national championships at lower-level North Dakota State.
Leadership seems to come naturally to Yarbrough, who was instrumental in gathering 20 coaches, athletes and students for a mission trip to Haiti in June.
Wyoming began organizing an annual mission trip to Haiti in 2012 in memory of Ruben Narcisse, a freshman who died in a car accident in 2010. He had dreamed of playing in the NFL and then helping out in his parents' birth home of Haiti.
Aaron Frude, the director of the Wyoming chapter of Fellowship of Christian Athletes, began putting together the mission trips in 2012, and last year a 13-member contingent flew to the island that is shared with the Dominican Republic.
This year, Yarbrough got the word out about the trip and increased the size of the traveling party.
"That's Eddie's nature," Bohl said. "He's a giving person that thinks of other people as more important than himself.
"Here he's going into his last year, and yet he takes time to go to Haiti and do a mission trip. That speaks volumes on his character."
The university worked with Love a Child, an organization in Haiti devoted to working with youths who are most at risk. Through Love a Child, the Wyoming contingent built a center to combat malnutrition, cooked and distributed food and assisted at an orphanage.
Yarbrough also helped conduct a youth football clinic, and when he returned to the United States, he wrote about the experience for the athletic department's website.
"People think you have to go to Africa to see a little kid having his stomach poked out from starving," Yarbrough said. "My eyes were opened to see how fortunate and blessed we are. It put my life in perspective. Yes, I want to do good in football. Yes, I want to lead the conference in sacks. But it puts it in perspective of how much a sack is compared to a little kid not eating for a week."
Seeing the poverty and the visible cracks that remain from the 2010 earthquake that killed more than 230,000 people moved Yarbrough so much that he decided this wouldn't be a one-time visit. He hopes to return every year, figuring just one trip — or even an occasional one — isn't enough to effect true and lasting change.
"We did a lot of good while we were there, but there's only so much you can do in two weeks," Yarbrough said. "So I'm definitely excited to go back and make the trip a bigger deal in years to come.
"The more and more you go there, you still realize how far behind that nation actually is."
Contact Mark Anderson at manderson@reviewjournal.com or 702-387-2914. Follow him on Twitter: @markanderson65.