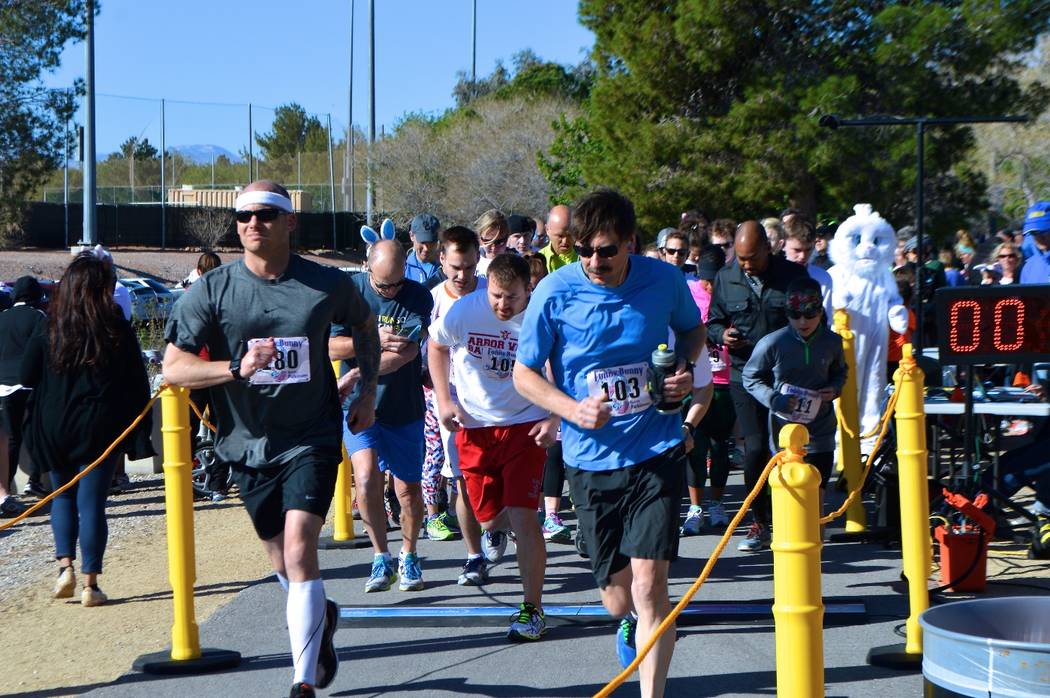 W. Wayne Bunker Park is getting 4,000 plastic eggs delivered the day before Easter, though no one will have to hunt for them.
The eggs will be placed along the trail of the third annual Funny Bunny Race for Parkinson's, scheduled from 8 a.m. to 2 p.m. Saturday. The event features a 5K, 10K, one-mile walk and bunny hops for kids, with proceeds going to the nonprofit organization Friends of Parkinson's.
"Parkinson's is a very difficult disease," Friends of Parkinson's CEO Jamillah Ali-Rahman said. "(To face it) you have to have a sense of humor, you have to laugh and you have to have a good time. All the things that we do, we try to bring some levity to the situation."
Ali-Rahman said she hopes to have 300 to 400 turn out for the event, which started in 2014. Friends of Parkinson's wanted to do something in April for Parkinson's Awareness Month and decided a race on Easter weekend was the best way to bring attention to the degenerative neurological disease that affects as many as one million Americans.
The organization also wanted to make it clear to those facing Parkinson's that they don't have to just sit around after their diagnosis.
"(We wanted) to get everyone out walking, hopping and running so people understand exercise for people with Parkinson's is the best thing you can do for your physical body and your mind," Ali-Rahman said. "It just helps all the way around."
This year will be the race's first at W. Wayne Bunker Park after two years at Bruce Trent Park. The new trail, which just involves runners making laps, is easier for novices and is all flat.
The event also will feature a petting zoo, face painting and bounce houses for kids, and children may walk along the trail with family members to pick up eggs. A few select eggs will have prizes inside.
"Everyone gets ears and a bag so they can collect their eggs, and the older children really get into this," Ali-Rahman said.
Ben Gotz can be reached at bgotz@reviewjournal.com. Follow @BenSGotz on Twitter.
Calendar
Saturday: Funny Bunny Race for Parkinson's, Las Vegas
Saturday: New Day Racing Track Meet, Las Vegas