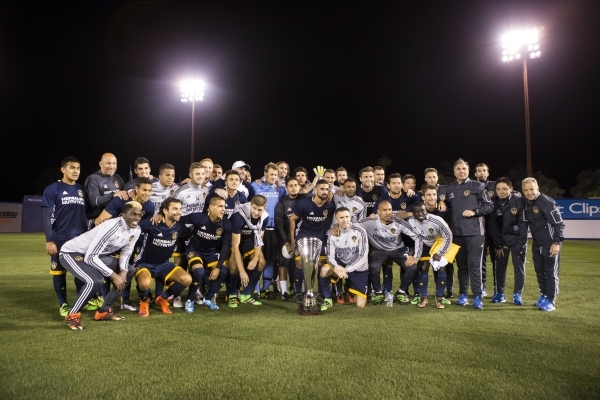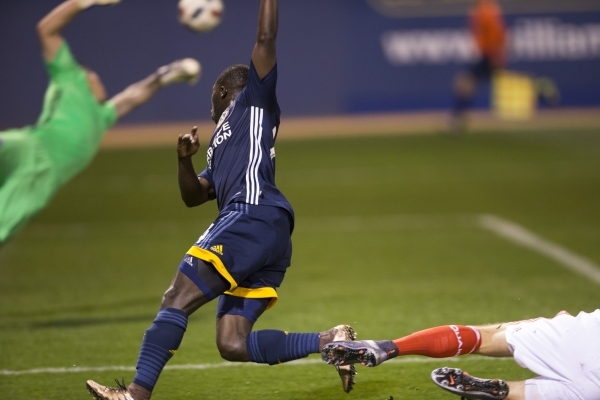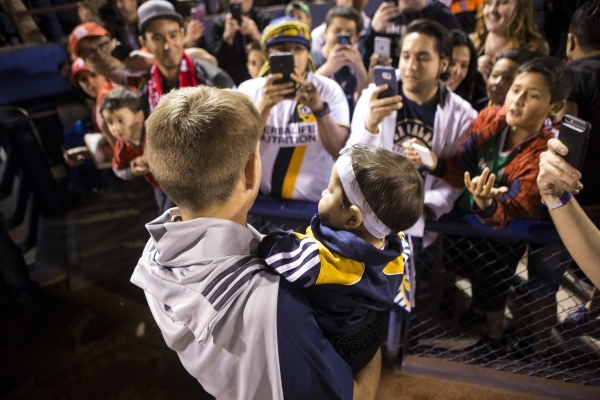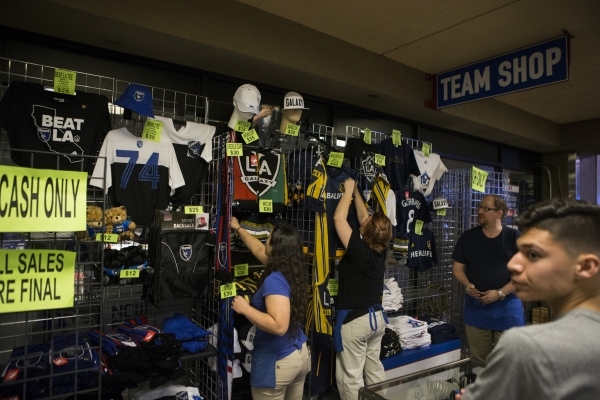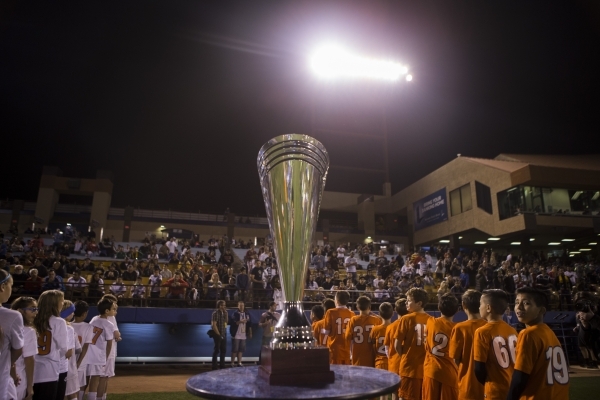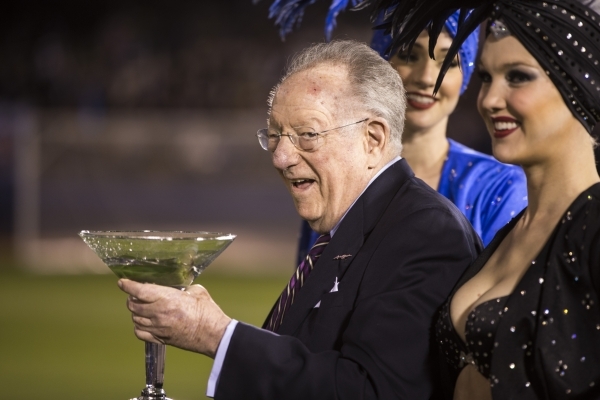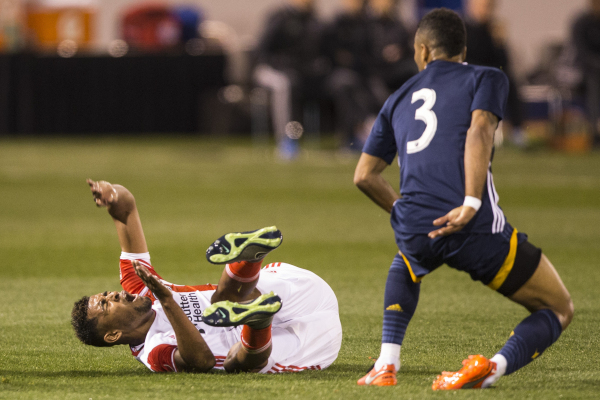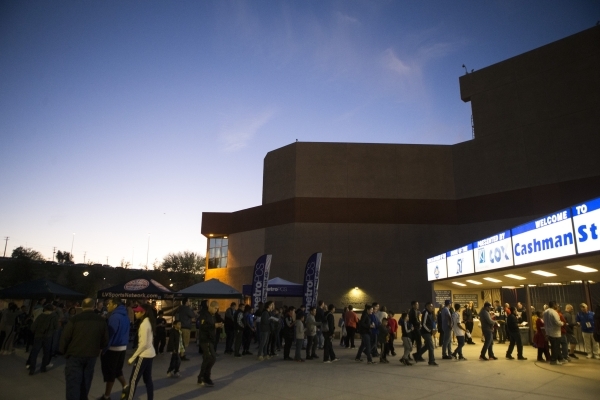 Mario Highsmith had a tough choice to make — attend the UNLV men's basketball game or watch the Los Angeles Galaxy at Cashman Field on Saturday.
Highsmith, 41, owns season tickets for the Rebels, and it's uncommon when he misses a home game, but his favorite Major League Soccer team was playing a rare match in Las Vegas.
"It was a big debate between my son Noah and I," Highsmith said.
Highsmith's 10-year-old son won the debate.
The father-son duo passed on UNLV-Colorado State and was rewarded with a 1-0 Galaxy exhibition victory against the San Jose Earthquakes at the minor league baseball field turned soccer pitch. Forward Gyasi Zardes scored on a header off a crossing pass from Robbie Keane in the 27th minute.
"The Rebels aren't doing too well," Highsmith said. "I think we made the right choice."
Galaxy and Earthquakes fans filled Cashman Field for an unofficial attendance of 7,500, and the rivalry bickering could be heard in concession stand lines. Many local fans attended and some made the trip from California.
"The San Jose Ultras were already yelling at me as I was walking in," said Joe Turk about the Earthquakes' fan club. "They're just jealous because we have more championships."
Turk has lived in Las Vegas since 2002 but picked up his Galaxy fandom while he lived in Los Angeles from 2000-01.
He recalled attending Galaxy matches when the team played in the historic Rose Bowl. Cashman Field sort of had that same vintage feel.
Cashman Field isn't nearly as old as the Rose Bowl, but it clearly needs renovations and it's an eyesore for soccer matches.
The soccer field started where a Las Vegas 51s shortstop would position himself and extended to the right outfield wall, making it difficult for fans sitting on the left side to watch their favorite soccer players.
"This is not ideal for (a soccer) game," Turk said. "This place is kinda of old, but it's a nice, fun atmosphere. I'm just glad I don't have to go all the way to L.A. I'll take it."
Galaxy forward Robbie Keane said it was strange playing at Cashman.
"It's a bit strange playing on a baseball stadium when half the stadium is stands and the other half there are boards around you," said Keane, who's the captain of the Irish national team. "Once you start playing you kind of forget about it."
The Galaxy got to hoist the California Clasico Cup during a postgame celebration on the field. L.A. fans stuck around for autographs and chanted for Mexican standout and Galaxy forward Giovani dos Santos, who thanked the crowd for coming out.
"I thought it was a nice environment," Galaxy head coach Bruce Arena said. "The promoters did a great job, the field was good, the fans were very supportive. It was a really good event for both the Galaxy and the Earthquakes."
Arena didn't want to speculate about the possibility of Las Vegas getting an MLS franchise but made it clear a team couldn't play a home schedule at Cashman.
"I'm not in the expansion business," Arena said, "but if an MLS club came to Vegas I would think they'd have to build a stadium."
Turk and Highsmith agreed Las Vegas would be a perfect fit for an MLS squad to call home.
"I'd like to have a team here," Turk said. "I've noticed a big soccer culture here. Whenever there's a big international final or Champions league, the city, the pubs and the sports books get pumped."
Earthquake fans wouldn't mind coming out to Las Vegas a few times a year for road games.
Donald Achberger, 23, and Adrian Vega, 36, were part of the San Jose Ultra throng at Cashman and have traveled to Portland and Seattle for road games. Their stay in Las Vegas was longer than the usual road trips.
"We've been out here since Thursday," Vega said. "We already had our party and now enjoying the game."
Keane was asked how he'd feel coming out to Las Vegas often for matches. He gave the same answer people give when they hear Las Vegas.
"It's Vegas, man," Keane said.
— Contact Gilbert Manzano at gmanzano@reviewjournal.com or 702-383-0492. Follow him on Twitter: @gmanzano24.