Gillispie tackles challenge
November 28, 2008 - 10:00 pm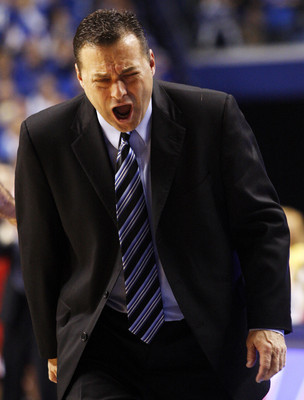 A lot of people around college basketball thought Billy Gillispie was insane.
A hero in College Station, Texas, where in three years he had revived Texas A&M and led it to the NCAA Tournament's Sweet 16 in 2007, Gillispie gave it all up to take on arguably the toughest job in his sport.
Gillispie took over as Kentucky's coach in April 2007, accepting a position more scrutinized than any political office.
Wildcats fans are so passionate about the program and their desire to win is so consuming, there's no such thing as a "honeymoon period" for a new Kentucky basketball coach.
"I always wanted to coach at the highest level," the 49-year-old Gillispie said. "I'm a basketball nut. But I don't see anything negative about it. People say you're under pressure to win. But I want to win, and the great thing is they want to win."
No doubt about that.
Several thousand Wildcats fans accompanied the team to Las Vegas, where Kentucky plays Kansas State at 9 p.m. today in the third round of the Las Vegas Invitational at the Orleans Arena.
The Wildcats faithful probably aren't too happy with what they have seen so far. Kentucky is 2-2, including a 77-58 rout by No. 1 North Carolina last week.
The Wildcats have played sloppy, averaging 21 turnovers in their first four games. Gillispie said it's taking his young team time to learn to play together.
However, he shares the fans' concerns.
"I'm not a patient guy. I want it done yesterday," said Gillispie, who is 20-15 with the Wildcats.
Gillispie knows he can't be hasty, though. Young players need time to develop, so he allows himself to see the big picture.
"We're playing a lot of different combinations, but I like our energy level," he said. "Patrick (Patterson) is starting to come on, and Jodie (Meeks) is getting better."
Patterson, the Wildcats' 6-foot-9-inch sophomore center who is bouncing back from surgery on his left ankle seven months ago, had a career-high 29 points in Monday's 91-57 victory over Longwood at Rupp Arena. He also had 12 rebounds and six assists.
If Patterson can get his game into shape by the time Southeastern Conference play begins in January, the Wildcats could be a factor.
Meeks, a 6-4 junior guard who leads the team in scoring at 24.3 points, said this weekend's games are critical to the team's development. Kentucky expects a stern test tonight from Kansas State, which despite losing Michael Beasley and Bill Walker to the NBA is off to a 5-0 start.
"I don't think that was our real team last week against North Carolina," Meeks said. "We'll get another chance to show what we can do and show what this team is made of."
Contact reporter Steve Carp at scarp@reviewjournal.com or 702-387-2913.
LAS VEGAS INVITATIONAL WHEN: 1 p.m. today, 11:30 a.m. Saturday WHERE: Orleans Arena (capacity 8,500) TODAY'S SCHEDULE• Longwood (3-3) vs. Southeast Missouri State (1-3)• 1 p.m. Delaware State (1-6) vs. Oakland (1-4)• 3:30 p.m. West Virginia (3-0) vs. Iowa (5-0)• 6 p.m. Kentucky (2-2) vs. Kansas State (5-0), 9 p.m. TV: ESPNU (Cox Cable 320), 9 p.m. today; ESPN2 (31), 7:30 p.m. Saturday TICKETS: $94, $115, $136, $168 (sold as two-day packages)