Kings ruin Golden Knights' home debut with 3-2 overtime win
September 26, 2017 - 9:47 pm
Updated September 27, 2017 - 12:56 am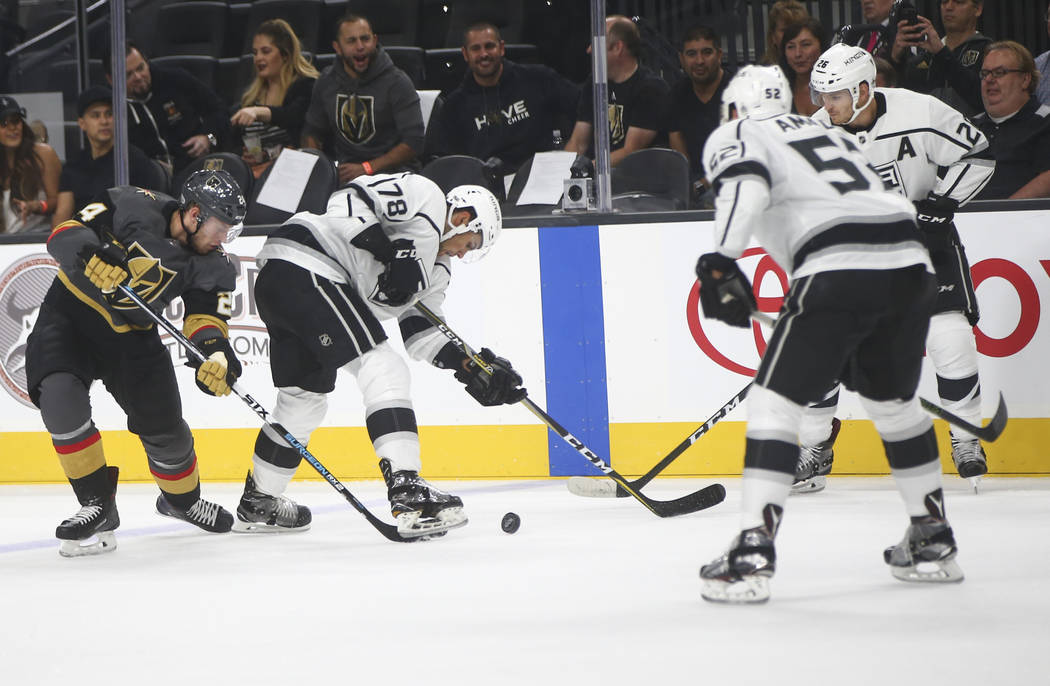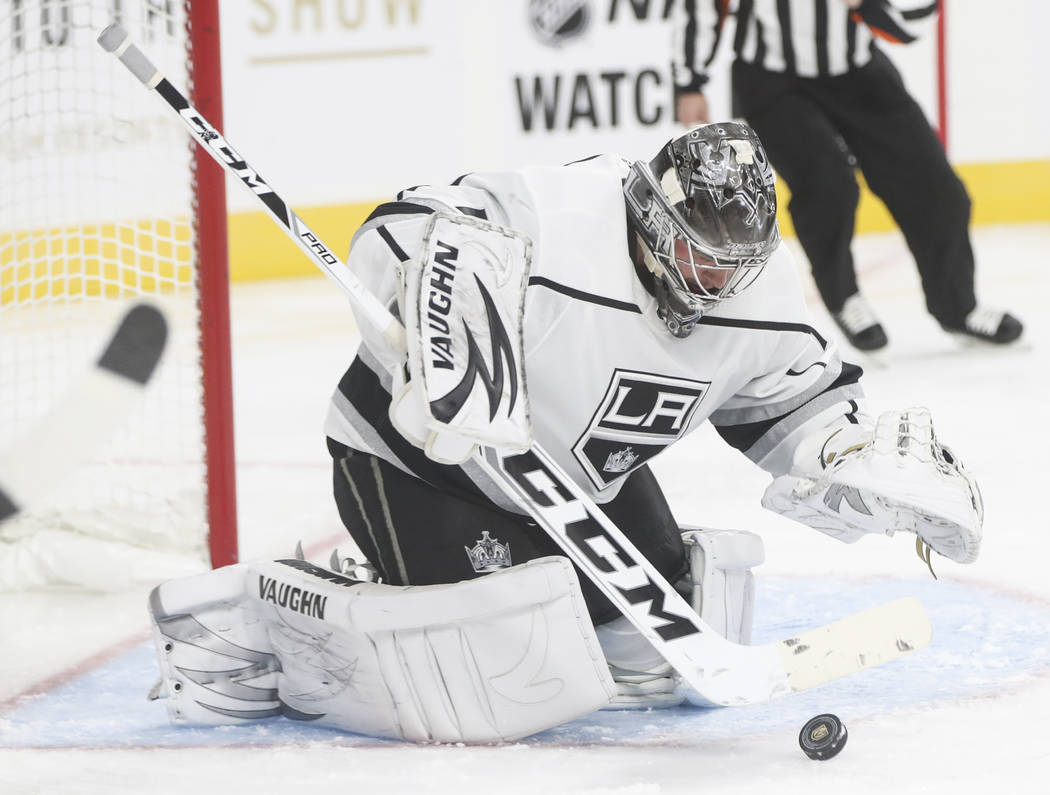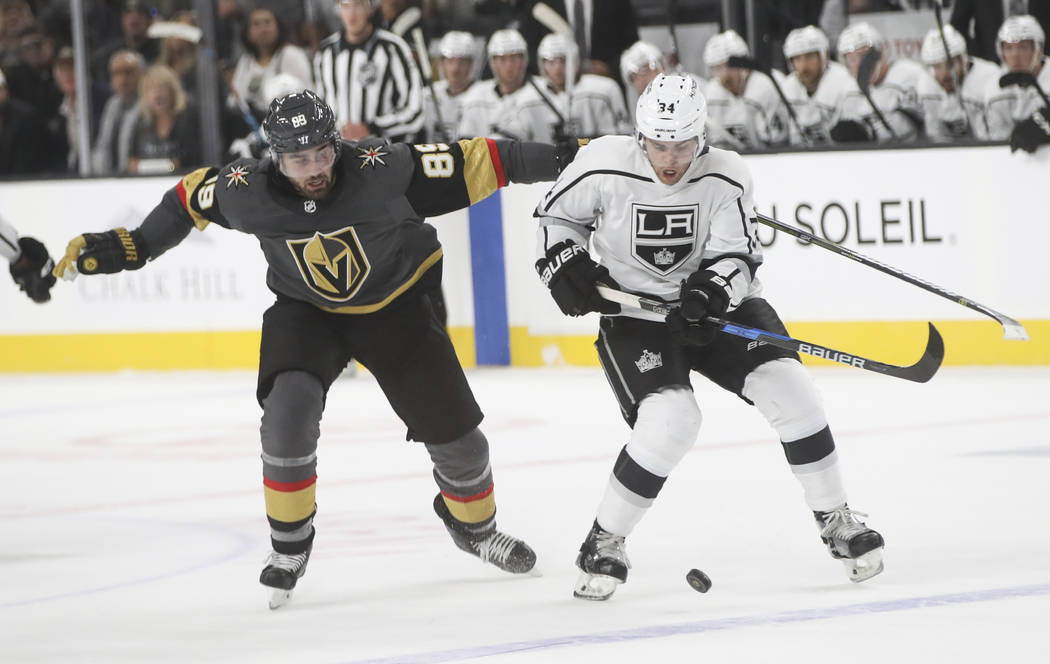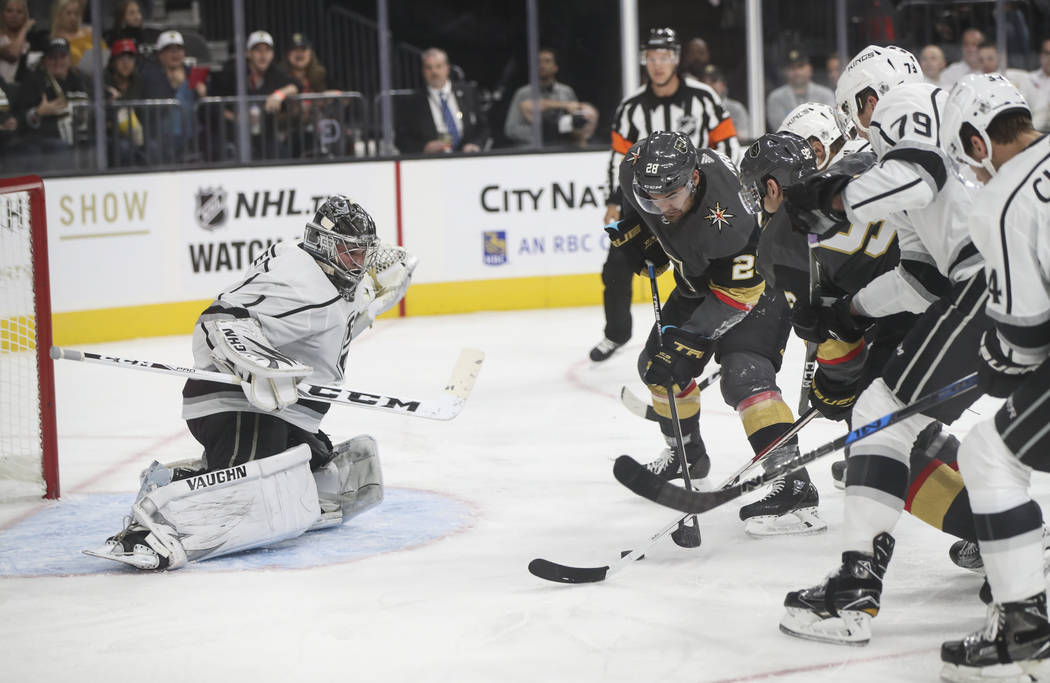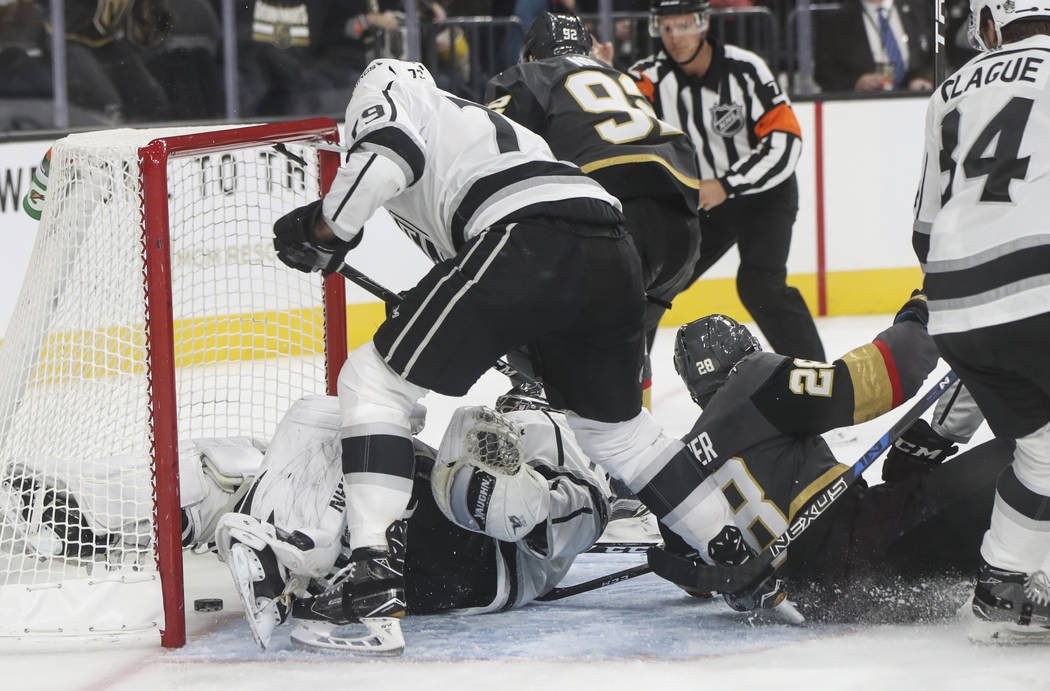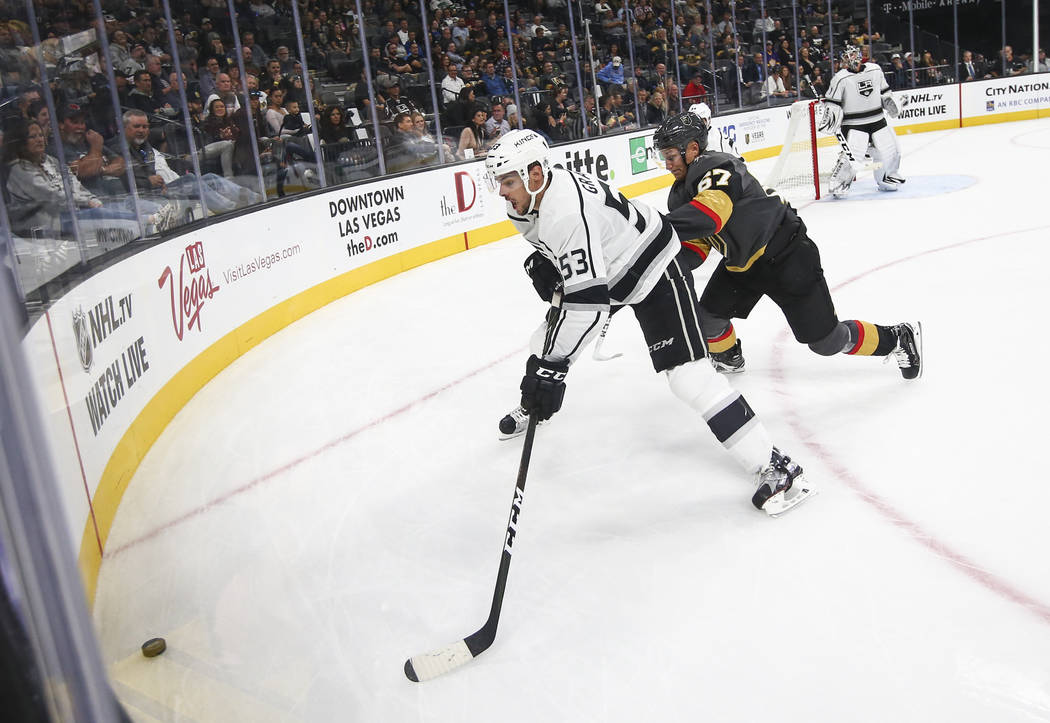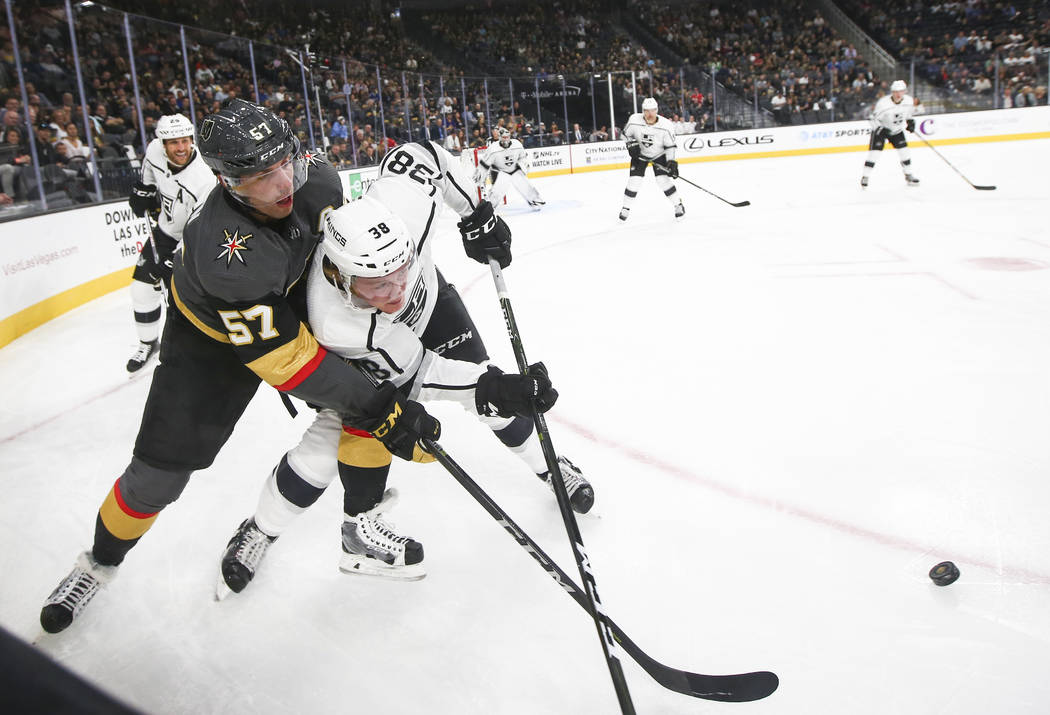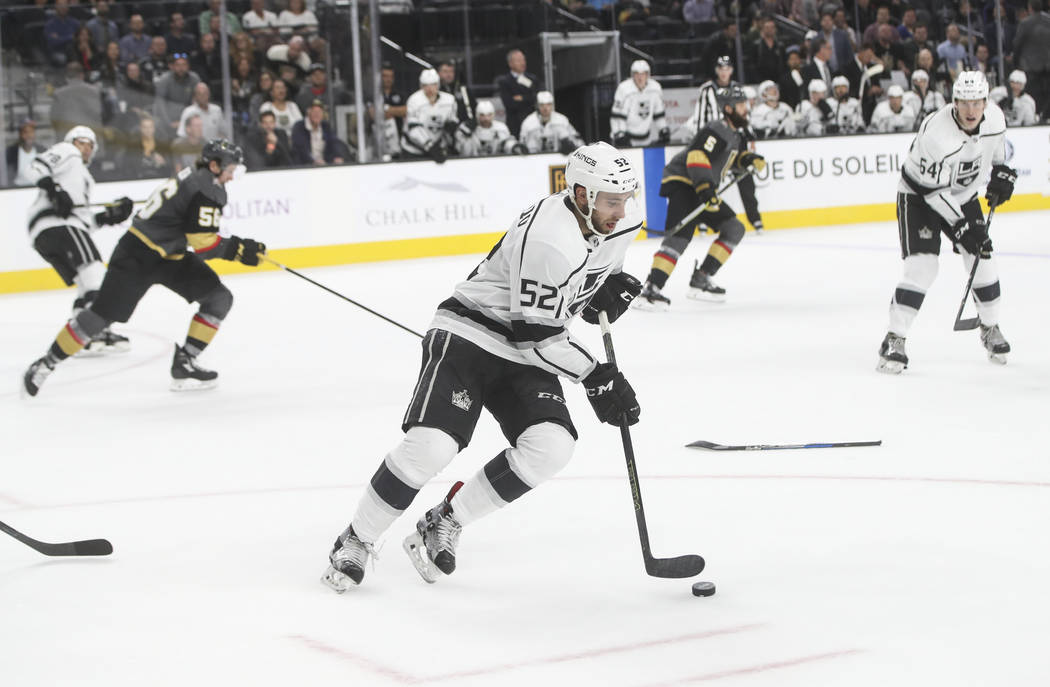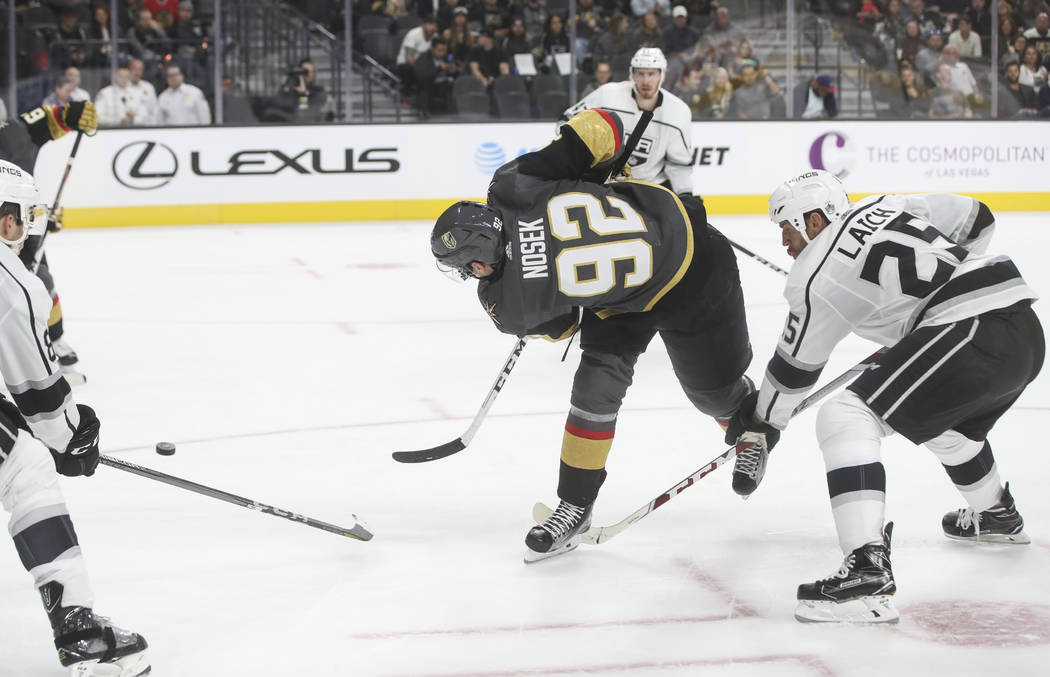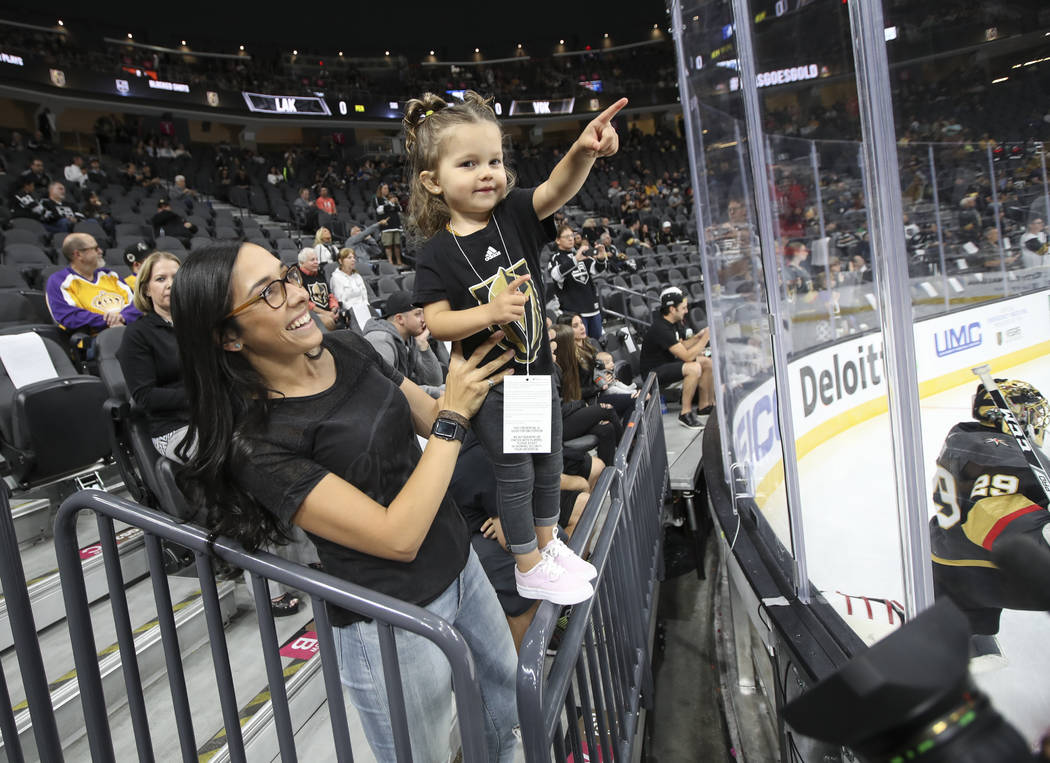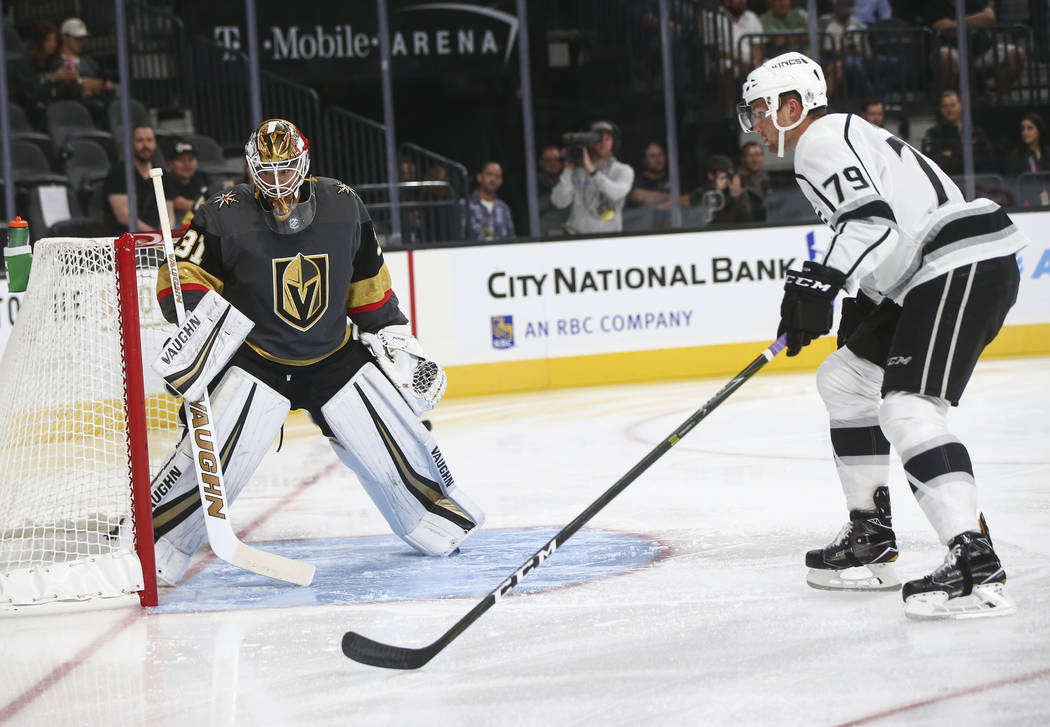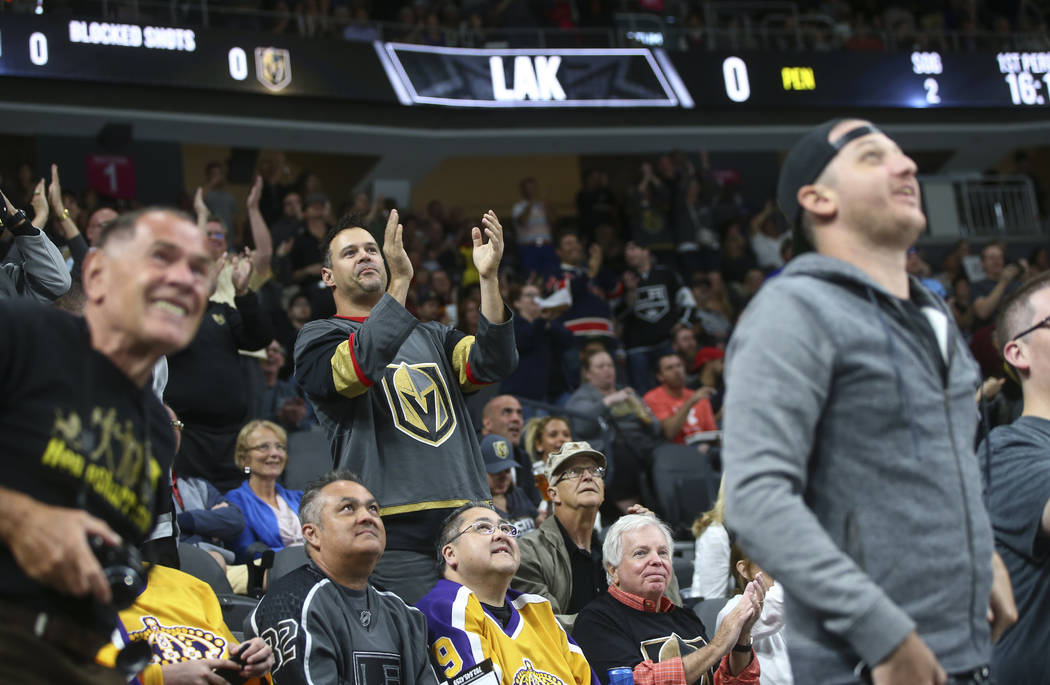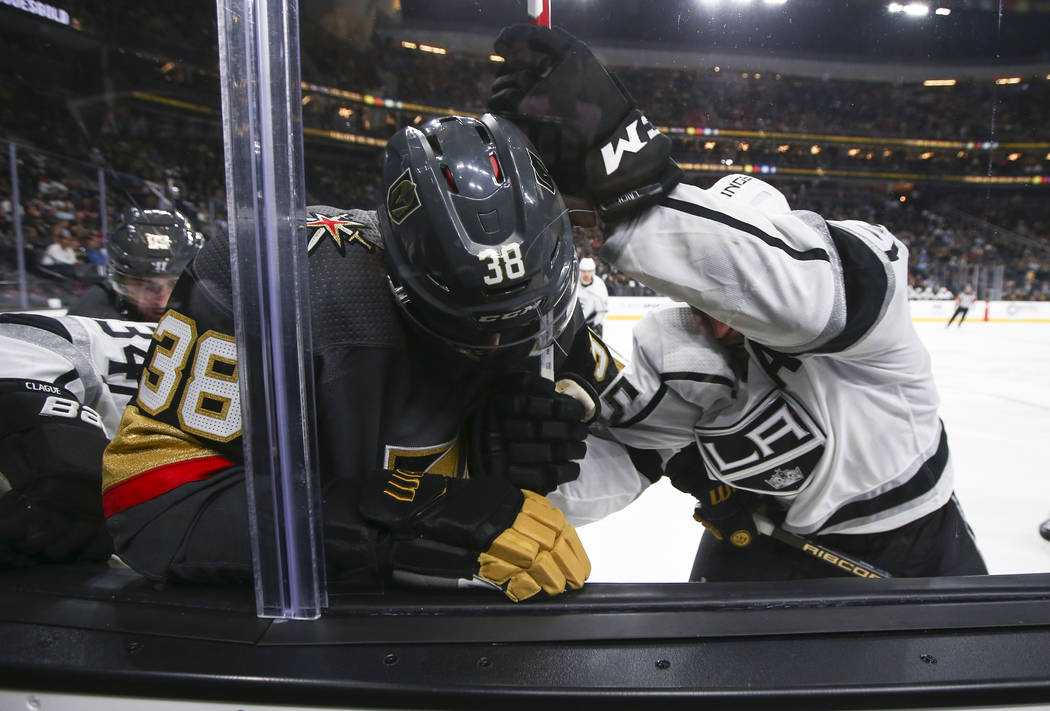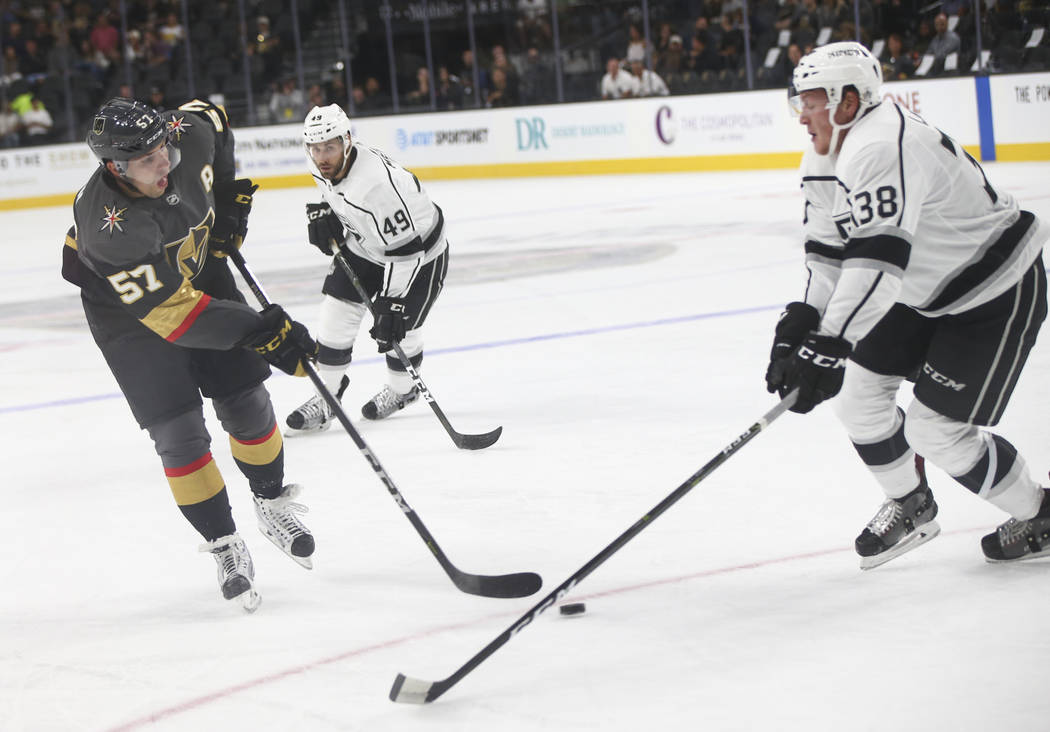 For the Golden Knights, home isn't where the wins are.
At least not yet.
Brooks Laich scored 12 seconds into overtime after Alex Iafallo stole the puck from Nate Schmidt and the Los Angeles Kings ruined the Knights' debut in T-Mobile Arena Tuesday, winning 3-2 in front of an announced preseason crowd of 17,101.
Will Carrier forced OT with a goal early in the third period after the Knights trailed 2-1 after two periods.
"You want to win every time you go out there," said center Cody Eakin, who scored the Knights' first goal in T-Mobile when he ripped a slap shot past Jack Campbell 3:44 into the game. "All the guys were working hard, but sometimes the puck doesn't bounce your way."
Coach Gerard Gallant said his team gave enough effort to win, but it came down to execution and the Knights were unable to put away their quality chances while surrendering a couple of fluke goals.
"We had a pretty good roster out there," he said. "But the team that competes the hardest usually gets the chances. They worked a little harder than us."
The Kings, who for years played NHL preseason games in Las Vegas under the Frozen Fury banner, had played twice in T-Mobile Arena last fall. Despite using a younger lineup as many of the veterans remained in L.A. after the long trip back from China over the weekend, the Kings got great play in goal from Campbell, who turned aside 27 shots.
With fans chanting "Go Knights Go!" throughout, the home team put on plenty of pressure offensively, outshooting the Kings 29-27. But Campbell was the difference. He robbed Alex Tuch with a great glove save late in the second period and stopped Tomas Hyka a few moments later.
"It was exciting to get the first goal," said Eakin, who took a great pass from David Perron. "The fans were excited, and it got them going right away. It was fun to be part of."
But the Kings stayed patient and tied it on a fluke goal that saw the puck go off a stick, a skate and eventually off the back of goalie Calvin Pickard's leg with 3:55 remaining in the period.
"It's never a fun way to lose," said Pickard. "There were some weird goals tonight, for sure. That first one, for sure. There were a lot of bouncing pucks, a lot of knuckle pucks, a lot of pucks hitting bodies. But I thought the second half there was some work, and I found a bit of a rhythm."
Kurtis MacDermid's wrist shot from the left point at 8:56 of the second period broke a 1-1 tie as it appeared to catch Pickard by surprise. He was partially screened on the play.
"I'd like to have that one back," Pickard said. "A shot like that I have to find a way to stop it."
But Carrier got his first goal of the preseason 3:50 into the third period as he got control of a loose puck in front of the Kings' net and poked it past Campbell.
"I was happy going into overtime 2-2," Pickard said. "But anything can happen in overtime, and they got one."
Neither team's power play was effective; each was 0-for-4 with the man advantage. But Gallant said he'll likely keep his lines intact for Thursday's home preseason game against Colorado.
"I thought our guys created chances," Gallant said. "We're still trying to see who works best with who."
Contact Steve Carp at scarp@reviewjournal.com or 702-387-2913. Follow @stevecarprj on Twitter.
Kings 3
Golden Knights 2
Three takeaways from Tuesday's game:
1. The penalty killers continue to impress. Whether it was Cody Eakin, David Perron, Will Carrier or Reilly Smith, Knights forwards continue to do an excellent job of thwarting the opposition's power play. The Kings were 0 for 4. Then again, so were the Knights. But that's another story.
2. Perron is playing excellent two-way hockey. The veteran forward had an assist and also did a fine job of backchecking along with his work on the penalty-killing unit. He will be a valuable commodity given his versatility.
3. The fans were into it. The announced crowd of 17,101 was loud, enthusiastic and knowledgeable. The players noted how loud T-Mobile Arena was, and this could become an intimidating building for visiting teams over time.
Steve Carp Review-Journal