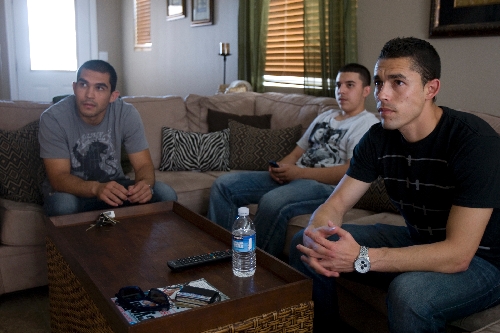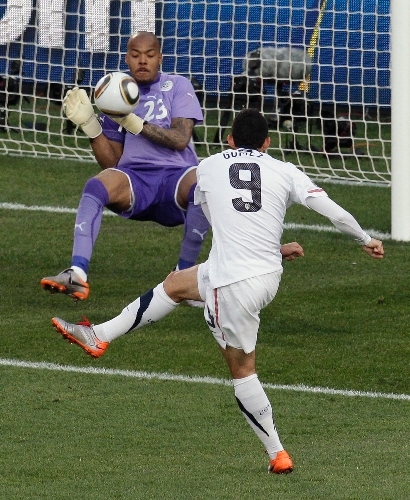 It had taken nearly a day to get home. And when Herculez Gomez stepped off the plane at McCarran International Airport on Tuesday morning, a throng of family and friends and a couple of TV cameramen were there to greet him.
The reception caught him by surprise. But imagine if the United States had advanced further in the World Cup soccer tournament.
"We heard it was pretty crazy back home," said Gomez, the one-time Las Vegas High School star striker who performed admirably for Team USA in South Africa before he and his mates were sent home Saturday. The U.S. squad lost to Ghana 2-1 in the knockout round of 16 after winning their group.
"It was an amazing experience. I'm still blown away by everything that's happened," Gomez said. "It hasn't really sunk in yet."
When it finally does register, Gomez will realize the remarkable accomplishment he made in such a short span.
He was playing professionally in Mexico and wasn't on Team USA's radar as the Americans attempted to qualify for the World Cup. At 28 years old, Gomez was considered too old. As far as playing for the national team, he was a long shot.
But Gomez didn't believe he wasn't good enough. He led the Mexican Primera Division in scoring with 10 goals playing for Puebla. And with the national team dealing with injuries and lack of goal production, Gomez found himself invited to the 30-man USA pre-World Cup training camp at Princeton, N.J., in May. He made the final 23-man roster by displaying an ability to change the pace of the game with his speed, hustle and knack for being around the ball, along with a nose for scoring.
Coach Bob Bradley wasn't afraid to use him in South Africa. He came off the bench to help the Americans gain a 2-2 tie with Slovenia. Then came his biggest moment, as Bradley started him in the final Group C match against Algeria, a game the Americans had to win to remain alive.
"I'll always remember that," Gomez said. "It was my first start in the World Cup. It was do-or-die for us. Just being part of that was unbelievable. You're in the tunnel and there's so much tension. You try and tell yourself, 'It's just another game. Just do your job.' But you know it's bigger than that.
"It was a very humbling moment, to see where I came from, growing up in Las Vegas, and now, I'm starting in a World Cup game."
He played the first half against Algeria, then was substituted for to start the second half. The Americans would prevail, 1-0, on Landon Donovan's goal in added time. However, the magic was lost a few days later as the Americans could not solve Ghana.
"I think what hurt us was constantly having to come from behind," Gomez said. "It takes its toll on you. We never stopped battling, but it's a hard way to play."
Bradley has been criticized for some of his personnel decisions, namely starting Ricardo Clark in midfield against Ghana. Clark's early giveaway led to the first Ghana goal. And while the U.S. team drew even on Donovan's second-half penalty kick, the Americans were unable to push ahead.
"We would have loved to have continued," said Gomez, who came on as a substitute in the second half against Ghana but was unable to score. "But Ghana was a very good team. They were difficult to break down."
Gomez defended Bradley's tactical decisions, many of which had worked during the tournament.
"Bob's a great coach," Gomez said. "He did what he believed what was best for the team. We win as a team. We lose as a team."
Gomez said he has no problems with how Bradley used him.
"Absolutely," he said. "Bob was very fair to me. I loved playing for him. He gave me an opportunity of a lifetime, and I'll always be grateful to him."
He also was part of the first U.S. team to win its group since 1930, when the first World Cup was staged.
"We're proud of what we achieved," Gomez said. "It was a great group of guys, and we exemplified what America is all about. We never quit. We never gave up. I think we helped grow the sport in the United States.
"It was amazing all the support from back home. Even in South Africa, to have President (Bill) Clinton show up. Kobe Bryant. Reggie Bush. It was so surreal."
At age 28, it's hard to predict whether Gomez will get a chance to play in the 2014 World Cup in Brazil. He said his national team experience was so positive, he would like to take another run at playing for his country. Or, at the least, help it qualify.
"It's been so special for me," he said. "To be representing Las Vegas and Nevada, and to do it in such a dignified manner, I've gotten so much support from Las Vegas. Sen. (Harry) Reid called. The Clark County Commission called. The texts, e-mails and tweets. I'm very grateful for all the support."
Gomez will be in town for a few more days, then he's going to take a brief vacation before getting back on the field in a couple of weeks. With his clothes in Mexico, he spent Tuesday afternoon shopping at the Galleria Mall replenishing his wardrobe.
He has left Puebla for Pachuca, one of the powerhouse teams in the Primera Division in Mexico. Pachuca will be participating in the upcoming North American SuperLiga tournament, which pits four of the top Mexican teams against four of the best Major League Soccer clubs.
The weeklong group stage of the tournament begins July 14 in Foxboro, Mass. The knockout round, semifinals and championship will be in August at dates and sites to be determined.
Gomez said it still hurts to be out of the World Cup. But he'll watch when he can. He had the Spain-Portugal match on at his parents' home as he talked Tuesday.
"I'm a soccer fan. I'll watch," he said.
Truth be told, he'd rather be playing and let the country watch him.
Contact reporter Steve Carp at scarp@reviewjournal.com or 702-387-2913.
Hercules Gomez returns to Las Vegas