Hewitt hopes not to bobble shot at Vegas repeat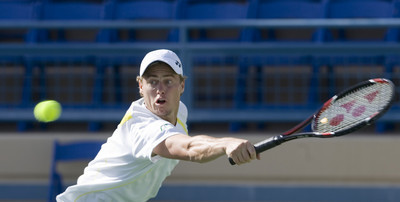 Lleyton Hewitt might not repeat as the Tennis Channel Open champion, but he can boast having the largest collection of Oscar Goodman bobblehead dolls in Australia.
Hewitt, 26, has been to Las Vegas three times. Instead of taking home a cheesy dice clock as a souvenir, he gets a toy statue of the mayor's likeness on his annual visit to City Hall. Hewitt good-naturedly accepts the doll, but what he'd really like is another fat winner's check Sunday.
"I'm ready," Hewitt said. "I'm as fit as I've ever been."
His quest for back-to-back titles begins at 7 p.m. today against Marat Safin at the Darling Tennis Center. The two have faced each other 12 times, most recently in the semifinals here last year. Hewitt beat Safin 7-5, 6-1 to even their head-to-head record at 6-6. More importantly, the victory put Hewitt in the finals, where he defeated Austria's Jurgen Melzer 6-4,
7-6 (10) to win his 26th ATP Tour singles title.
"It's always tough to play (Safin)," Hewitt said. "He is one of the best ball strikers out there and obviously comes with a lot of firepower.
"If I can go out there and execute what I want to do, hopefully things will go my way. But it's going to be a tough first round, and if I am able to get through that, I'm obviously playing extremely well."
Hewitt was bothered by an ankle injury while competing in Las Vegas last year, and it ultimately led to a back injury the following week at Indian Wells, Calif., which forced him to take some time off.
He reinjured his ankle late in the year and missed the final month of the ATP Tour season. He finished 2007 ranked No. 21 in the world. He is currently No. 18.
"I was a little surprised how well I was able to play here (in Las Vegas) given I was hurt," he said. "It was frustrating for me because I couldn't capitalize on the momentum I got from winning in Vegas.
"I could never quite get the rhythm back in my game, even though I didn't feel I was that far away."
Hewitt has a 10-year streak of winning at least one tournament. He said with the addition of Fernando Gonzalez and Marcos Baghdatis to the field, repeating as Tennis Channel Open champion won't be easy.
However, as the No. 2 seed, Hewitt is on the opposite side of the draw from the top-seeded Gonzalez and Baghdatis, the No. 3 seed. If Hewitt were to face either of them, it wouldn't be until Sunday's final.
"If I can get my first match under my belt and get to the weekend, I have as good a chance as anyone," said Hewitt, who tuned up by hitting with Las Vegas legend Andre Agassi on Saturday and Belgian star Xavier Malisse on Sunday. "But it's a strong field. Gonzalez and Baghdatis are going to be tough."
Hewitt said he has no health issues, and his hard training during the past couple of months appears to have paid off as he prepares to make his 2008 U.S. debut. Retirement is the furthest thing from his mind at the moment.
"I haven't been overdoing it and I'm glad to be here in Vegas," he said. "I've managed to have some success here in the past, so I'm hoping that continues."
Contact reporter Steve Carp at scarp@reviewjournal.com or (702) 387-2913.
TODAY'S SCHEDULEDarling Tennis Center Stadium Court • Ryan Sweeting (USA) vs. Amer Delic (USA), 10 a.m. • Thomas Johansson (SWE) vs. No. 4 Guillermo Canas (ARG), noon • Sam Querrey (USA) vs. Sebastien Grosjean (FRA), 2 p.m. • Robby Ginepri (USA) vs. Xavier Malisse (BEL), 5:30 p.m. • Marat Safin (RUS) vs. No. 2 Lleyton Hewitt (AUS), 7 p.m. Stadium No. 2 • Peter Luczak (AUS) vs. Max Mirnyi (BLR), 10 a.m. • No. 8 Nicolas Kiefer (GER) vs. Benjamin Becker (GER), noon • Sergio Roitman (ARG) vs. Evgeny Korolev (RUS), 2 p.m. • Ashley Fisher (AUS) and Potito Starace (ITA) vs. Lucas Arnold Ker (ARG) and Fernando Gonzalez (CHI), 4 p.m. Stadium No. 3 • Mischa Zverev (GER) vs. Kevin Anderson (RSA), 10 a.m. • Nicolas Kiefer (GER) and Jurgen Melzer (AUT) vs. Julien Benneteau (FRA) and Michael Llodra (FRA), 4 p.m.