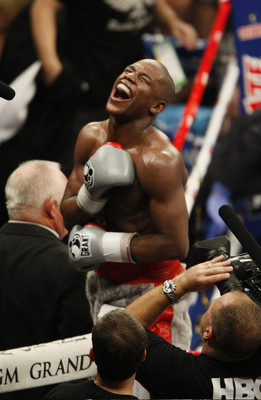 Floyd Mayweather Jr. told the world 13 months ago he was retiring, that he was satisfied with his career and wanted to leave boxing as an undefeated champion.
Seven months later, Mayweather returned to the ring and demolished Ricky Hatton.
On Friday, six months after disposing of Hatton, Mayweather stunned the boxing world by announcing — again — that he is hanging up his gloves. And this time, he swears, it's permanent. No rematch against Oscar De La Hoya in September, even if the fight would add millions more to his bank account.
In a prepared statement, Mayweather, 31, said he had lost his desire to compete.
"This decision was not an easy one for me to make, as boxing is all I have done since I was a child," he said. "However, these past few years have been extremely difficult for me to find the desire and joy to continue in the sport.
"I have said numerous times and after several of my fights over the past two years that I might not fight again. At the same time, I loved competing and winning and also wanted to continue my career for the fans, knowing they were there for me and enjoyed watching me fight. However, after many sleepless nights and intense soul-searching, I realized I could no longer base my decision on anything but my own personal happiness, which I no longer could find. So I have finally made up my mind, spoken to my family, particularly my mother, and made my decision.
"I am sorry I have to leave the sport at this time, knowing I still have my God-given abilities to succeed and future multi-million dollar paydays ahead, including the one right around the corner. But there comes a time when money doesn't matter. I just can't do it anymore. I have found a peace with my decision that I have not felt in a long time."
Leonard Ellerbe, Mayweather's longtime friend and co-manager, said he supports the decision.
"This has been something he's been thinking about for quite a while," Ellerbe said. "He can go out with his health intact. He conquered every challenge put in front of him. He's had an illustrious career. He's broken every record. He beat every great fighter in his era. What better way to go out than to go out on top?"
Mayweather walks away with a 39-0 record (25 knockouts) and as the WBC and Ring Magazine welterweight champion. He widely was considered the sport's best pound-for-pound fighter.
But his unwillingness to fight some of the 147-pound division's top contenders — namely Miguel Cotto and Antonio Margarito — might have diminished that claim. Cotto and Margarito will meet July 26 at the MGM Grand Garden.
Mayweather also walks away from a potential eight-figure payday on Sept. 20. He and De La Hoya were expected to fight then in a rematch of their May 5, 2007, bout at the MGM Grand Garden.
Mayweather won a 12-round split decision that night, and the fight generated the biggest pay-per-view audience in boxing history, with 2.4 million buys and $120 million.
De La Hoya still plans to fight Sept. 20, said Richard Schaefer, CEO of Golden Boy Promotions.
"Oscar was disappointed to hear the news of Floyd's decision, but, as they say, the show goes on," Schaefer said. "I think I was a bit surprised about the timing but not the decision itself. We all knew retirement was something that's been on Floyd's mind since he fought (Carlos) Baldomir."
Since winning a unanimous decision over Baldomir on Nov. 4, 2006, Mayweather has fought only twice — against De La Hoya and Hatton (Dec. 8, 10th-round knockout at the MGM Grand Garden). Those two fights netted Mayweather a total of about $50 million.
The Las Vegas resident had stayed busy in other forms of entertainment, looking to promote his "Mayweather" brand. He appeared as a contestant on the popular TV reality show "Dancing with the Stars" before the Hatton fight.
In late March, he took part in the WWE's "Wrestlemania," winning his grudge match with 7-foot-1-inch, 420-pound Paul "Big Show" Wight. Mayweather said he was paid $20 million for his participation.
Mayweather was a three-time national Golden Gloves champion and a bronze medalist in the featherweight division at the 1996 Olympics in Atlanta. He turned pro shortly after the Atlanta Games and won world titles in five weight classes.
Now, he's leaving the sport that made him rich and famous. But it's the right decision, said Top Rank promoter Bob Arum, who initially signed Mayweather and has verbally sparred with the fighter over the years.
"He's been an extraordinary talent, one of the great defensive fighters I've seen," Arum said from Atlantic City, where he is promoting tonight's middleweight title fight between Kelly Pavlik and Gary Lockett. "He's been an extraordinary talent, one of the great defensive fighters I've seen.
"We should all recall Floyd as a super athlete, as a superb performer. I can hardly blame him for his decision to retire. We should commend him for what he's done. He's retiring at the height. Is there anything greater than that?"
Contact reporter Steve Carp at scarp@ reviewjournal.com or 702-387-2913.