If trophies could talk, Stanley Cup would make for peerless storyteller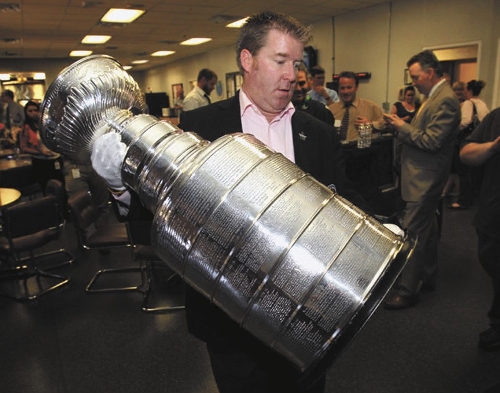 You've heard the phrase, "If walls could talk …"
Well, what if trophies could talk?
And not just any trophy. What if the Stanley Cup could speak of its myriad adventures around the world? Or tell about the various liquids and solids that have filled its silver bowl? Or the hundreds of thousands of times it has been kissed, be it by gap-toothed, bearded, sweaty hockey players or gorgeous starlets in full makeup?
"The Cup," as hockey fans worldwide refer to the 35-pound silver chalice, made its way to Las Vegas on Thursday as part of a promotion for the NHL's annual awards show, which will be June 20 at Wynn Las Vegas' Encore Theater.
While in town, "Stanley" visited the Review-Journal. Granted, the R-J building doesn't have the hockey history of, say, Orleans Arena or even the Commercial Center Ice Arena on East Sahara Avenue, but there was no shortage of visitors in the building to catch a glimpse and snap a photo.
Fortunately, Stanley was a little more gracious than New York Rangers coach John Tortorella when it came time to do an interview and, through Mike Bolt, the "Keeper of the Cup," talked about its famous life.
Q: What kind of guy was Lord Stanley of Preston, for whom you are named?
A. "Never met him. But he seemed like a decent enough chap. Loved the game."
Q: How does the ego handle all the affection you receive?
A: "After a while, you get used to it. The best is seeing the looks on the kids' faces when you visit their school or their rink. They're so innocent. They appear mesmerized at first. But after a few minutes with me, we become fast friends. Being such an iconic figure, I'm used to the attention."
Q: You've had a few misadventures over the years. Any, in particular, stick out?
A: "Well, everyone is usually nice. But the time they threw me into the deep end of the pool at Mario Lemieux's place wasn't a lot of fun. I'm not the world's greatest swimmer. And sitting in a sauna in Finland where it was 200 degrees wasn't cool.
"I also don't like fire. So when the Rangers burned their mortgage papers inside me at the old Madison Square Garden in 1940, I fixed them but good. They had to wait 54 years before I came back.
"But I understand. Everyone likes to have a little fun with me. And I'm a fun-loving guy, though I didn't appreciate it when Red Kelly's baby peed in me back in 1964. That was sort of gross. Same when Kris Draper's kid had an 'accident' back in 2008. That's why no more naked babies are allowed.
"I don't mind a cold beer or champagne or even one of those fancy energy drinks and maybe a little vodka from time to time when I visit Russia. And if someone's dog or a horse wants to have a meal and eat from the bowl, I'm OK with that. I'm not a slob. I get cleaned every day."
Q: What was your most emotional moment?
A: "You know what was touching? When Stevie Y (Steve Yzerman) put me in (Vladimir) Konstantinov's lap after the Red Wings won in '98. He had been in a car accident, you know, and he was paralyzed. But they put me in his lap, and they wheeled us around the rink in his wheelchair. I'll never forget that. And when Ray Bourque finally won in 2001 in Colorado and Joe Sakic handed me off to him. That was such a classy thing that Joe did. He didn't even hoist me up. He gave me to Ray and let him do it.
"The other time that gets me emotional was when we were in Afghanistan in 2007. We were visiting the troops at a base near Kandahar, and you should have seen the looks on their faces when we showed up. There was a missile attack while we were there, but Mike looked after me, and we survived. But that was a little nerve-wracking. Still, being there with the troops was priceless, just like in that (credit card) commercial we used to do."
Q: Since you brought it up, how about the new credit card commercial, the one where "Peggy" leaves you stranded at the airport?
A: "What a tool! Me? I don't mind riding the bus. But poor Mikey and Phil (Pritchard). They've got to schlep me around. Remember, I'm not Twiggy. I weigh 35 pounds, and that's just in my birthday suit. Throw in the protecting locker and the padding, and you're talking another 20 to 30 pounds. If I ever meet that Peggy guy in person, I might drop myself on his toe. That'll fix his wagon."
Q: How do you think you might like staying in Los Angeles? The Kings are having an amazing run so far.
A: "I've been there before. Did some charity work a few times to raise money to help kids and cancer patients. Nice city, but the traffic's brutal.
"I like going to new places. But I think I'd be welcome anywhere. I've been to every market in the NHL at one time or another."
Q: How do you feel about the less-than-warm treatment the Campbell Bowl and Prince of Wales Trophy receive when the conference championships are won? Players seem avoid them like the plague.
A: "Yeah, I don't get it. They're nice trophies. They deserve some love. When you win a trophy, you should embrace it and enjoy it. But I guess that's superstition for you. It's like why don't these guys shave? I can't tell you how many times I get scratched by those beards."
Q: Guess it means more love for you.
A: "I guess."
Q: Speaking of love, or lack of it, does it bother you that NHL commissioner Gary Bettman gets booed every year when he hands you off to the winning team?
A: "Yeah, I kinda feel sorry for Gary. He's really not a bad guy. He loves the game, and he's been very good to me. But there's a time and a place for everything. The man loves the game. I just don't think that when I come out people should be booing him."
Q: Finally, are you looking forward to coming back to Vegas on June 20?
A: "I love meeting the fans. And even if it's 110 outside, I'll be in a nice air-conditioned spot inside the Wynn. The red carpet is always amazing with the players and all the trophies on display. So come on by and say hi.
"Just don't throw me into the pool. Like I said earlier, I don't swim very well."
Contact reporter Steve Carp at scarp@reviewjournal.com or 702-387-2913. Follow him on Twitter: @stevecarprj.