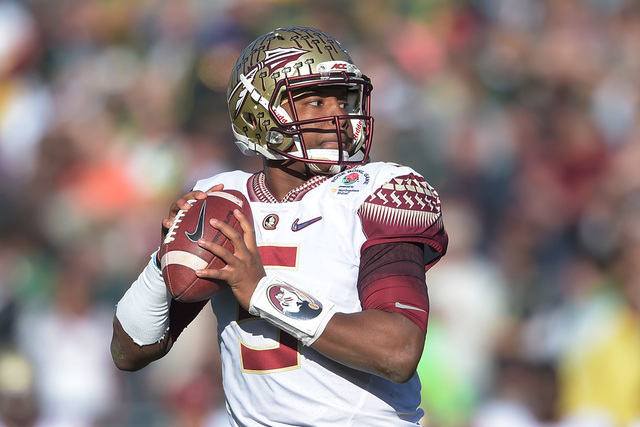 Potential No. 1 overall draft pick Jameis Winston reportedly met with NFL commissioner Roger Goodell last week.
Peter King of TheMMQB.com reported that Winston requested to see Goodell, flying to New York for the meeting, which lasted five to six hours. According to the report, Winston also met with NFL executive vice president of football operations Troy Vincent, and got a primer from league officials about the resources he could use on and off the field once he's drafted.
"He went out of his way to make a good impression, and to show that he understood what was going to be expected of him in the NFL," one league executive who participated in one of the series of meetings told King.
Greg Genske, one of Winston's agents, told King that, although last Thursday's meeting was mostly to educate his client about the NFL, Winston did get a chance to talk about his past with the commissioner.
Winston was accused of sexual assault while at Florida State, but he was never charged and later cleared of violating the school's code of conduct. He also had other highly-publicized off-field incidents while at Florida State.
The Tampa Bay Buccaneers, who own the No. 1 draft pick on April 30, met with Winston last week.
RELATED:
Florida State QB Jameis Winston to enter NFL draft
Bucs head coach says he would use No. 1 pick on Jameis Winston