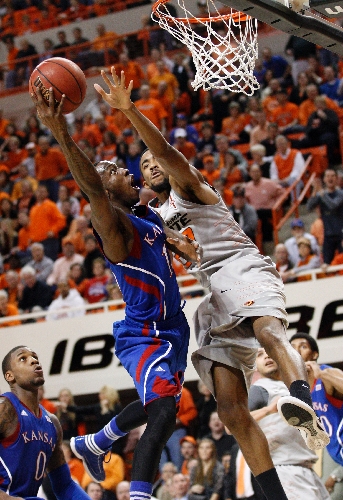 STILLWATER, Okla. — Kansas coach Bill Self pulled aside senior point guard Tyshawn Taylor and threatened to pull him off of his assignment to guard Keiton Page if he didn't do a better job.
That was all the motivation Taylor needed.
Taylor scored 27 points, including 10 straight during a clinching run over the final five minutes, and No. 3 Kansas won the Big 12 title outright by beating Oklahoma State 70-58 on Monday.
The Jayhawks (25-5, 15-2) have won the conference title outright the past four years, and players wore blue T-shirts with "8 STR8" on the front after the game, signifying their eight straight titles overall — including shared crowns in 2005, 2006 and 2008, when they weren't the No. 1 seed in the Big 12 tournament.
This time, they waited to celebrate until they had it wrapped up all alone, instead of after beating archrival Missouri in a top-five showdown Saturday to clinch at least a shared championship.
"It feels amazing, because a lot of people didn't think we'd be this good this year," Taylor said. "I think if you asked us at the beginning of the year, our goal was to always win a Big 12 championship. We prepared like we wanted to win."
Self called timeout after Page had scored Oklahoma State's last 11 points to cut a 14-point deficit to 60-52. Self then told Taylor that Elijah Johnson was going to take over for him on defense.
Taylor got mad, then proved he was up to the challenge.
He made a 3-pointer from the left wing, a runner along the right side of the lane, slammed home a run-out dunk with two hands and nailed another 3 from the top of the key to push the lead to 70-52 with 2:07 to play.
"Fortunately for us, he was able to match him basically basket for basket there down the stretch, when we had to make a couple plays," Self said.
Unranked Oklahoma State teams had upset top-five Kansas teams in 2008 and 2010, but it didn't happen in a third straight time at Gallagher-Iba Arena.
Thomas Robinson added 17 points and 11 rebounds, and the Jayhawks outscored short-handed Oklahoma State 34-8 in the paint, held a 32-23 rebounding advantage and shot 52 percent for the game and 60 percent in the second half.
"That wasn't a high-level, high-energy game by any stretch," Self said. "That was kind of like, 'Hey, let's just try and get through this.' "
Oklahoma State had hoped to send Page out as a winner on the second anniversary of an upset of the top-ranked Jayhawks. Page made seven 3-pointers and scored 29 points in his final home game for the Cowboys (14-16, 7-10), and Brian Williams added 20 points, but Kansas was able to withstand every charge to close it out.
AROUND THE NATION
■ NO. 9 BAYLOR WINS HOME FINALE — At Waco, Texas, Perry Jones III had 15 points and 10 rebounds, A.J. Walton scored 13, and No. 9 Baylor (25-5, 12-5 Big 12) won its home finale 77-48 over Texas Tech (8-21, 1-16).
■ SENIORS POWER NO. 11 HOYAS — At Washington, playing at home for the last time, seniors Jason Clark and Henry Sims combined for 25 points, 12 rebounds and six assists, helping No. 11 Georgetown (22-6, 12-5 Big East) roll to a 59-41 victory over No. 20 Notre Dame (20-10, 12-5).