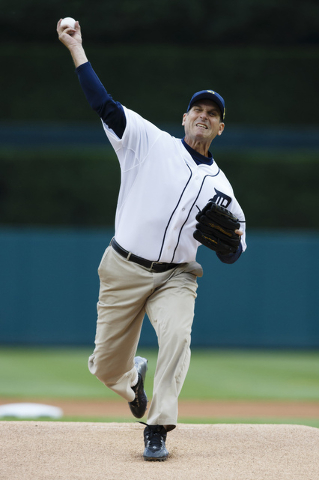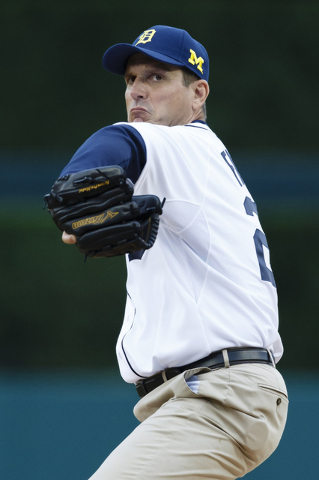 Jim Harbaugh has a big advantage over other college football coaches trying to recruit four-star defensive end Connor Murphy.
After all, the Michigan coach once babysat Connor when he was 8 years old.
According to a story on Sports360az.com, Harbaugh first met the Phoenix, Ariz., prep star seven years ago during an in-home visit to recruit Connor's older brother — Washington Redskins linebacker Trent Murphy — to Stanford.
The visit by Harbaugh and assistant D.J. Durkin — now Michigan's defensive coordinator — took an interesting turn when Murphy's mother went into labor with her seventh child and his father, Jerry, took his wife to the hospital.
Harbaugh and Durkin stayed at the family's home to watch over their children, including Connor, who vividly recalls the day.
"Not many people can say they sat down on the living room floor with Jim Harbaugh and D.J. Durkin and played chess and drank milk with them," Connor, now 6-feet-7-inches, 255 pounds, recalled.
After welcoming his newborn to the world, Jerry Murphy returned to the house to relieve Harbaugh.
"We were there about five minutes and he was tired and had to leave," Jerry said. "That was our whole home recruiting visit."
Harbaugh's visit made a lasting impression on Connor, who's also being recruited by Arizona State, Oregon and Stanford.
"I had no idea who he was or how big he was or his background and story or anything," Connor said. "That's why I say he's kind of like a father figure to me today — just because of that.
"It's just kind of cool how fast everything goes and how everything ties together like that."
DIAMOND JIM
Throwing out the first pitch at Comerica Park on Tuesday before the Detroit Tigers' game against the Pittsburgh Pirates evoked childhood memories for Harbaugh, who said he'd been practicing for that moment since he was "about 5 years old."
"This is very exciting, because I've never thrown a first pitch at any venue, and now I'm doing it for the team I grew up watching," Harbaugh told reporters before the game. "My dad, my brother and I used to come to games in the 70s and we'd watch the game, and then we'd hang out at a bar/restaurant where all the players hung out."
Wearing the No. 20 Tigers jersey of his boyhood idol, Mark Fidrych, tucked into his trademark khaki pants, Harbaugh fired a high hard one to Detroit manager Brad Ausmus.
A former NFL quarterback, Harbaugh also is adept at catching foul balls as he claims to have snagged 20 of them as a fan.
"I keep track. My last one was at a San Francisco Giants-Arizona Diamondbacks game, sitting on the first-base side," the former 49ers coach said. "It was legitimate, not the kind that the players throw to you."
Check out the videos below of Connor and Jerry Murphy recounting their first encounter with Harbaugh and of the Michigan coach throwing out the first pitch at Tuesday's Tigers-Pirates game.