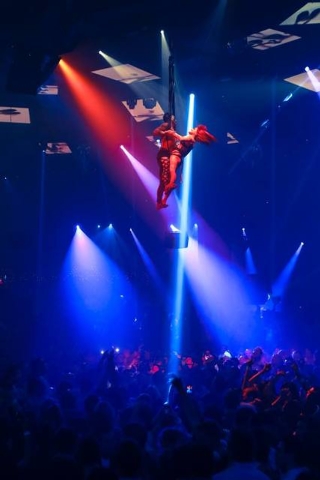 For Caroline Rotich, Sunday's Rock 'n' Roll Las Vegas Marathon was exactly the right distance.
For Alevtina Ivanova, the race proved slightly too long after an otherwise dominant performance.
Rotich, a Kenyan competing in her first marathon, overtook Russia's Ivanova at the 26-mile mark and sprinted the final 385 yards through the finish line at Mandalay Bay, clocking 2 hours, 29 minutes, 47 seconds. That capped a festive but chilly morning for more than 27,500 participants who took over a huge chunk of the Strip in both directions, with approximately 8,000 in the marathon, and the remaining 19,500 running the half-marathon.
Showing little sign of exhaustion, Rotich broke out a broad smile as she split the tape. She stunned Ivanova with her late rally to claim the $15,000 first prize, while also winning the race's male-female challenge, good for another $10,000.
"I passed her at 26 miles, and I knew the men were not coming, and people were screaming," Rotich said.
The women's elite field got a 19-minute head start Sunday morning, with the first runner to finish — male or female — collecting the $10,000 bonus. Rotich could hardly contain her jubilation as she approached the finish, still sprinting away from Ivanova, who finished second in 2:30:05.
"After I passed her, I thought, 'This is going to be good. Really good,' " Rotich said.
Kenya's Christopher Toroitich still got the overall victory and $15,000 for pacing the men's field, but he couldn't track down Rotich or Ivanova, clocking 2:15:15, about 51/2 minutes short of winning the challenge.
Toroitich knew he had his work cut out for him when he hit the 19-mile mark heading west on Hacienda Avenue near Spanish Trail. At that same moment, heading east toward the finish were Ivanova and Kenya's Alice Timbilili, with a lead of about 11/2 miles.
"When I saw the women, I knew that's when I had to move, right there," Toroitich said.
He did just that. After running side by side with fellow Kenyan Matthew Koech for 19 miles, Toroitich built a 150-yard lead in the 20th mile, and by 21 miles, he was 500 yards ahead of Koech, who had dropped into a pack of seven battling for second. Toroitich was never again challenged, but the real race was unfolding in front of him.
At 22 miles, Rotich didn't even have Ivanova within eyesight, as the Russian had pulled well ahead of a fading Timbilili. By the 23-mile marker, Rotich tracked down Timbilili — who ended up dropping out — but she still had several hundred yards to make up on Ivanova in the final 3.2 miles.
"I was thinking I'm maybe not going to make it," Rotich said. "Then I noticed that she was coming back to me. I knew she was getting tired."
As Rotich, 26, finally closed in on Ivanova with about a half-mile left, she crafted her passing strategy.
"I was thinking that maybe she could still react. I didn't want to give her time to react, so I really had to push to the finish line," Rotich said.
Ivanova, who led all but those final yards, said she was surprised Rotich had so much in the tank late.
"For the last mile, I felt fine, I felt safe," she said through an interpreter. "I was not actually thinking she would catch me. But the Kenyan girl was pushing so hard. When I realized she was next to me, I tried to stay with her, but her speed was just too fast."
Still, Ivanova — who gave birth to a girl in March, her second child — could take solace in $8,000 of second-place prize money.
"That's just sport. It's competition. Somebody has to win, and somebody has to lose," said the 34-year-old, who has a personal best of 2:26:39, the fastest among the women's field Sunday. "Of course I'm sad, because I really wanted this. But this is a good comeback after having the baby."
There would be no tracking down Toroitich at the finish. The 28-year-old beat Koech into submission — his 26-year-old countryman ultimately dropped out — and Toroitich finished nearly 90 seconds ahead of the rest of the field. Terefe Yae won a spirited sprint among Ethiopians for second place, clocking 2:16:42, one second ahead of Assefa Tesfave.
Toroitich looked smooth and fresh throughout the race, so much so that he said he knew his fate early on.
"At 10 miles, I thought, 'OK, if they catch me, they catch me.' But I felt then I was going to win," he said.
He kept Koech around for nine more miles, seemingly just to have somebody to run with, before ostensibly putting away the race.
"Matthew was not feeling good. He was not responding, and I thought I better just go," Toroitich said, adding that despite his race-breaking burst, he soon realized winning the male-female challenge was unlikely.
"When I was at 21 miles, I knew I wasn't going to get them."
Stephen Haas was the top American male, finishing fifth in 2:18:45, and Sara Raschiatore was the first American woman, clocking 2:51:17 in taking eighth.
Contact reporter Patrick Everson at peverson@reviewjournal.com or 702-383-0353.
Video and slide show