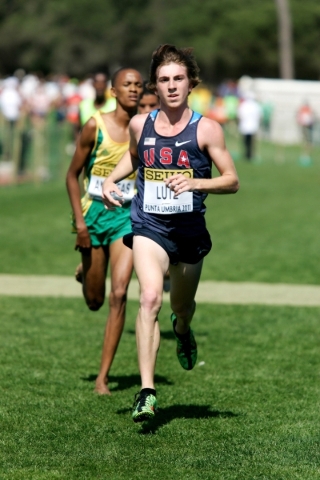 Andrew Lemoncello hasn't run a marathon in three years and Craig Lutz has never run a half marathon, but the Arizona-based elite runners are two of the favorites to win their races in today's Rock 'n' Roll Las Vegas Marathon and Half Marathon under the lights on the Strip.
Lemoncello competed in the 2008 Olympics for Great Britain in the 3,000-meter steeplechase — an event featuring 28 hurdles and seven water jumps — but now has his sights set on qualifying for the 2016 Olympics in the marathon.
The former Florida State standout who grew up in St. Andrews, Scotland, needs to break 2:14:00 to be eligible for Great Britain's Olympic team. Lemoncello set his personal record of 2:13:40 in his debut at the 26.2-mile distance, placing eighth at the 2010 London Marathon, but has been hampered by injuries in four subsequent marathons, the last in 2012 in Fukuoka, Japan.
Lemoncello said he's using Las Vegas as a tuneup for January's Houston Marathon, where he hopes to break the 2:14:00 standard.
"That will be my big one," he said. "It's been a long time. It's very hard to replicate that marathon hurt, that fatigue you get in the race. This will be a good way to practice before we start specific training to qualify for the Olympics."
Lemoncello, coached by Greg McMillan, will be paced by elite American marathoner Brett Gotcher, his training partner who has a PR of 2:10:36.
"He'll be running with me and pacing me, hopefully for 16 miles, then I'll go on from there," Lemoncello said. "My coaches said to go as long as I can at the 2:14:00 pace just to get a good gauge where I'm at. I'd be ecstatic if I got the standard. Realistically, I hope I can get to 20 or 22 miles at that pace and see what I have left.
"Most people say it's a 20-mile run and a six-mile race. Everything happens that last six miles. Your body is fighting against you, your head says to stop and you learn a lot about yourself. I haven't felt that in six years. Sounds like fun, huh?"
Lemoncello, 33, and Lutz, 23, agree that running on the Strip at night definitely will be fun.
"The fact that Vegas is a nightlife city, it will be exciting to be running the race in the prime hours getting into the evening and under the lights," Lutz said. "If it was a morning race, it just wouldn't have the same atmosphere."
A four-time All-American at the University of Texas, Lutz recently set the Arizona state 5K road record, finishing the Phoenix 5K in 13:51 on Nov. 1.
Lutz has been running 90 to 100 miles per week as base training for next summer's U.S. Olympic 10K Trials. He was originally hoping to break 1:03:00 in his half-marathon debut, but his goal is up in the air now with wind gusts of 45 to 55 mph expected this afternoon and tonight.
"I still have it in the back of my head," he said of 63 minutes. "If (the wind's) coming the right way, we could potentially have eight miles on our back. It could play to our advantage for at least part of the race.
"My biggest goal is to win the race. It's a very good field of guys Rock 'n' Roll has put together, and winning would be a sweet way to debut."
Other contenders in the half marathon include Ben Bruce, Lutz's Northern Arizona Elite teammate who won last year's marathon here and has a half-marathon PR of 1:02:53; Carlos Trujillo (PR of 1:03:19); and Andy Wacker, who paced Jeffrey Eggleston, last year's Las Vegas half-marathon winner, before placing second in 1:03:49.
The field also features several runners who have qualified for the U.S. Olympic Marathon Trials in Los Angeles in February and some who are still hoping to make the standards of 65 minutes for men and 75 minutes for women.
"The top five to eight guys could potentially run together for most of the 13 miles," Lutz said. "The later in the race that I'm around, I feel I have a pretty good chance. After that 5K I ran, I feel I can close out pretty hard."
NOTES — Former Boston Marathon and New York City Marathon winner Meb Keflezighi will pace the 1:45:00 half-marathon group in Las Vegas for the second straight year as running ambassador for the Competitor Group, which owns the Rock 'n' Roll Marathon series. … Kid Rock will perform a prerace concert at 3 p.m. at Las Vegas Village, across from the Luxor and Mandalay Bay. … More than 150 couples are expected to wed or renew their vows in a run-thru wedding ceremony at Monte Carlo, at mile 3 of the marathon, at about 5:40 p.m. … A total of 40,000 runners from all 50 states and 64 countries are registered for today's races, with 6,000 in the 10K, 5,500 in the marathon and 28,500 in the half marathon. Females make up 60 percent of the field, and 90 percent of participants traveled to Las Vegas from out of town. … Since 2009, the event has raised more than $21 million for the Crohn's & Colitis Foundation of America and generates an estimated annual economic impact of $165 million to Southern Nevada.
Contact reporter Todd Dewey at tdewey@reviewjournal.com or 702-383-0354. Follow him on Twitter: @tdewey33.
Rock 'n' Roll Las Vegas 10K
When: 4 p.m. today
Start line: SLS Las Vegas
Finish line: The Strip, adjacent to The Mirage
Field: 6,000
GEICO Rock 'n' Roll Las Vegas Marathon and Half Marathon
When: 4:30 p.m. today
Start line: The Strip at Dewey Road, adjacent to Mandalay Bay parking lot
Finish line: The Strip, adjacent to The Mirage
Field: 28,500 (half), 5,500 (full)
2014 winners: Marathon: male, Ben Bruce (2:27:22); female, Cathy Cullen (2:56:57). Half Marathon: male, Jeffrey Eggleston (1:03:24); female, Lindsey Sherf (1:14:15)
For more information: runrocknroll.com/las-vegas