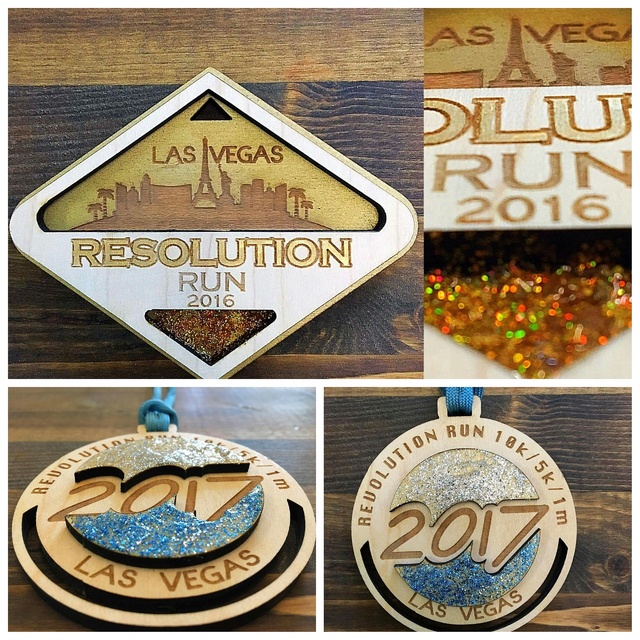 For those runners looking to end 2016 with a race and start the new year with another, the options are plentiful in the Las Vegas Valley.
In Henderson, Cadence will host the valley's final race of 2016 and first of 2017.
And at Kellogg-Zaher Park, Triple Dare Running Company will stage races on New Year's Eve and New Year's Day.
Here's five races in the area:
Resolution Run/Revolution Run
For the first time, Triple Dare Running Company will host both races after purchasing the Resolution Run this year. Race director Heidi Dove said the course is the same, but other changes were made, including the medals, the shirt design and the logo.
"We're kind of known for having a party running company," Dove said. "We're really loud. We have a lot of music, a lot of fun people, so the races are always a lot of energy, so I would say that's different, too."
The Resolution Run, which has drawn 400 people in the past, probably will have 300 to 400 participants and will start at 4 p.m. Saturday. Registration prices are $45 for the 10k, $35 for the 5k and $25 for the one-mile run.
The first-year Revolution Run will be at noon on New Year's Day, and registration prices are the same as the Resolution Run.
"The times are so good that you can still go and have fun after the (Resolution Run), and then New Year's Day, our run doesn't start until noon, so people can sleep in," she said.
Dove is expecting 150 to 200 runners for the race.
Dove said the company likes to do triples — in which entrants can earn medals for running three races within 24 hours — so they decided to do something similar by adding this race.
"I wanted people to be able to get multiple medals, especially people that were visiting from out of town because people like to collect medals," she said.
Cadence Double Dash
Cadence will host the Double Dash for the second time, offering the final race of 2016 and first of 2017.
The final 5k and one-mile fun walk will begin at 10:30 p.m. New Year's Eve, and the first of the year will start at 12:15 a.m. New Year's Day.
Both 5k's together cost $45, and the first and last of the year are $35 each, and the fun walk is $20.
"Last year we had 75 participants, and I would say the majority of them, maybe all but 10, ran both races," spokesperson Cheryl Persinger said.
This year, organizers hope to increase the number of participants to 100. In between the races, runners can watch the fireworks on the Strip from Cadence's Central Park and have some hot chocolate, coffee and hot food in a heated tent — a big addition from last year's race.
The event had plenty of spectators who didn't run last year but came to enjoy the fireworks.
"They can certainly join us in Central Park," Persinger said. "We have a family-friendly event, so you can bring the kids out, watch the fireworks, take them home, take them back to bed right away if you want, or just hang out with us in a family-friendly environment, something a little less chaotic than maybe some of the other places that are holding New Year's Eve events."
Green Valley 5k
Life Time Athletic will also have a New Year's Day 5K Fun Run and Walk at the Life Time Athletic Green Valley starting at 10 a.m. Afterward, there will be a post-race party with a brunch buffet, music, activities and more. Registration is $30 for those over 13 and registration is available at commitmentday.com.
The race is part of Commitment Weekend, which kicks off on Dec. 30 and runs through Jan. 2. Throughout the event, both of Life Time's locations will host fitness activities for both members and nonmembers.
Contact Betsy Helfand at bhelfand@reviewjournal.com. Follow @BetsyHelfand on Twitter.