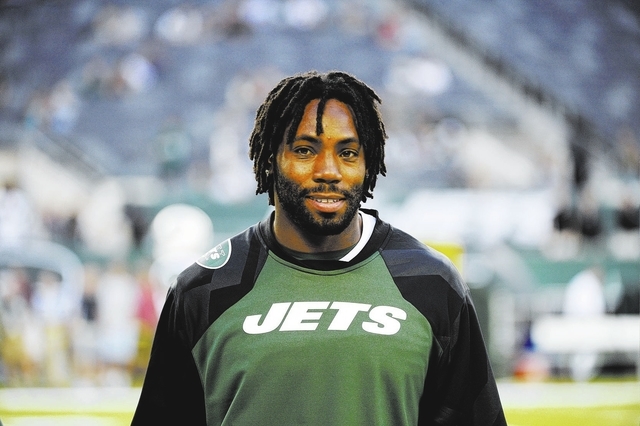 Based on current trajectory of public opinion and political trade winds, marijuana probably will be legal for social use all over the nation within the next decade.
It appears fairly likely at this point professional sports leagues might make a move even before that happens.
While many players might be in support of that notion, few are so willing to speak out on the record as strongly as New York Jets cornerback Antonio Cromartie did this week.
Dom Cosentino of NJ.com detailed an interview Cromartie did with Ashlee Ray of "This Is 50" last weekend.
Along with the typical offseason interview answers like being excited about the team's cap space and supportive of young quarterback Geno Smith, Cromartie had interesting thoughts on whether the NFL should allow players to smoke weed.
"They need to just let it go. We're just going to do it anyway. They just need to let it go," Cromartie said. "They need to go ahead and say, 'Y'all go ahead, smoke it, do what you need to do.' "
Cromartie corrected the record to say he said "players" and not "we're." Still, point taken.
Here's hoping the league takes notice.
As for Cromartie, who has fathered 10 children with eight women, his cavalier attitude to marijuana seems to mirror his thoughts on birth control.
She's going to get pregnant anyway, so why even bother.
■ NOT SO FAST — Every few days, the Internet gets completely obsessed with a story. Quite often, those stories have either a loose or direct tie to the world of sports.
The story that swept through social media and the blogosphere on Tuesday and Wednesday was the report that rapper DMX will fight George Zimmerman in a "celebrity" boxing match.
This one has it all. Troubled hip-hop star fighting one of the most hated men in America and, oh, by the way, it just so happens to be a black guy out to seek revenge for everyone in the country on behalf of Trayvon Martin by beating up Zimmerman.
Ratings gold.
Then Deadspin had to do some simple Google searches and ruin the fun for everyone.
The website reports the promoter of the proposed bout, Damon Feldman, has a history of staging fixed celebrity boxing events.
Feldman was charged in Pennsylvania three years ago for fixing fights and staging fights without a promoter's license.
It's pretty clear the fight will be scripted to let DMX beat the living hell out of Zimmerman and give those sick enough to be interested the ending they undoubtedly want to see.
The real loser will be human decency, as Zimmerman will profit (though he claims to be giving the money to charity, ha-ha) off the death of a teenage boy. Whether you see him as a victim acting in self-defense or a cold-blooded killer, most everyone can agree this is repugnant.
The real irony is that, according to TMZ, Zimmerman requested a bout with Kanye West. We're guessing it had nothing to do with money and take the report at face value that he is not a big fan of West's "history of beating up defenseless people."
Apparently, you should shoot them instead of beating them up.
COMPILED BY ADAM HILL LAS VEGAS REVIEW-JOURNAL