Liberty survives Canyon Springs to advance to Sunrise title game
November 15, 2013 - 11:34 pm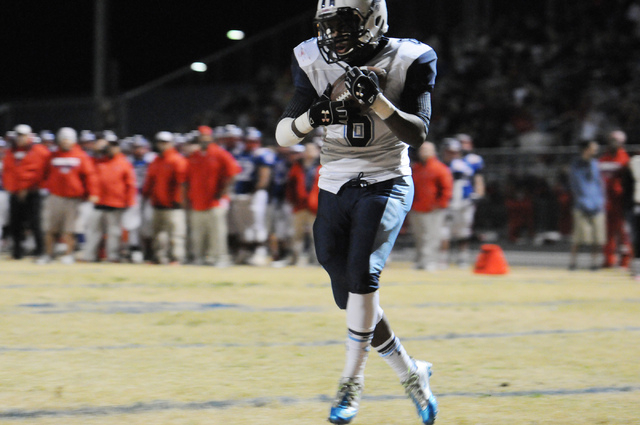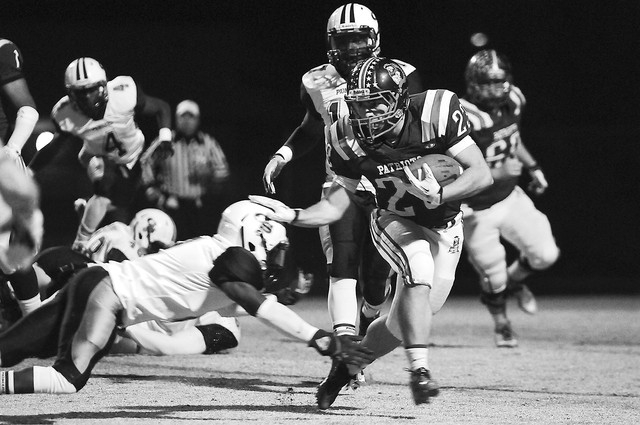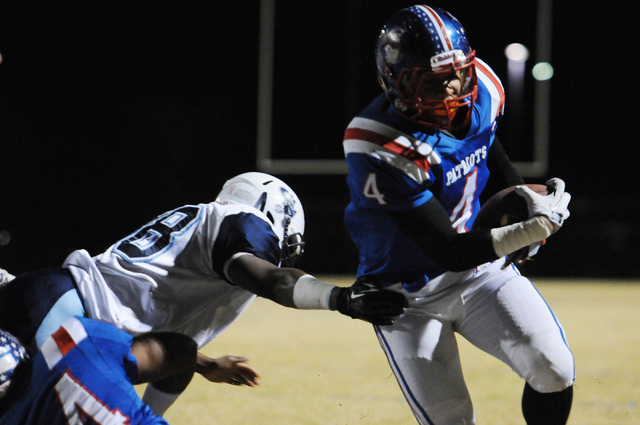 An unsportsmanlike conduct penalty on Liberty helped keep Canyon Springs' last-ditch drive alive late in the fourth quarter Friday night.
But junior Spencer Wilson made sure that the Pioneers wouldn't score.
Wilson had tackles for loss on two straight plays to help stop Canyon Springs, and Liberty held on for a 24-21 home win in the Sunrise Region semifinals. The Patriots (9-3) will host Green Valley (9-2) in the Sunrise title game next Friday.
"I just wanted to win this game for the seniors," said Wilson, who had three tackles for loss. "It's their last year. I wanted to do it big."
Liberty's Jarvis Polu batted down a pass on third-and-10 earlier in the drive, but the Patriots were whistled for unsportsmanlike conduct, moving the ball to the Liberty 35.
But Wilson closed quickly on two short pass plays, dropping Clayton Jones for a 2-yard loss, then stuffing Zaviontay Stevenson for a loss of 6 on a screen. An incomplete pass made it fourth-and-18, and Canyon Springs quarterback Bradley Alexander was flushed out of the pocket. He got loose and sprinted down the right sideline, but stepped out of bounds 2 yards short with 49 seconds to play, and Liberty ran out the clock.
"Spencer's really aggressive and hits hard," Liberty coach Rich Muraco said. "Really, the whole defense in that second half was flying to the ball."
Muraco was relieved that the penalty didn't cost his team a shot at a fourth straight Sunrise title.
"I told them at halftime we had to eliminate the big plays and the stupid penalties," Muraco said. "And I thought it was going to bite us in the rear-end again with the 15-yard penalty on third-and-10 at the end, but we were able to overcome it."
The Pioneers (9-2) took a 21-14 halftime advantage when Alexander hooked up with Jordan Davis on a 52-yard scoring strike with 1:26 left in the half.
Liberty drove to the Canyon Springs 16, but Ezekial Lopez picked off a Travis Newman pass near the goal line on the final play of the half.
Canyon Springs gained 259 yards in the first half, but managed just 102 yards the rest of the way.
"The defense worked super hard," Wilson said. "We really showed up the last quarter, and we showed them who's the No. 1 defense."
Liberty finally put together some offensive drives in the fourth quarter. Deseon McQuaig got behind a Canyon Springs defender and hauled in a 48-yard TD pass from Newman with 9:16 left to tie the score at 21. McQuaig also caught a 22-yard TD pass in the first quarter and finished with eight catches for 163 yards.
"He's such a playmaker," Muraco said. "He's so dangerous. I can't say enough good things about him and his ability to go up and get the ball in crunch time."
Liberty then moved the ball to the Canyon Springs 19 on its next possession with the help of a personal foul on the Pioneers.
Senior kicker Austin Fitzgerald drilled a 35-yard field goal with 3:15 left to give the Patriots the lead.
"They give you a lot of different looks, a lot of different pressures," Muraco said of the Canyon Springs defense. "And we were fortunate enough to move the ball. When the passing game wasn't working, we were able to run it a little bit, and then the play-action pass off that helped us out at the end."
Newman was 17-for-34 for 291 yards for Liberty, which rushed for 132 yards. Ethan Tuilagi had a 5-yard TD run for the Patriots.
Stevenson finished with 21 carries for 178 yards, including a 77-yard TD run in the first quarter. But he had only 28 yards on 11 carries in the second half.
"I told them that we've got to win as a family; we've got to play together for 24 minutes and the defense is going to win the game for us," Muraco said of his halftime speech. "And it did at the end."
Contact prep sports editor Damon Seiters at 702-380-4587 or dseiters@reviewjournal.com. Follow @DamonSeiters on Twitter.