Lightning, leukemia can't keep Destry Abbott from racing
August 15, 2017 - 4:01 pm
Updated August 15, 2017 - 4:02 pm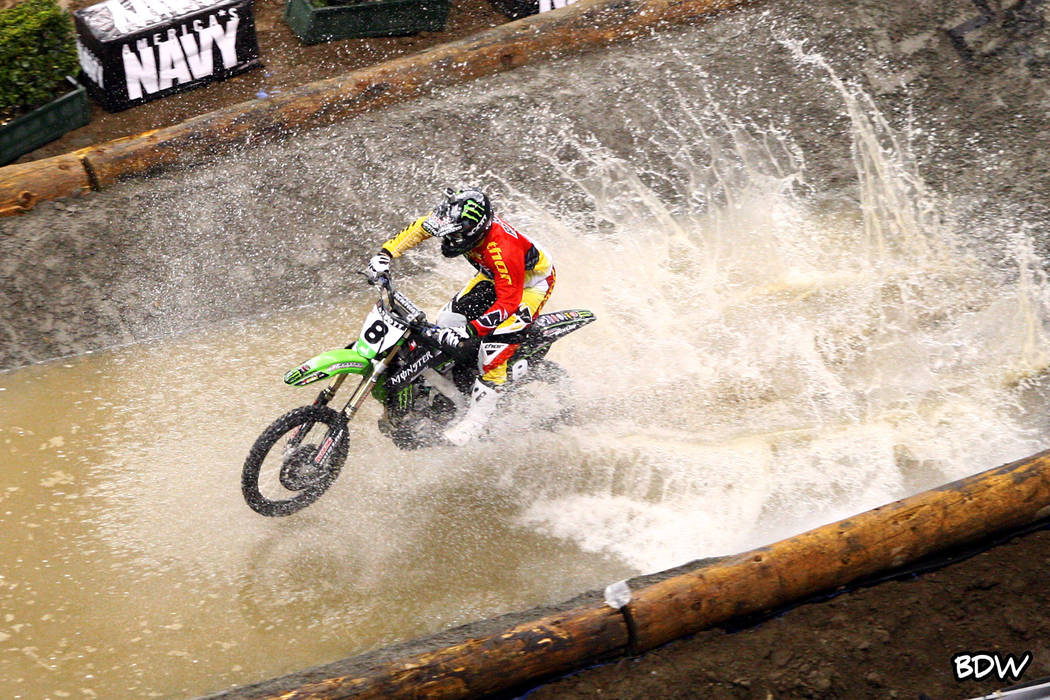 Fate played a role bringing Destry Abbott and his wife Charlotte together. The dirt bike and motorcycle racer found his bride at an Arizona track 27 years ago, meeting her through mutual friends before spending time at a Waffle House together.
Then fate threw unthinkable obstacles in their path. Destry was diagnosed with leukemia in May 2016. Three months later, Charlotte learned she had breast cancer.
Destry hasn't competed since, his longest absence from the track since fate had dealt a blow that could have killed him. Six years ago, Destry was struck by lightning while riding with his son Cooper.
So maybe it makes sense he will make his long-awaited return to racing in Las Vegas on Saturday in the EduroCross season kickoff at Orleans Arena.
By him entering the starting gate and Charlotte making it to the stands, the couple has already beaten the odds.
"It's the hardest thing I've ever been through," Destry, a Phoenix resident, said of his cancer battle. "It was tougher than I ever thought it was going to be."
'Nowhere to go'
Destry, 45, is the middle of three generations of racers, learning from his father before passing down his passion to Cooper, 19.
Both father and son now race in EnduroCross together, an indoor, off-road motorcycle event on a track filled with boulders, logs, sand and other obstacles.
Destry and Cooper were actually riding together in Flagstaff, Arizona, about six years ago when the unthinkable happened under stormy skies after Cooper's bike ran out of gas.
The two took shelter under a big tree to call Charlotte and daughter Kelsey. After a short time, Cooper moved to a tree about 10 yards away.
Destry remembers hearing thunder really close. Ten seconds later, he and Cooper were both on the ground.
"There was nowhere to go," Destry said.
The strike was a direct hit on the tree nearest Destry. Cooper received the aftershock, and knew immediately what had happened. Destry woke up confused and blind in his left eye.
Cooper quickly siphoned gas from his dad's bike to his own and drove a couple miles to the main road to find his mother and sister. The family quickly called a doctor to see what they should do, and were told that as long as Destry's heart didn't stop, he should be fine.
It was still beating, but his heart rate, which jumped from 42 beats per minute to around 98, took six months to stabilize. It took him a full year to regain vision in his eye, the result of a burned retina.
Double diagnosis
Being struck by lightning sidelined Destry for a year, but soon he was back racing. Before long Cooper started competing alongside him.
Then life threw another obstacle in his path.
Destry had been feeling poorly for a while, but his doctors couldn't figure out what was wrong. He eventually experienced such bad leg pain he pulled out of a race in Idaho and soon the culprit was found: leukemia.
"I caught it really late," Destry said. "It was a scary time because the prognosis wasn't so good right off the bat."
He started chemotherapy, spending 22 days in the hospital during one stretch. Charlotte kept Destry positive, and now wants to find ways to help other cancer patients after the love and support her family received.
First though, she had to help herself. She was diagnosed three months after her husband of 24 years started his fight.
"When I found a lump I was like 'no way,'" Charlotte said. "There's no way."
Kelsey, 24, quit her job in the marketing department of a motorcycle manufacturer in California and moved back home to help both of her parents while Cooper kept competing, though for the first time he wasn't racing with his father.
"When it rains, it pours," Kelsey said. "We're closer than ever."
Back to the start
Fifteen months after his diagnosis, Destry is ready to race again. He is in remission and already looks plenty fast, according to Cooper.
"It's frustrating riding with him because it's not like he's lost much," Cooper said. "His speed is still really good."
Charlotte is doing well, too, completing her 35th and final session of radiation on Aug. 8. She still has chemotherapy treatments to undergo and two surgeries on the horizon, but perseverance is the biggest part of her recovery plan.
Of course, the Abbott family knows surprises are always around the corner. But for now, the biggest surprise might be that after all he's been through, Destry Abbott is still going to be able to get on his bike and race come Saturday.
"He's taking control back. Cancer threw us into chaos and took some control away," Charlotte said. "Him getting back on the bike puts the control back in his hands and gives him the power to fight against it."
Recreation notebook appears Wednesdays. Contact Ben Gotz at bgotz@reviewjournal.com. Follow@BenSGotz on Twitter.