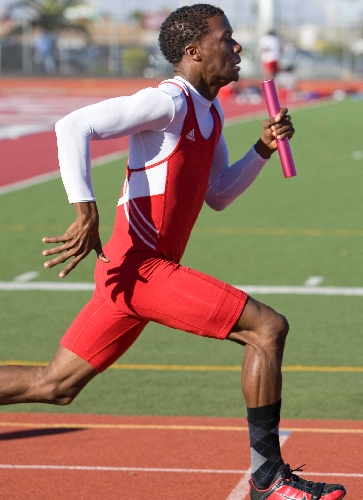 Valley senior Garic Wharton has set a pretty straightforward goal for himself this season in track.
"I want to leave my mark as the greatest track runner ever in Nevada," Wharton said.
As audacious as that sounds, Wharton already might be the greatest runner, sprinter at least, in Nevada high school history, even if he never sets foot on a track this spring. He holds the state meet records for the 100- and 200-meter dashes.
As a freshman, he finished second at state in the 100 and 200. His sophomore year, he was "only" third at state in the 100 but set a state meet record in winning the 200. His time of 21.1 seconds broke the previous record of 21.13 set in 1982.
As a junior, Wharton set a record in the 100 and finished second in the 200.
Wharton's winning time at state in the 100 in 2009 was 10.39, the sixth-fastest time in the country in high school track, according to dyestat.com. It also broke the previous record of 10.54, which had stood since 1983.
"His 200 was the best race of all," Valley boys coach Mark Salzman said. "It was huge for us. He was in Lane 1. If he had been in Lane 4, he would have broken the record again."
As it was, that second-place finish was worth eight points and clinched the team title for Valley.
Wharton was in Lane 1 — the far inside lane — because he had placed third, running 21.13, at the Sunrise Region meet, finishing behind Joeal Hotchkins of Chaparral (21.06) and Shaun Murray of Liberty (21.06). All three times were worthy of national rankings. Wharton's 21.13 in that race was the 13th-fastest time in the country, according to dyestat.com.
Hotchkins and Murray graduated in 2009, leaving Wharton with seemingly little competition or pressure since he already has received an athletic scholarship from Arizona. But that's not the case, Wharton said.
"This is my year," Wharton said. "It's an extra year. When you race against people that are that good and they leave, the pressure is never off. People will expect me to do well, win every race. It's actually more pressure."
As for the scholarship, Wharton also happens to be an outstanding football player, having played wide receiver, quarterback and defensive back. He rushed for 983 yards, passed for 544 yards and caught 13 passes for 243 yards in the fall and will participate in football and track at Arizona.
Arizona football coach Mike Stoops labeled Wharton "the fastest incoming freshman football player in the country."
"I have never seen a kid as fast as he is in a football uniform," Valley girls track coach Roger Hansen said. "There is no such thing as getting an angle on him. You'll hear: 'Play the angle! Play the angle!' And he still outruns them."
While Wharton needs no introduction, his sister Krystal, a junior at Valley, is less well known. But she also won an individual state championship last year.
"She's lived in the shadow of her brother; that's hard to deal with," Hansen said. "She got serious with the long jump the last three weeks of the season. She was interested in learning. She's got some of the same genes as Garic. She's a good athlete."
Krystal Wharton was her team's lone representative at state. She won the Sunrise long jump title with a leap of 16 feet, 9 inches but was in ninth place with one jump left at state. On that last attempt, she went 17-0¾ to win the event.
Krystal Wharton didn't participate in the long jump as a freshman and didn't make it a priority until the end of last season.
"I was mostly focusing on relays," Krystal Wharton said.
Garic Wharton concedes he was surprised when his sister won at state.
"In your heart, you want to be excited, but you don't want to get your hopes up too much and have it not work out," Garic Wharton said. "When she won, I was real excited that we were both champions. It was unique and special."
In-depth high school sports coverage