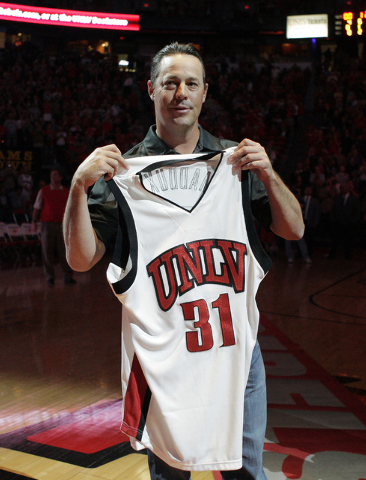 NEW YORK — Greg Maddux could break a 22-year-old record Wednesday, though he won't become the first unanimous selection in the history of the baseball writers' Hall of Fame ballot.
When Tom Seaver received 425 of 430 votes in 1992, his 98.84 percentage topped the mark set by Ty Cobb in 1936.
"I have never come across any human being, whether they're a voter or just a fan, that doesn't think Greg Maddux is a Hall of Famer and one of the greatest pitchers who ever pitched," The Boston Globe's Nick Cafardo said Tuesday. "I can't imagine someone not voting for him. So I would guess that he's going to break Seaver's record."
Maddux, a Valley High School product and longtime Southern Nevada resident, is among three high-profile players on the Baseball Writers' Association of America ballot for the first time, joined by former Atlanta Braves teammate Tom Glavine and Chicago White Sox slugger Frank Thomas.
Holdovers include Craig Biggio, who topped voting at 68 percent last year, 39 votes short of the 75 percent needed for election. It was the second time in four decades the BBWAA failed to elect anyone.
Ken Gurnick of MLB.com, a former reporter for the Los Angeles Herald Examiner, said Tuesday the only player he voted for was Jack Morris, on the writers' ballot for the 15th and final time after falling 42 votes shy last year.
"To me, I didn't exclude Maddux. I excluded everybody from that era, everybody from the Steroid Era," Gurnick said. "It wasn't about Greg Maddux; it was about the entire era. I just don't know who did and who didn't."
Gurnick said Morris also was the only player he voted for in 2013 and added he intends to abstain in future elections.
"Some people quibble over when the era starts, but the bulk of his career was in my opinion well before all of the widespread use of performance-enhancing drugs," Gurnick said.
Given that 569 ballots were submitted in 2013, Maddux likely could be omitted from six this year and still break Seaver's record.
In 1992, Seaver was left off by Paul Hagen of the Philadelphia Daily News, Bob Hertzel of The Pittsburgh Press and freelance writer Bob Hunter. They all submitted blank ballots to protest the decision by the Hall of Fame board of directors to bar Pete Rose from the vote because of his lifetime ban from baseball following a gambling probe.
Retired writers Deane McGowen and Bud Tucker also did not vote for Seaver.
"If it had cost Seaver anything, yeah, I probably would regret it at some level, but it didn't really cost him anything," Hagen, now with MLB.com, said Tuesday. "He still got the highest vote (percentage) total ever, and he wouldn't have been unanimous anyway."
The Steroids Era has impacted the vote totals of players with stellar statistics. In initial appearances last year, Mike Piazza was at 57.8 percent, Roger Clemens at 37.6, Barry Bonds at 36.2 and Sammy Sosa at 12.5. Mark McGwire received 16.9 on his seventh try.
The Baseball Think Factory website compiled votes by writers who made their opinions public, and with 161 ballots had Maddux at 99 percent, followed by Glavine (96), Thomas (91) and Biggio (79). The website's count had Piazza (68), Jeff Bagwell (61) and Morris (60) falling short along with Tim Raines (55), Bonds (42), Clemens (41), Curt Schilling (37) and Mike Mussina (29).