Manziel golfs, but expected to continue treatment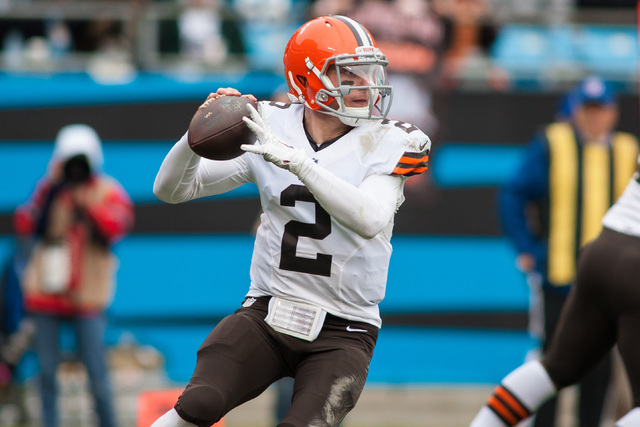 Cleveland Browns quarterback Johnny Manziel played some weekend golf with his father in Shreveport, La., leading to speculation that he may be released soon from his rehab treatment.
The Cleveland Plain Dealer reported Manziel could be out of treatment as early as this week.
Manziel is allowed to make occasional trips as part of the program, and ESPN.com reported he is expected to return to treatment.
The Shreveport Times reported Saturday that Manziel was in the area with his father to play golf at 265, a facility built by PGA Tour player David Toms.
Manziel entered a treatment facility on Jan. 28 for an undisclosed problem.
The Browns have said they expect Manziel to be out of rehab in time to participate in the team's workouts, which start April 20.
Browns general manager Ray Farmer said at the NFL owners meetings in Phoenix last month that the team will not have exclusive authority in determining when the second-year quarterback rejoins the team. Instead, that will be decided by counselors overseeing Manziel's rehab treatment.
"I don't think it's in doubt," Farmer said in response to questions about Manziel attending the Browns' April 20 workout. "Again, I'm not the point person in that. So I would defer to those kind of controlling his care and let them decide what that looks likes."
Manziel has been visited at the treatment facility by coach Mike Pettine among others.
"When he is back, it will be full speed ahead for him," Pettine said last month. "I think he's very anxious at this point. Football, it's a back seat. For his football life to get it where it needs to be, he needs to get the personal life where it needs to be. … This takes precedence, so however long of time he needs, the football will be there when he gets out."
The Browns are taking his commitment to his health as a positive sign for his future. A first-round pick in 2014, Manziel scored on his opening drive in an NFL game — in relief of Brian Hoyer — but otherwise looked lost on the field last season.
Manziel started two games and completed 18 of 35 passes for 175 yards and added nine rushes for 29 yards. He was placed on injured reserve after injuring his hamstring in Week 16 against the Carolina Panthers.