Marquez not thinking about retiring – only about Bradley
October 12, 2013 - 12:04 pm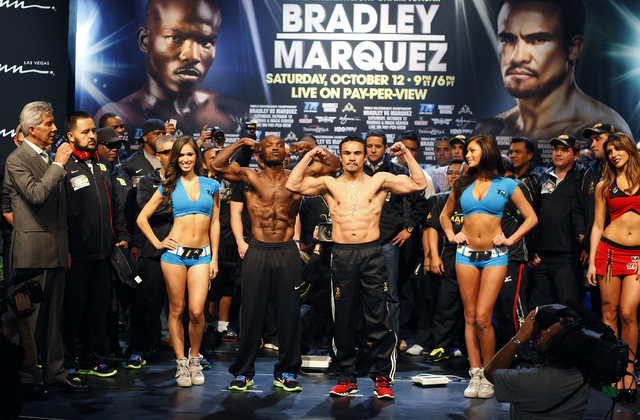 For any athlete, there's no better feeling than leaving your sport on top. Ask former NFL quarterback John Elway.
Juan Manuel Marquez knows he isn't going to fight much longer. He's 40 years old and has been in too many wars over anillustrious 21-year professional career that has produced world championships in four different weight classes, a 55-6-1 record with 40 knockouts, including his sensational sixth-round KO of Manny Pacquiao last December at the MGM Grand Garden.
So does Marquez say adios to boxing if he beats Timothy Bradley tonight at the Thomas &Mack Center, taking his WBO welterweight title in the process and becoming the first Mexican fighter to win a belt in five different divisions?
"I don't know; I really don't know," Marquez said. "Maybe it will be time to go. But let's see how things go."
Top Rank chairman Bob Arum, who is Marquez's longtime promoter, said he wouldn't be surprised if Marquez did walk away should he win tonight. He also wouldn't be surprised if Marquez continues to fight, win or lose.
"Marquez is a super-smart guy and he's going to think things through very carefully before he makes any decisions," Arum said. "I don't know what he's going to do because I truly believe he doesn't know what he wants to do. But I will support him in whatever decision he makes."
One thing Marquez seems certain about: He's not planning on stepping into the ring again with Pacquiao.
He turned down a lot more money than the $4 million he's getting to fight Bradley for a fifth fight with the Filipino legend and he doesn't want to tarnish that memory of his sensational KO.
"That chapter is closed," Marquez said. "Everyone knows what happened in the last three fights with Manny and I want to keep the feeling of Dec. 8."
The fact Marquez is still active inside the ring is testament to his resiliency and his desire to perform at a high level. Each time he lost, whether it was to Freddie Norwood, Chris John, Floyd Mayweather Jr. or Pacquiao, Marquez didn't let his setbacks linger to the following fight. He never has lost consecutive fights.
"I think that's what Mexican fighters are about," he said. "Each time I got beat, I came back. I never gave up. I think it's a big part of who I am."
Marquez expects Bradley to be a tough adversary tonight.
"I think this fight will be won on speed and movement," Marquez said. "Those fights Bradley had with Manny and (Ruslan) Provodnikov gave him experience he didn't have before and it will help him in our fight."
Both fighters made weight Friday at Wynn Las Vegas with Marquez a surprisingly light 144½ pounds and Bradley weighing in at 146. Marquez, who opened a minus-160 betting favorite at the Wynn race and sports book, was down to minus-120 late Friday afternoon as Bradley money came pouring in.
But Marquez has handled the favorite's role many times over the years and he never worries about what the bettors think. He also doesn't look beyond the fighter in front of him, so when reporters ask him about what he's going to do next, he is sincere when he tells them he doesn't know.
"I just think about the present," he said. "I have enough to worry about with Bradley."
Marquez doesn't delude himself intro thinking he can fight forever. He doesn't want to be Bernard Hopkins Light and fight until he nears 50. So perhaps in the back of his mind, he is considering retirement, especially if he wins big tonight.
"I know I'm near the end," Marquez said. "How close? I don't know.
"But it would be nice to walk out of the ring with the belt and say goodbye."
Contact reporter Steve Carp at scarp@reviewjournal.com or 702-387-2913. Follow him on Twitter @stevecarprj.
BRADLEY VS. MARQUEZ
WHAT: WBO welterweight championship
WHEN: 6 p.m. today
WHERE: Thomas & Mack Center
RECORDS: Bradley 30-0, 12 KOs; Marquez 55-6-1, 40 KOs
WEIGHTS: Bradley 146, Marquez 144 1/2
PURSES: Bradley $4.1 million, Marquez $4 million
OFFICIALS: Referee — Robert Byrd; Judges — Robert Hoyle, Patricia Morse-Jarman and Glenn Feldman.
LINE: Marquez minus-120, Bradley even
TICKETS: $50, $100, $200, $300, $400, $600, $800
TV: HBO Pay Per View (Channel 501); $54.95