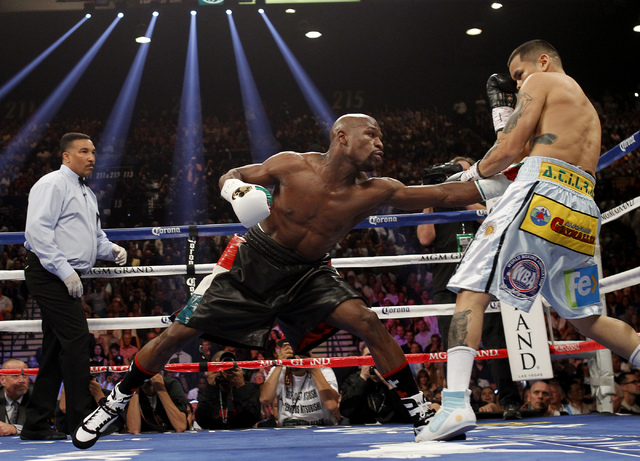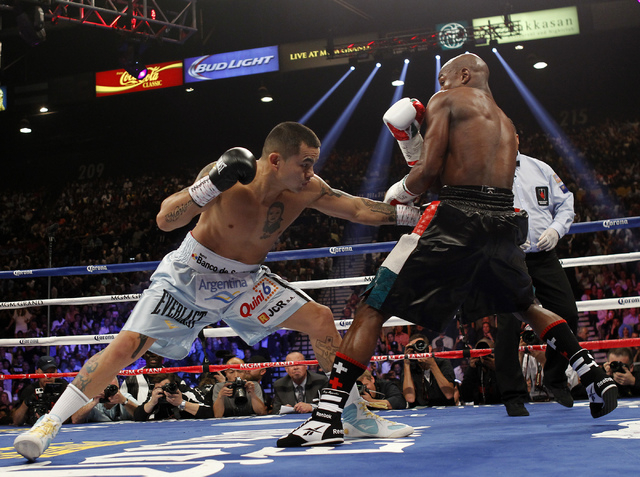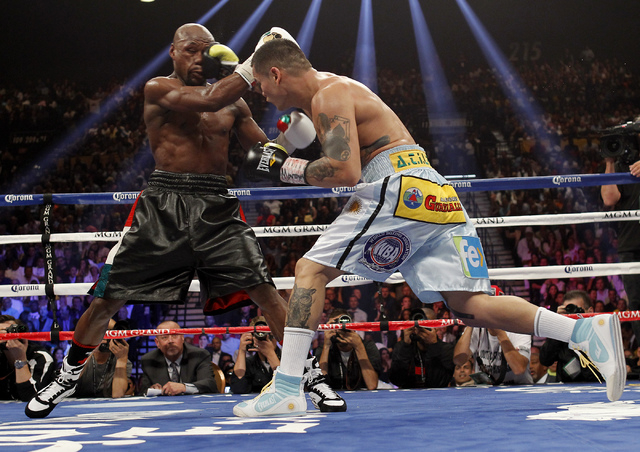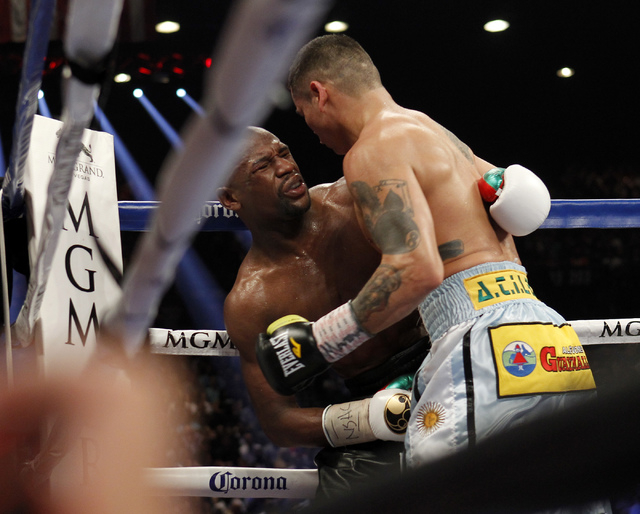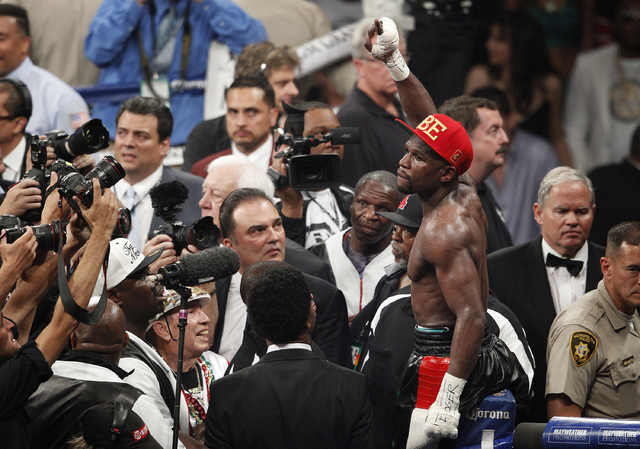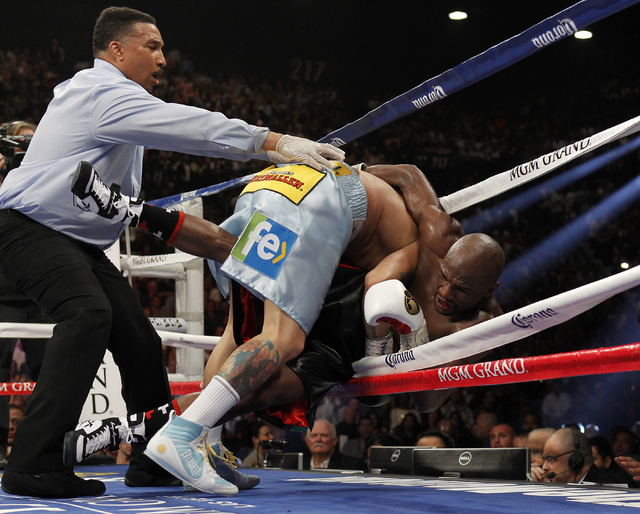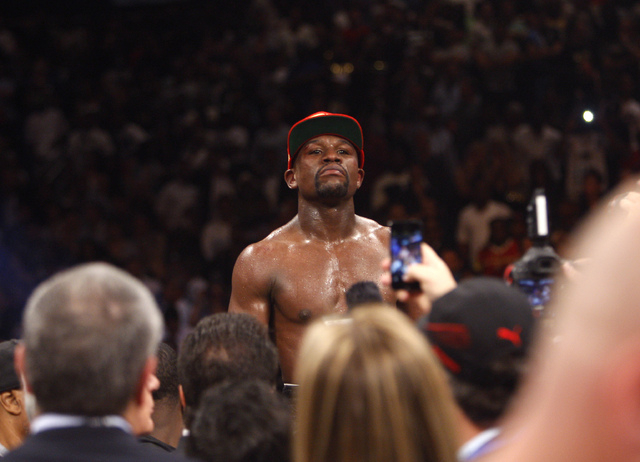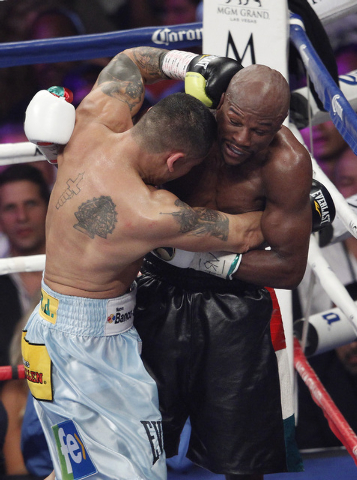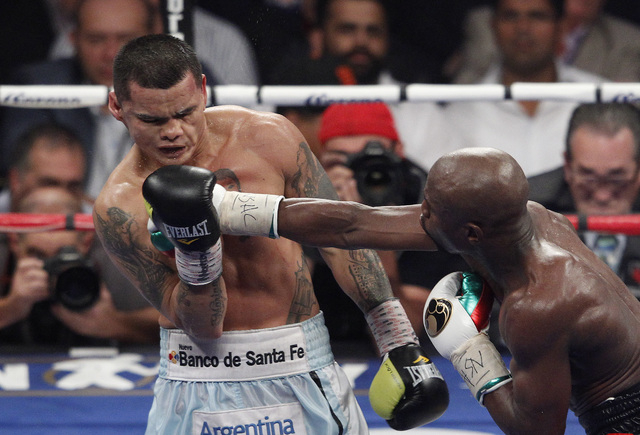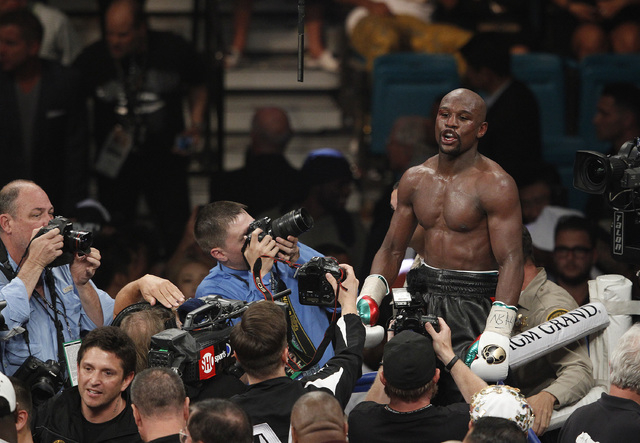 Bruised, somewhat battered, but still standing and still unbeaten.
That was the story Saturday night at the MGM Grand Garden, as Floyd Mayweather Jr. survived a 12-round street fight against Argentina's Marcos Maidana to unify the world welterweight title and improve to 46-0 in front of a sellout crowd of 16,238.
Mayweather, the World Boxing Council champion, claimed a majority decision, winning on Burt Clements' scorecard 117-111 and Dave Moretti's card 116-112. Michael Pernick scored it 114-114.
"This was a tough, competitive fight, a fight the fans wanted to see," Mayweather said. "I wanted to give the fans excitement. But a true champion can adjust to anything."
Maidana, who lost his World Boxing Association title to Mayweather and dropped to 35-4, was upset by the decision.
"I definitely think I won this fight," Maidana said. "Mayweather didn't fight like a man. But I didn't expect him to. I trained hard, and he never hurt me with a punch."
There was controversy before the fighters ever made their way to the ring, as Mayweather and his camp objected to the style of gloves Maidana was going to wear. The two sides argued from late Friday afternoon until late Saturday morning before resolving the matter. Maidana wanted to fight in gloves stuffed with horsehair, which Mayweather objected to, and ultimately fought with gloves stuffed with foam padding.
It was a gamesmanship ploy by Mayweather. Whether he truly needed to get inside Maidana's head was debatable. But Maidana came into the ring weighing 165 pounds, making Mayweather, who was 148 at fight time, finding himself in the ring with a super middleweight instead of a welterweight.
Not that it ultimately mattered. Mayweather, who closed as a minus-800 betting favorite at the MGM Resorts sports books (Maidana was plus 400), wasn't distracted or impacted. He got busy early, establishing the jab and using his superior hand speed to frustrate Maidana.
But Maidana had other ideas. He crowded Mayweather and started bombing away, throwing punches from every conceivable angle. For a brief moment, it appeared Maidana might have had Mayweather hurt. But many of his punches didn't land cleanly.
As he always does, Mayweather quickly adjusted. He let Maidana walk in, only to cuff him with a couple of hard right hands, followed by some stinging lefts. And while Maidana was allowed to come inside, Mayweather appeared to be setting traps for him in the rounds to come.
During the third round, Mayweather landed a big overhand right after Maidana had missed with the left, the very tactic Mayweather's father and trainer, Floyd Sr., predicted they would use. But Maidana continued to come forward, crowd Mayweather and flail away. He wanted to turn it into a street fight, and on some levels, he was succeeding. A right uppercut from in close startled Mayweather late in the round.
Mayweather suffered a cut over his right eye in the fourth round from an accidental head butt. Maidana was showing no deference, as he continued to stalk and attack. He kept tying Mayweather up on the ropes and would hit while holding and leaning on Mayweather, using that added bulk to his advantage, though earning a couple of warnings from referee Tony Weeks in the process.
Mayweather's cut man, Rafael Garcia, did a great job of stopping the bleeding, and by the sixth round, Mayweather could see without problem.
"He's the best," Mayweather said of Garcia. "I could see for two rounds, but he stopped the bleeding and I was fine after that."
When Mayweather was allowed to keep the fight in the middle of the ring, as was the case in rounds six and seven, he dominated Maidana, outboxing him. The final punch stats had Maidana throwing 858 punches and landing 221 for 26 percent. Mayweather threw half as many but landed twice as often for 54 percent (26 thrown, 230 landed).
And in the end, Mayweather's undefeated record stood intact. With Maidana clamoring for a rematch, Mayweather said he would be glad to accommodate him.
"If he wants it, and the fans want it, let's do it again," Mayweather said.
Contact reporter Steve Carp at scarp@reviewjournal.com or 702-387-2913. Follow him on Twitter: @stevecarprj.