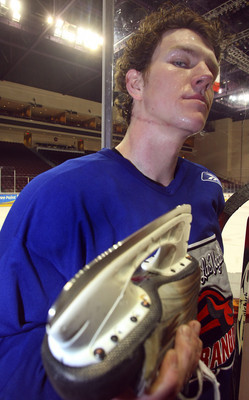 When Florida Panthers forward Richard Zednik had his throat slashed by teammate Olli Jokinen's skate in a Feb. 10 game at Buffalo, the life-threatening incident was a frightening reminder for Wranglers left wing Ryan Donally.
Donally survived a similar incident about five years ago in a pickup game in his native Ontario, Canada. The four-inch scar on his neck serves as a daily reminder.
"The Zednik thing was almost like, to a T, what happened to me, and it's pretty scary," said Donally, whose scar runs along his jaw line from below his right ear to his chin, the jagged result of a cut that required 26 stitches.
"At least (Zednik) had the medical attention there. Had mine happened a millimeter (different) here or there, I might not be talking to you."
Donally, 23, said he was backchecking an opponent in a Sunday morning game when the accident occurred.
"The guy got kind of upended and his skate came up, just like the Zednik incident, and cut my throat," Donally said. "Thankfully it didn't cut anything major or else I wouldn't be here. There was no medical attention.
"I looked at first and there was blood pouring everywhere, but I realized it wasn't pumping out, it was just bleeding, so I knew it wasn't life threatening. But I probably filled two white towels full of blood just for that."
Zednik's carotid artery was sliced in the recent incident and he reportedly lost five pints of blood before undergoing successful emergency surgery. He was released from the hospital Friday and is expected to make a full recovery.
"(The Zednik incident) was as bad as I've seen, and he was very, very lucky," said Victoria Salmon Kings general manager Dan Belisle, whose team split two games with the Wranglers last weekend at the Orleans Arena.
Belisle, former head coach of the Washington Capitals, was working as a scout when he witnessed a horrifying injury during a Detroit Red Wings-Toronto Maple Leafs game on Nov. 26, 1986.
Late in the game, Borje Salming of Toronto was knocked down in front of the net and Detroit's Gerard Gallant accidentally stepped on his face with his skate. Salming needed more than 200 stitches to close the wounds around his right eye.
"It was a really, really gruesome injury," Belisle said. "But as bad as it was, it wasn't life threatening, whereas Zednik, if he didn't have the wherewithal to skate to the bench, it might have been a lot worse for him."
Las Vegas defenseman Mike Madill was on the ice in a game two years ago when Drew Bagnall, his St. Lawrence University teammate, had his arm sliced open at the end of a game.
The other team had pulled its goalie ford a 6-on-5 advantage when Bagnall dropped to the ice in front of his net to try to stop the puck, which was on the goal line.
"He reached to grab it with his glove and somebody stepped right on his forearm and just sliced four tendons right open. It was gross. I can't even describe it," Madill said. "It looked like they took an eyeball out. It was that kind of long, wide opening. The whole top of his arm was sliced open."
Bagnall recovered and now plays defense for the American Hockey League's Manchester Monarchs.
Donally and Belisle said they're surprised more players aren't cut by skates.
"Every once in a while you feel something hit your neck and you see guys' skates come up close to your face," Donally said. "I'm kind of surprised the blade doesn't catch guys' throats more."
Belisle and Wranglers coach/GM Glen Gulutzan said the NHL probably will discuss making neck guards a requirement. But Donally isn't sure how much they'll help.
"In most instances, a neck guard wouldn't do much," he said. "Look at Zednik, it was right under the jaw line. Unless you wear a full cage, with pretty much a neck brace on, it's not going to do a whole lot. That's the only way to prevent it, but that's not going to happen."
Wranglers assistant Brent Bilodeau said such injuries are part of the sport and more protection could actually lead to more severe injuries.
"Guys are getting bigger and stronger and taking more liberties because there's more padding, and there's not as much respect in the game," he said. "Guys are hitting from behind and stuff like that, cheap hits. If guys are in full armor and you can't hurt them at all, then what? Where does it stop?"
Contact reporter Todd Dewey at tdewey @reviewjournal.com or (702) 383-0354.
LAS VEGAS — 4 BAKERSFIELD — 3 KEY: Ryan Donally and Tyler Mosienko scored less than three minutes apart in the third period for the Wranglers. NEXT: Wranglers at Alaska, 8:15 p.m. Friday