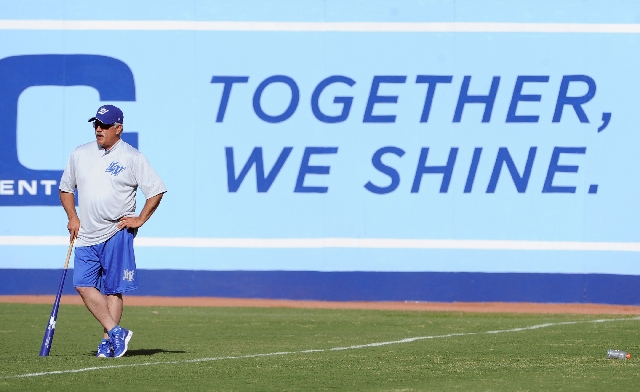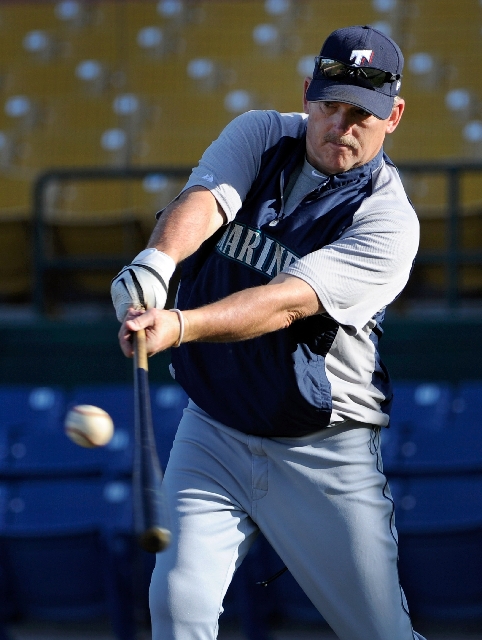 Teammates and card-playing partners on the 1986 New York Mets title team, 51s manager Wally Backman and Tacoma Rainiers hitting coach Howard Johnson have stayed close friends and went out to dinner together Saturday night in Las Vegas.
Had it been 1986, a dozen teammates probably would have joined them, and who knows what hijinks might have taken place.
"There are things that happened that I can't really talk about," Backman said of the 1986 season. "It was good times."
No matter what debauchery members of the 1986 Mets indulged in, though, they always came to play, winning a franchise-record 108 games before rallying to beat the Red Sox in the World Series.
"It's kind of weird. It was such a unique ballclub that people remember us for what we did off the field more than what happened on the field," the 52-year-old Johnson said. "My thing is that team knew how to play and knew how to win. Regardless of what guys did off the field, when they showed up to the ballpark the next day, they were ready to play, and we all kept each other accountable.
"That's why that team was so close knit and so strong. It was awesome."
Besides the iconic Game 6, "HoJo" said he vividly recalls the heavily favored Mets banding together on the team bus after losing Game 2 at Shea Stadium to fall behind 2-0.
"We kind of let our hair down," he said. "All the players were kind of yelling and screaming that sometimes it's a good thing to get out of New York and we're gonna kick some ass on the road and we're gonna bring this thing back to New York and we're gonna win this thing.
"We used it as a bonding moment. Everybody was on the same page. It wasn't individuals; it was definitely a team."
Backman, who flied out to Boston left fielder Jim Rice for the first out in the bottom of the fateful 10th inning of Game 6, said he recalls thinking at the time that it was the worst six-game stretch the Mets had played all season.
"The Houston series took a lot out of us, because we were facing some great pitching," he said of the National League Championship Series against the Astros in which New York won an epic Game 6 in 16 innings. "When we won it, it was almost like a relief that we didn't have to face Mike Scott in Game 7.
"I'm not saying the World Series was a letdown, but I think we didn't come out and play the way we had played consistently the whole year."
Backman, 53, had one of the best seasons of his 14-year career in 1986, batting a career-high .320 in the regular season and .333 in the World Series.
Johnson, who also won a World Series with the 1984 Detroit Tigers, compiled the best years of his 14-year career after 1986, twice earning All-Star honors and recording three seasons with 30 home runs and 30 stolen bases.
Although the Mets were one strike away from losing to the Red Sox in Game 6, Johnson said the team still believed it would win.
"I think the guys, deep down, didn't think it was going to be over," he said. "I remember Gary Carter was going up and down the bench saying he's not going to be the last out of this World Series. That mentality is kind of what epitomized that team."
After Backman and Keith Hernandez were retired, Carter and Kevin Mitchell singled, and Ray Knight followed with an RBI single to make it 5-4. A wild pitch by Bob Stanley brought the tying run home, and then Mookie Wilson hit the ground ball that went through first baseman Bill Buckner's legs into baseball history.
While Backman and Johnson — who was the Mets' hitting coach for parts of four seasons from 2007 to 2010 — went on to successful coaching careers, fate wasn't as kind to some of their 1986 teammates.
Carter, or "Kid," as the Hall of Famer's teammates called him, died last year of brain cancer at age 57.
"We were close with Kid and his family. It was a very sad time for their family," Johnson said. "A lot of people loved Gary and what he was able to do off the field. He raised a lot of money for people. He was a great man, and we're sad that he's gone and praying for his family still."
Lenny Dykstra, or "Nails," the leadoff hitter for the 1986 Mets, is serving a 3½-year prison sentence for several crimes, including grand theft auto.
"I know Lenny is having some hard times right now, but we still remember Lenny the way he was when he was with us," Johnson said. "He's a battler and a gamer, and he's going to figure some things out and beat whatever he's got issues with."
Johnson describes Backman as a gamer as well and expects him eventually to grind his way back to the big leagues.
"We talk a lot. He's a good guy, and he knows the game," he said. "He's going to be a successful big league manager one of these days."
Contact reporter Todd Dewey at tdewey@reviewjournal.com or 702-383-0354.