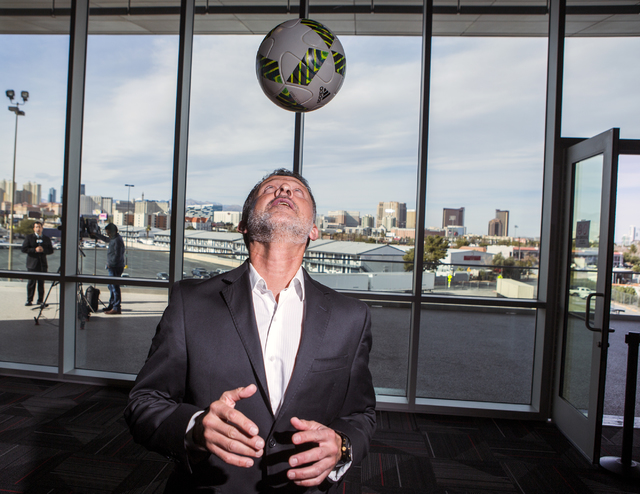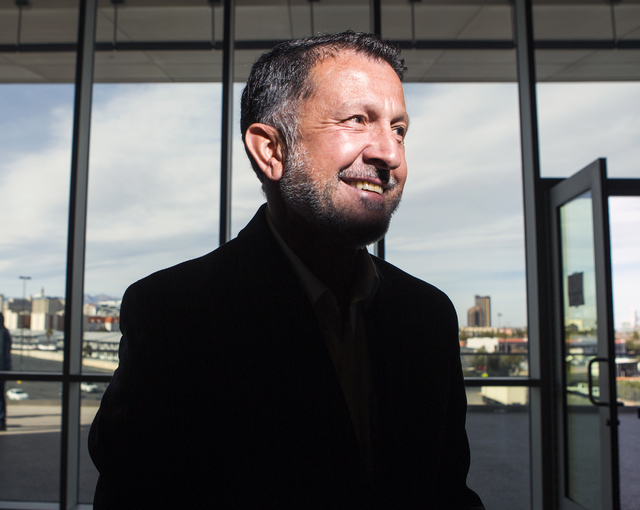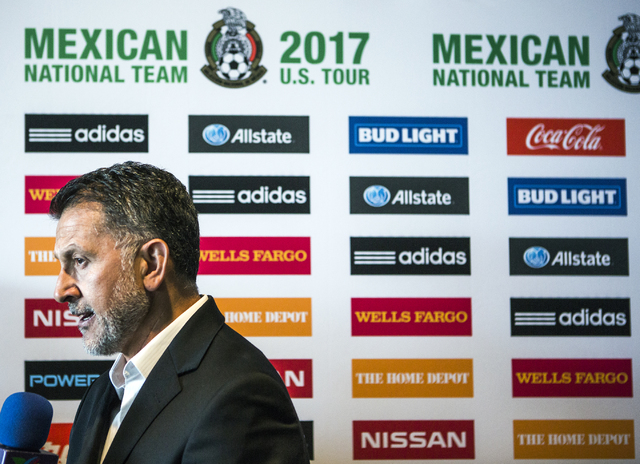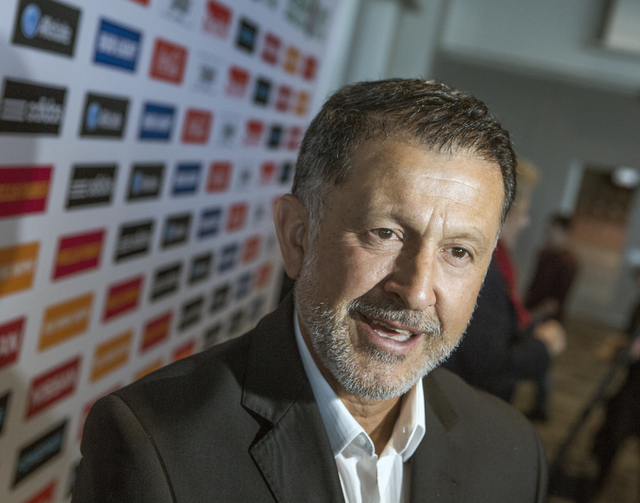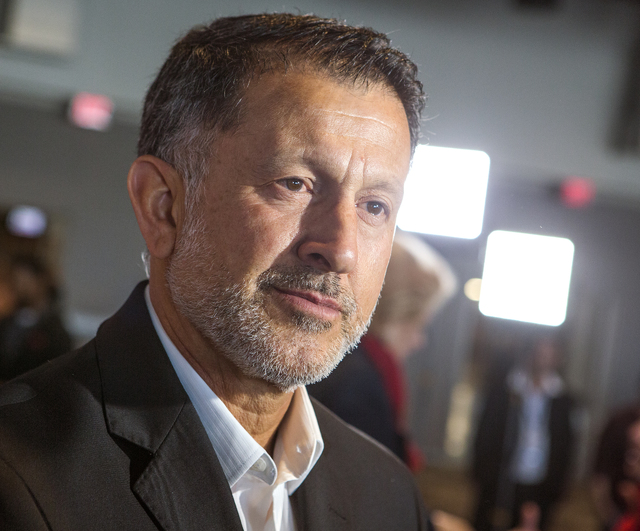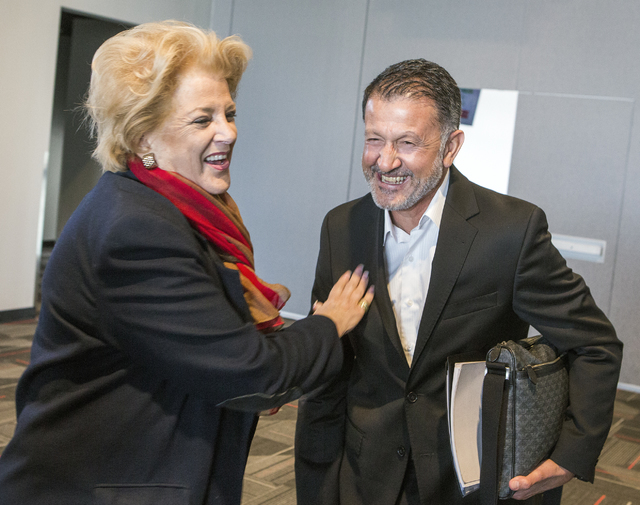 In Mexico, being the coach of the men's national soccer team is like guiding the Dallas Cowboys, the New York Yankees and the Los Angeles Lakers at the same time.
So it's no surprise that Latino media outlets from Los Angeles, Miami, Chicago and many other major markets made the trip Tuesday to Las Vegas for Juan Carlos Osorio's news conference to promote Mexico's friendly against Iceland at Sam Boyd Stadium on Feb. 8.
They weren't there to see Osorio, who just completed his first full year as the coach of Mexico's senior team, shake hands with Las Vegas Mayor Carolyn Goodman and snap a few photos of the Strip view at the Thomas &Mack Center. The outside media fired tough questions, wanting answers as to why Mexico has failed to reach the competitive level of nations such as Brazil, Argentina and Germany.
One reporter had a long-winded question before eventually asking why a nation of 122 million was on the same pitch as Iceland, with less than half a million people. Mexico is No. 18 in the FIFA rankings and Iceland sits at No. 21.
"It appears to me that the answer was in your question," Osorio said as the room erupted in laughter.
Osorio is a master at creating diversion during scrutiny and won't hesitate to fire back. He's the professor students loved to hate in college because he always answered a question with a question.
Fittingly, Osorio is referred to as "Profe" (professor in Spanish) because of his multiple college degrees and coaching certifications. The 55-year-old Colombian made it through a turbulent first year as the coach of El Tri, lowlighted by an embarrassing 7-0 loss to Chile during the Copa America and a passionate fan base seeking his resignation.
Osorio gained trust after recording a signature 2-1 victory over the United States on American soil in November. The shouting aimed at Osorio died down, at least for now, and USA coach Jurgen Klinsmann was the one who ended up losing his job.
Osorio sports a record of 13 wins, three draws and one loss, the best start by any coach in Mexican soccer history, but that gets lost in the aftermath of the lopsided "Siete a Cero" (7-0) defeat.
"You see the numbers and he's the best through 17 games," said Santiago Banos, the director of Mexico's national teams. "But people get this bad perception because of one bad night and what they hear from the media. It's complicated to change their views but we're headed in the right direction."
MADE IT IN AMERICA
Osorio paused his soccer career at the age of 26 after seven years of playing professionally in Colombia and Brazil.
He enrolled in a foreign exchange program and was sent to Clark College in Dubuque, Iowa.
Osorio flew into O'Hare International Airport in Chicago and quickly wanted to go back home after his luggage was lost.
"I couldn't talk to people to help me, I didn't know the language," Osorio said. "I thought that was the worst thing that could happen to me. I ended up missing my flight to Iowa and from that moment I made a promise to myself that I would learn English."
Osorio moved to Connecticut to attend the University of New Haven and transferred again to Southern Connecticut State University where he received a Bachelor's degree in Exercise Science in 1990.
For the next decade, Osorio coached at every level from youth to college to semi-pro before landing a job with the New York MetroStars in 2000.
He spent five seasons as an assistant with the popular English club Manchester City. Osorio returned to the United States to be a head coach in the MLS for the Chicago Fire in 2007 and with the New York Red Bulls (2007-2009).
"I kept evolving with every opportunity," Osorio said. "I was going to learn from every experience I got. I appreciate the American game and how they do things and the same with the English."
CHANGE FOR THE BETTER
A major reason many Mexican fans and media haven't given Osorio a fair chance could be because he's different, according to Banos.
"They see someone like the professor who's prepared and has worked hard, taken classes and speaks two languages and that rubs people the wrong way," Banos said. "It's also jealousy from other coaches who think they can do it better. I don't care and the Mexican Federation doesn't care that Osorio is from Colombia and we're going to fully support him and his ways."
Osorio doesn't mind the criticism and understands the passion of the Mexican fans.
"This is what makes this job so special," Osorio said. "The national team is a culture to them. Everyone from men and women love the national team. In the United States, there are other teams. In England, it's mostly supported by the men. But in Mexico, you have three generations of families attending games."
Expectations are always high even for a nation that has never hoisted a World Cup. Osorio wants to change that for 2018 in Russia.
STARS ALIGNED
Osorio made it a priority to shake things up from the get-go and wasn't afraid to bench stars if the matchups didn't make sense to him for certain matches.
He's the sabermetrics coach in baseball forcing a 15-year veteran to change his stance. He's the analytics coach in basketball forcing the workhorse forward to go outside the paint and shoot 3s.
"It was hard for these guys at first to buy into it," Osorio said. "I wanted to apply strategy and have the players play aggressive, but not violent."
The wins kept piling up and that drew the interest of Mexican star players who often pass on playing for the national team.
Carlos Vela and Giovani dos Santos have been part of Osorio's regime along with key players Javier "Chicharito" Hernandez, Andres Guardado and Rafael Marquez, the longtime captain for El Tri.
Osorio wants to carry that momentum into 2017. Starting against Iceland in Las Vegas.
Contact Gilbert Manzano at gmanzano@reviewjournal.com or 702-383-0492. Follow @gmanzano24 on Twitter.
MEXICO VS. ICELAND
When: Feb. 8
Where: Sam Boyd Stadium
Tickets: UNLVtickets.com, La Bonita Supermarkets, 702-739-FANS
THE JUAN CARLOS OSORIO FILE
Position: Coach of the Mexican men's national soccer team
Born: Santa Rosa de Cabal, Colombia
Age: 55
Mexico record: 13-1-3
Coaching stops:
— New York MetroStars (2000)
— Manchester City (2001-05, England)
— Millonarios (2006-07, Colombia)
— Chicago Fire (2007)
— New York Red Bulls (2007-09)
— Once Caldas (2010-11, Colombia)
— Puebla (2011-12, Mexico)
— Atletico Nacional (2012-15, Colombia)
— Sao Paulo (2015, Brazil)